Help young learners warm up their understanding of plays before they step into the limelight
With a class made up of budding writers and actors, as well as those less likely to want to steal show, it's important to give every child the tools they need to read, write and perform plays. From introductory lessons to creative writing opportunities, we've hand-picked a range of engaging activities to turn your whole class into superstars. What are you waiting for? The show must go on…
Reading plays
If enter from the wings and stand downstage to a packed house sounds like jargon, then we've got some resources for you to look at before the curtain rises. Covering the key features of scripts, including how to read dialogue and stage directions, these are great resources to get your class up to speed.
Writing plays
Combining the strict structural layout of a script with children's imaginations, this form of expression offers young learners the chance to delve deeper into the dialogue of their characters. These plans, templates and guidance documents will help them write plays that make it to the curtain call.  
Performing plays
Whether you are looking for whole-class performances or classroom-based practice, these are just some of the original playscripts that the Tes community have produced. Time to call lights, camera, action and let your class showcase their speaking and listening skills.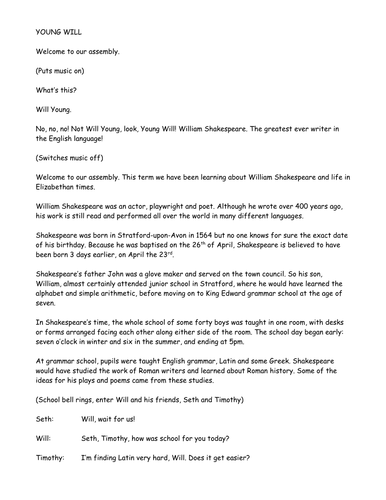 Assembly script based around the plays of Shakespeare, with scenes from many of his most popular plays. Completely original (apart from Shakespeare's contributions!).
By
paulfg42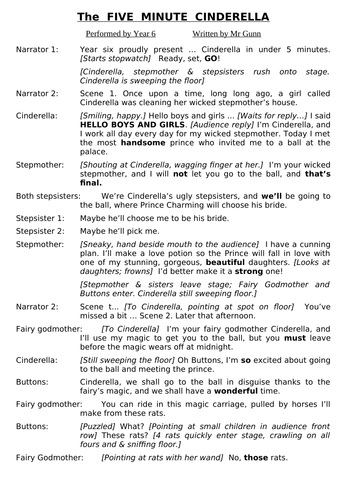 A humorous re-write of the story / pantomime of Cinderella, designed to be performed in under 5 minutes. Adaptable / editable Word document, so you can make your own changes & add your own children to the attached cast list. Ideal for class assembly, this has gone down well at year 6 leavers' assemblies.
Great prompt for more able writers to write their own humorous 'in 5 minutes' versions of other well-known stories / pantomimes.
To perform, it has 9 speaking parts, plus around a dozen non-speaking / crew / sound effect parts.
If you liked this, search and download one of my other 'in 5 minutes' scripts.
Cinderella in 5 minutes
Goldilocks and the Three Bears in 5 minutes
By
DJGunn
A class assembly designed around The Romans. Pay a visit to each area of Roman life in a court case style play to decide whether Romans should rule the school. Enough roles for 30 children.
By
NaomiHulme