Primary English: Writing support
Make sure every pupil in your class feels like a writing wizard with help from these supportive resources
In and out of literacy lessons, students spend a lot of time articulating themselves with the written word. With this being such an essential skill, whether they are typing or using a pen, it's essential that we give pupils the help they need to do this to the best of their ability. And, that's where writing supports come in.
From quick mats to be consulted mid-sentence to more in-depth tips and techniques, we've gathered some of the very best tools to make the process of writing run more smoothly.
KS1 resources
As young learners are getting to grips with the minefield that is the English language, there are many ways to give them some guidance. Whether they need help with ordering words in a sentence or expanding their vocabulary, these resources are a great starting point.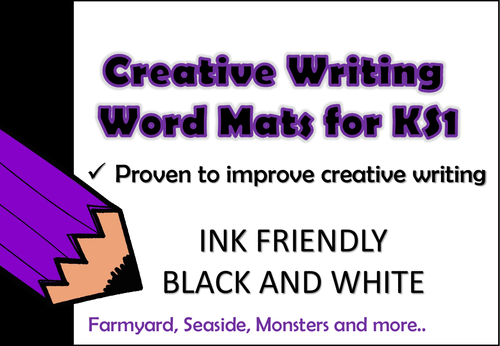 We have been trying to improve creative writing in our school and so we asked the children what stops them from writing. Many found that it's the thought of not spelling something correctly and taking time to phonetically spell the word, for many children this is frustrating. These word mats will help with writing fluency.
6 Word Mats are included
-Farmyard
-Seaside and The Coast
-The Ocean
-Monster Adjectives
-Family
-Transport
Files are in black and white. Children may colour pictures. Word Mats can be slipped into plastic folders, this works really well.
By
PollyPuddleduck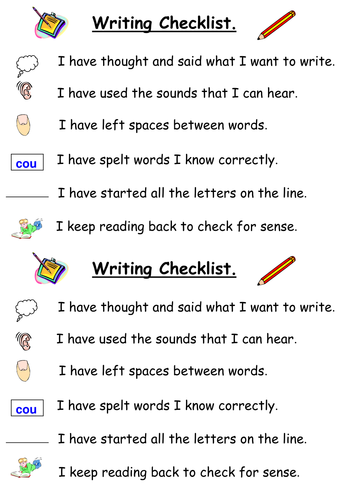 I use this to display in the classroom and the children would use it when writing. I also made smaller copies to encourage them to check each others work. Great to use when whole class teaching as well.
By
cal22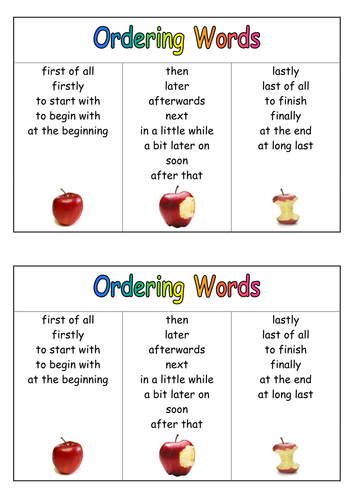 A simple A5 card to print and laminate to help KS1 children feel confident with ordering words in their writing. Simple photos help children to associate words with beginning / middle / end of their writing, whether fiction or non-fiction.
By
tcoles_willow
KS2 resources
From fully fledged toolkits to easy-to-digest visual prompts, give your class the confidence to write fluently and accurately with these supportive resources. When tackling a variety of writing types, these familiar tools and techniques can make all the difference.
This all-in-one pack is filled with word banks, explanations and examples to support Year 3 and 4 children with their writing. It is jam-packed with information, brightly coloured pictures and child-friendly vocabulary.

In line with the interim framework for writing, this pack allows children to edit, re-draft and consider their writing by using resources, displays and word banks.

Pages include:
Apostrophes
Clause Structures
Co-ordinating Conjunctions
Fronted Adverbials
Inverted Commas
Nouns, Adjectives, Verbs and Adverbs
Prepositions
Punctuation (other)
Subordinating Conjunctions
Year 3 and 4 Spelling Patterns / Words

www.mracdpresent.com
By
mracdpresent
This resource is aimed at year 5 and 6 teachers to assist with writing. It combines both of my support packs:
- 18 A4 learning mats
- 21 A3 posters

The pack covers the following areas: Sentence Types (single and multi-clause), Conjunctions, Sentence Openers, Relative Clauses, Cohesive Phrases, Parenthesis, Expanded Noun Phrases, Dialogue, Commas, Semi-colons and Colons, Passive Voice, Modal Verbs, Paragraphs, Shifts in Formality, Verb Forms, Subjunctive Form and Spellings.
By
MrMTeach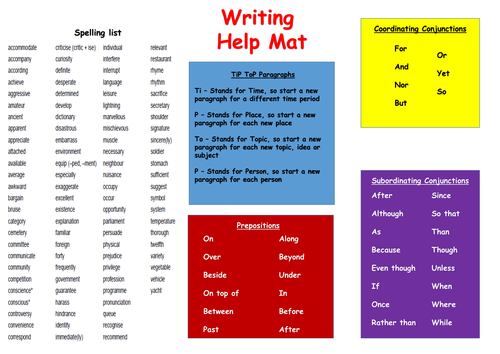 These writing help mats have been made for Year 6 in mind but can easily be used with other children.

Simply print out the two pages and laminate them back to back to give children a work mat to help their writing and ensure they are addressing a number of the statements required for end of Key Stage writing assessments.

Included are:
The spelling word list for Year 5/6
Help for when to use paragraphs
Prepositions
Coordinating and subordinating conjunctions
Modal and passive verbs
Cohesive devices
Punctuating Speech
Some areas of punctuation
By
krisgreg30
Resources for students with SEN
Breaking down a writing task into digestible chunks, such as specific words or sentences, can make the whole thing a lot easier. Why not check out some of the ways that the Tes community are supporting their students?