Primary English: Sensational spelling ideas
Make sure that spelling tasks are engaging, worthwhile and even fun with these creative resources
We all know that the mention of spellings in the classroom can result in an almighty groan and that's why it is so important to tackle them with a smile. Whether you are looking to top up your toolkit of traditional resources or are on the hunt for something a bit different, this hand-picked collection of resources is the perfect starting point for making spelling a topic to look forward to each day.
Spelling lists and schemes
There is a reason that look, cover, write, check is a firm favourite in classrooms up and down the country. While lists of words can seem daunting at the beginning, well-structured schemes are a simple way to ensure that all the keywords are being covered and spread out over the year. 
Complete week by week spelling lists for Autumn 1. Complete with introduction, extra challenges and words to learn. Covers the entire spelling curriculum by the summer term, including recapping.
Other year groups are available.
subscribe to all resources at uniqueclassrooms.com
By
erylands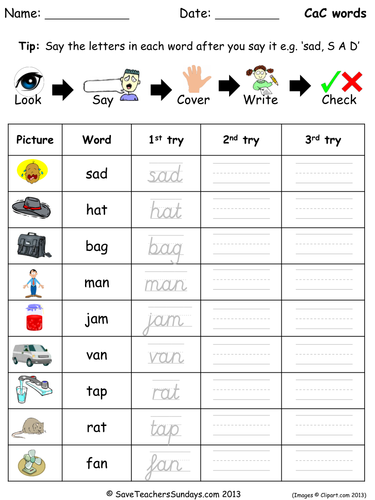 New curriculum Year 1 Spellings words lists, worksheets and dictation sentences. Each file has a PDF version and an editable version. There are also 3 versions of the worksheets: 1) plain text (2) cursive, without lead-in strokes and (3) cursive, with lead-in strokes. You can find more resources like these on the Save Teachers Sundays website.
By
SaveTeachersSundays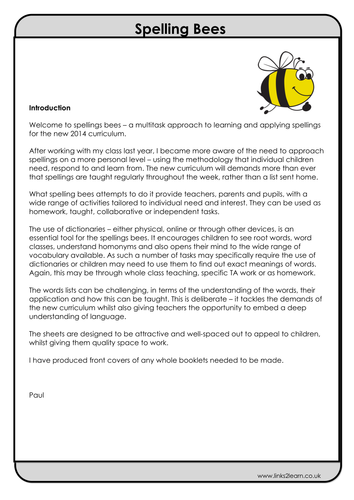 *COMPLETE SET OF 36 LISTS NOW AVAILABLE - see at the bottom of the page or look at https://www.tes.co.uk/teaching-resource/36-Spelling-lists-and-multi-task-scheme-for-phonic-phase-4-11005800* First 12 lists of 10 words for phonic phase 4 - includes, posters, LCSWC, handwriting sheets and flashcards. Part of Spelling Bee scheme - includes guides, display words, certificates, bee pictures and overview of words. Phases 2, 3, 5 and 6 and years 3-6 also available in my resource list. Follow the scheme on facebook - https://www.facebook.com/spelingbeescheme?ref=hl
By
paul urry
Engaging activities
Creative methods can ensure that reinforcing the spelling words of the week isn't a dull task. Help pupils to contextualise new spellings by playing around with the words, using them in a sentence and dissecting their meaning.
Fun games and challenges
Quash any negative feelings around learning spellings and have some fun with these themed activities. From jungle adventures to detective investigations, let young learners' imaginations run wild as they use their spelling knowledge to complete a range of questions.