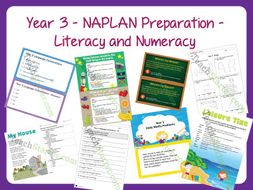 Year 3 - NAPLAN Preparation - Literacy & Numeracy
This bundle includes worksheets, writing prompts, PowerPoint presentations, daily word problems and much more!

Everything you need to prepare your Year 3 students for NAPLAN.
About this resource
Info
Created: Apr 21, 2017
Updated: Feb 22, 2018
By adding a School licence it allows you to share this resource with colleagues at your school. Without it, this resource is licensed for use only by you. Read licence details
Other resources by this author
A STEM investigation about the construction of bridges using everyday materials, embedded in a real-life situation. This open-ended STEM investigat...
TeachStarter
A set of 20 STEM challenge cards for students, suitable for the upper year levels. Use these STEM challenge cards to encourage critical thinking an...
TeachStarter
A comprehensive collection of simple machines teaching resources including educational posters, classroom decorations, word wall templates, page bo...
TeachStarter
Popular paid resources
10 fully resourced lessons to prepare students for the AQA English Language Paper 2, Section A exam: 'Writer's Viewpoints and Perspectives'. This r...
RojoResources
Resources to introduce dystopian/post-apocalyptic literature conventions to AS students, but also suitable for GCSE or KS3 students. Designed to le...
archev
These 'Library Challenge' cards were made for my class library, but they could be used in a school library as well. The idea was just to get the ch...
sh2810
New resources
This engaging and informative lesson enables students to make detailed and precise interpretations of the character of Abel Magwitch in Great Expec...
TandLGuru
Poster title for my wall of 'amazing adjectives' for Year 2's to use in their English lessons. Also helps introduce alliteration!
laylala
Updated resources
An A* example for each GCSE writing style (besides leaflets - I used a professional example here). Useful for annotation and revision.
jamestickle86
A blank comic strip template with an example of a lesson plan that I used to teach the Wild West. Works very well to link reading books and to allo...
jrblack1996
Suitable for AS and A2 English Language and Literature students preparing for end of year or final exams. Students can explore characters through a...
carmen_jackson-mcken