Assessing technical knowledge in the IT and computing classroom
Challenge your students with these assessments, quizzes and practice questions
Testing your student's theoretical and practical knowledge is an important part of making sure that the content you are teaching is being fully understood. Online or offline, here is a hand-picked selection of resources that will help you find out how your classes are progressing, as well as highlighting any crucial gaps in knowledge.
KS3 resources
Discover how much your students know already with this online baseline assessment, examining a range of key skills in Word, Excel and PowerPoint, while also testing knowledge of programming, e-safety and computer theory. This easy-to-use drag and drop quiz is also ideal when gauging your class' awareness of hardware.
For a more engaging challenge, check learners' understanding of Excel spreadsheets using this birthday party task, designed to test students' ability to create functions and formulas. Alternatively, recap programming concepts in Scratch before putting pupils' knowledge to the test with this visual lesson.
 
This test is to be given to year 7 pupils to test their current knowledge of key computing areas. This will help you understand their current strengths and weaknesses at the beginning of year 7 and includes a useful spreadsheet which not only highlights pupils understanding but also groups it by class and even primary school to help you inform your feeder schools which areas they need to work on and may need additional help with and which areas they have covered well. The key skills covered in this test are: Word, Excel, PowerPoint, saving files, programming, using the internet, e-safety and computer theory.

Due to popular demand, I have interpreted the marks awarded to the old-style level descriptors (i.e. if they score 30 on the test or 45%, this would be equivalent to a 4C). Hope this helps.

2A - 5 marks (7%)
3C - 10 marks (15%)
3B - 12 marks (18%)
3A - 20 marks (30%)
4C - 28 marks (42%)
4B - 36 marks (54%)
4A - 42 marks (63%)
5C - 48 marks (72%)
5B - 54 marks (81%)
5A - 60 marks (90%)
6C - 64 marks (96%)

PLEASE NOTE: This test is an on-line document which the pupils fill in using Word, which can be either printed or sent to you electronically for marking but if you would prefer the pupils use a traditional paper-based test then please see our other set of resources from https://www.tes.com/teaching-resource/computing-year-7-baseline-assessment-paper-based-test-11355751
By
nwilkin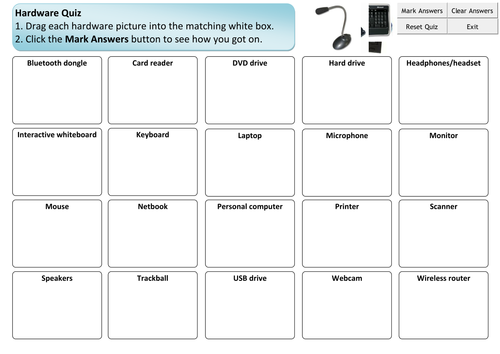 Quiz to assess learners' hardware knowledge, created in Word 2007; it may work in other versions but not on Macs. Macros must be enabled for the program to automatically mark the answers & print the learner's first attempt. Please leave feedback. If you have any problems send a message via TES site.
By
rcook2sc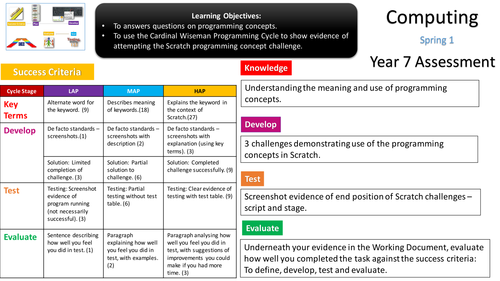 PA1 Scratch
Introducing programming concepts through visual-based learning

Programming Concept - Knowledge and Application test

Screenshots provided in the Word document in case you are not using the offline editor Scratch 2.
By
Pipjen77
KS4 and post-16 resources
Test the extent of your pupils' knowledge with this simple assessment before encouraging them to improve upon their longer, written answers with this selection of practice questions, complete with example responses. 
Older learners can check their understanding by answering this editable progress test, which contains a mixture of questions that cover topics from application packages to software distribution.
Or, for a more subtle assessment, this crossword puzzle with over 80 clues can quickly show if your A-level students remember all the common terms and concepts that are essential for their studies.