Implementing routines in the classroom
Booklets, presentations and strategies to help you to effectively establish routines in class
Classroom routine is one of the most practical ways of ensuring that behavioural standards do not fall. By making sure that you stay in control, you offer your students a positive and calming environment, where regularly enforced boundaries are respected. To get you started, we've scoured the site to find some of our favourite resources to remind you of the rationale behind routine and top tips for implementing them.
Why routines matter
Every teacher knows that the start of a new school year is the perfect opportunity to set behavioural expectations in class. This presentation provides a helpful reminder of the importance of having an established routine, while this handy guide offers advice on how to conduct structured form-time sessions with your learners.
While you'll never be lucky enough to always teach a class of angels, help to ensure that your pupils are as good as gold by consulting this teaching habits sheet, full of tried-and-tested tips. Alternatively why not refer to this comprehensive booklet, jam-packed with hints and scripts for common classroom issues?
 
Applying them effectively
As necessary as they are, finding the time to implement a new routine can be tricky for even the most experienced of teachers.  This collection of pre-written procedures will help to make your classroom management a breeze, while these decorative posters serve as a handy reminder to younger students about what behaviour is expected of them and when.
Provide a little structure to the school day and introduce learners to the different times of lessons with these editable clock faces. And, for when your students become a little too excitable, quickly take back control and reinstate order with this list of classroom management strategies.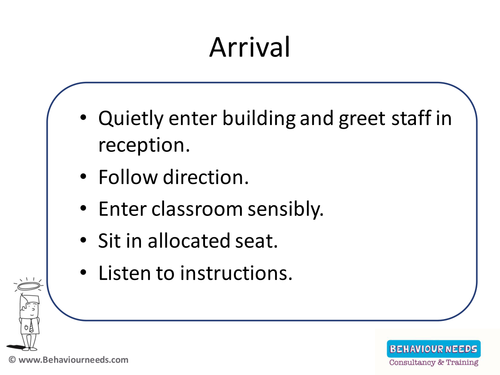 Automate your classroom management with this set of pre-written routines on powerpoint. These classroom management routines include instructions & procedures for a wide range of classroom transitions and difficult lesson activities
By
MagicClass
Morning: Morning and Afternoon Routine Posters For Your Little Ones-These are some morning and afternoon routine posters that I have made for my class. I put in a few other possible routine that other teachers may need. They can be printed and mounted using decorative ribbons to suspend them along the wall or you can stick them separately.

Nicole Hernandez
By
Nicole Hernandez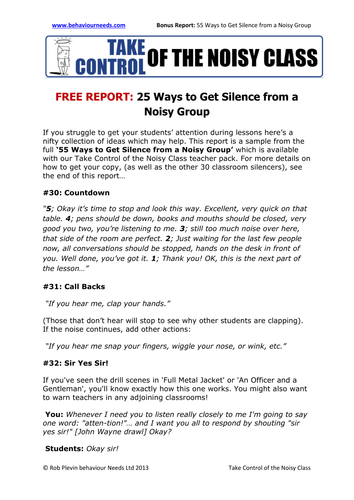 Classroom management strategies to get silence from noisy, challenging groups of students. Another fantastic report from http://www.behaviourneeds.com to help you manage your classroom and get attention from noisy, rowdy groups of tough students. Take control of your noisy students with these classroom management tips and novel strategies.
By
MagicClass