Visual timetables for all ages
Colourful timetables to help primary and secondary students settle into a routine and encourage responsibility
All pupils, especially those with special education needs and learners who struggle with organisation, can benefit from using a visual timetable. Ensure that pupils get to grips with the structure of their day from the outset with these hand-picked individual plans and whole class displays.
Individual plans
These vibrant cards are ideal for introducing young learners to timetables, and get them into the habit of anticipating their next activity. Alternatively, help secondary students adjust to having more subjects on their timetable with these accessible cards that will also let them become more independent.
Implement routine into your students' lives with this clear timetable, including a variety of subject lessons, mealtimes and other activities. For learners with autism, these simple black and white timetable symbols can help to eliminate anxiety and give pupils the confidence to take more responsibility.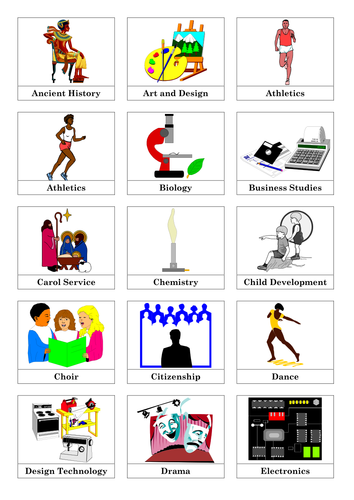 Visual support cards for secondary school learners with organisational difficulties. The images have also been used successfully within visual timetables for Key Stage 3 students with autistic spectrum disorders.
By
Dodros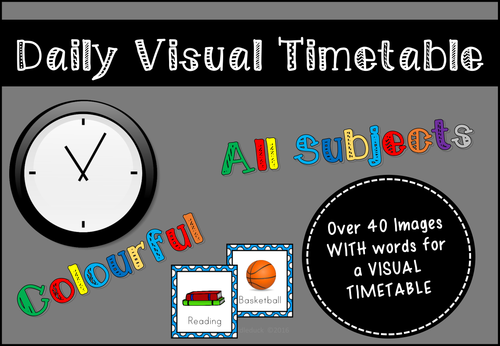 A common occurring theme with many children is the need for routine. Children are often more settled in school than they are at home and that's due to the structure and discipline in a classroom setting.
Some children simply cannot cope without structure. This doesn't just apply to children with special educational needs, we all want to know what's happening next in our day! In particular, the need for structure and routine is higher in children on the spectrum.

Included in this download-

Over 20 images with words that can be used to make a Visual Timetable. Can be used for a whole class or individual students.

Check out the preview! :)
By
PollyPuddleduck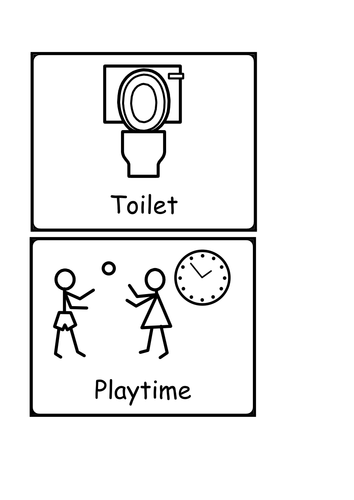 Classroom visual timetable symbols in black and white (better for ASD). Prints 2 timetable options to an A4 page. Designed to be displayed in classroom horizontally - start -> end of day. Suggest print, cut, laminate then velcro on back to wall and hey presto! easy visual timetable.
By
sueemc
Whole-class resources
Build speech and language skills from an early age, while establishing routine, with over 100 editable cards that can make up a colourful display. Or, for the more tech-savvy, why not drag and drop each subject image into your own, adaptable timetable, as well as updating the weather on a daily basis, using this presentation?
Brighten up the room with these large display cards that make sure the whole class is aware of which subject is coming up next. For something different, create a buzz in your classroom with this bee-themed display pack, which gives pupils an ever-present reminder of daily activities.