Early years French resources: human rights
Keeping your class engaged with new and interesting classroom resources is vital in helping them reach their potential. With Tes Resources you'll never be short of teaching ideas. We have a range of tried and tested materials created by teachers for teachers, from early years through to A level.

Breathe new life into your lesson plans with our primary and secondary classroom resources. Whether you're looking for fun maths worksheets or brand new guided reading activities, we have thousands of free and premium resources for you to download. From early years to primary, you'll find phonics worksheets and numeracy games and all you need to revise for Sats. From secondary to post-16, we have everything from French lessons to algebra activities, as well as GCSE revision guides and more.
Read more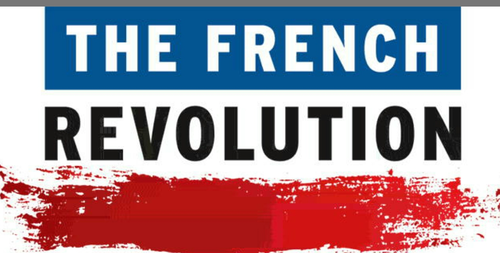 Several KS3 lessons about the French Revolution. Declaration of the rights of man. Storming of the Bastille. Robespierre. The Terror.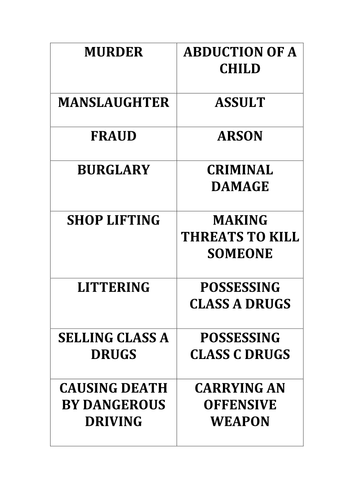 This lesson should lead on from recently studying the 'Declaration of the Rights of Man'. Hook starter: As pupils enter the room the presentation will display an autonomously moving spot light to reveal a picture clue about the lesson. Learning Intention and differentiated outcomes (SMSC). Starter: Pupils' receive crime cards to which then then decide individually upon the most fitting punishment this will link in later with the lesson when the guillotine and how it was used during the 'Terror' is explained. Pupils can compare justice and crimes fitting the appropriate punishments. Pupils will consolidate with a video regarding how the Revolution became extreme though the September Massacre as a case study. Pupils' then compete in groups to complete a literacy relay regarding the 'Terror' to increase their knowledge of the events which took place and the main forces involved. Peep sheet has been provided here for differentiation. Pupils then watch a BBC Bitesize video to consolidate before answering a structured 8 mark exam style question. If time I then ask my pupils to peer assess with WW / EBI. All videos links are provided along with instructions and advice in the description of the presentation. Many thanks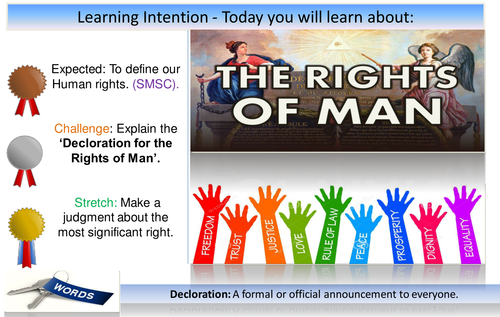 hook starter of a spotlight teasing an image of the declaration. Differentiated learning outcomes (SMSC included). Pupils will discuss their human rights, define its meaning and then create their own, 'Teenagers Rights'. Pupils will then learn about 'The Declaration for The Rights of Man' comparing and contrasting modern human rights with that of the French during the Revolution. Pupils will discuss the problems facing France and that of the 3rd Estate and how these problems were rectified by the declaration. Pupils then rank the rights in order of importance before deciding upon the most significant and how it affected France. Videos are embedded or links have been included in the description. Many Thanks.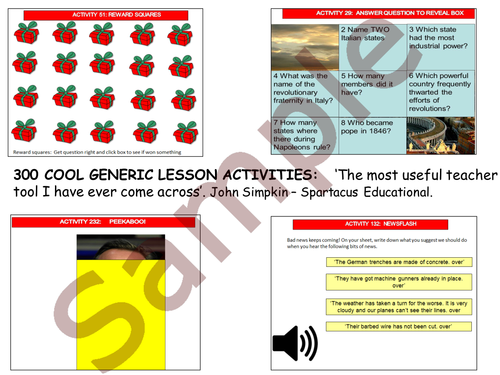 This is a 25% sample of my very popular resource. The full resource can be found by searching for '300 generic lesson activities'. (Following its success in the summer sale, I have kept the sale price of £3). The description for the full file is as follows: Create lessons in seconds with this HUGE PowerPoint of animated lesson activities. There are HUNDREDS of templates that you can over-type in seconds to create engaging lesson material. Highly praised by John Simpkin of Spartacus Educational and Mark Warner of Teaching Ideas. I am very confident you will like this. If you do, please click on my profile to see my other popular resources. Thanks (This file also has a bank of PowerPoint timers) The size of the file should show you how much stuff there is! Without sounding overly confident - it's the best resource out there! Many thanks Copyright T.Taylor