Early years German resources: prepositions and conjunctions
Keeping your class engaged with new and interesting classroom resources is vital in helping them reach their potential. With Tes Resources you'll never be short of teaching ideas. We have a range of tried and tested materials created by teachers for teachers, from early years through to A level.

Breathe new life into your lesson plans with our primary and secondary classroom resources. Whether you're looking for fun maths worksheets or brand new guided reading activities, we have thousands of free and premium resources for you to download. From early years to primary, you'll find phonics worksheets and numeracy games and all you need to revise for Sats. From secondary to post-16, we have everything from French lessons to algebra activities, as well as GCSE revision guides and more.
Read more
Prepositions and conjunctions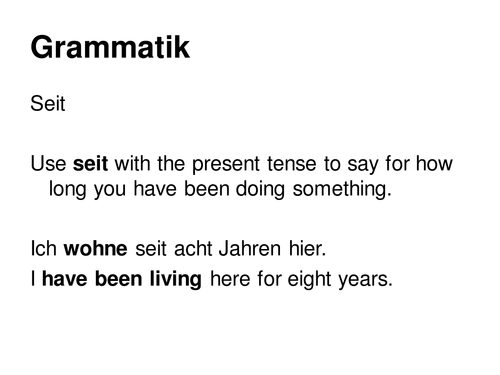 This resource teaches and practises using "seit" with the present tense in German.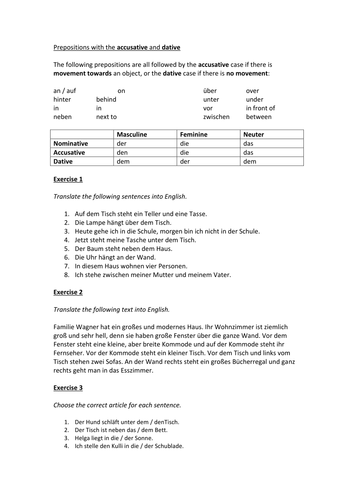 This worksheet practises using prepositions with the accusative and dative cases in German.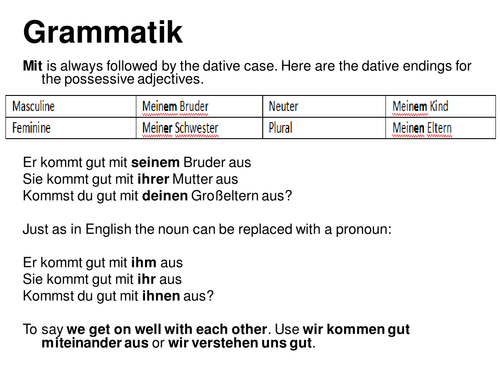 This resource teaches students how to use the preposition "mit" with the dative case in German.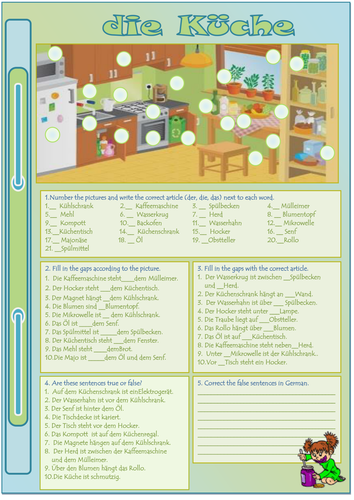 This is a complete lesson and set of resources which is designed to be taught alongside EDEXCEL GCSE German (Higher) Stimmt! - Kapitel 4 - Rund um mein Zuhause - Page 74. The resources contain: - Starter - Revision of essential vocabulary - Listening Exercise 1 Page 76 with answers and transcript - Listening Exercise 2 Page 76 with answers and transcript - Reading Exercise 3 Page 76 with answers - Link to video and accompanying exercise - Reading comprehension - Introduction to using prepositions with the accusative and dative - Grammar handout - Exercises to practise prepositions with the accusative and dative - Grammar worksheet - Plenary
Resources to develop Ab Initio / Standard / Higher German exam skills in the Reading / Writing and Speaking exams. Included: Cultural starters to develop pupils intercultural competence and knowledge. Paper 2 Writing help, frames and guides Paper 1 Reading guide and practice questions Speaking activity to develop picture description
A great exercise for free work. The students independently practice German prepositions. There are 20 cards with short sentences. The students choose one of three possible answers and attach a paper clip or a clothes clip. On the back you can check the answer. Eine tolle Übung für die Freiarbeit. Die Schüler üben selbständig die deutschen Präpositionen. Enthalten sind 20 Karten mit kurzen Lückensätzen. Die Schüler wählen eine von drei möglichen Antworten aus und befestigen eine Büroklammer oder eine Wäscheklammer. Auf der Rückseite können sie die Antwort kontrollieren.
A Bundle of our most popular KS3 Resource packs. Packs included: Die Grundlagen Meine Familie Die Ferien Das Haus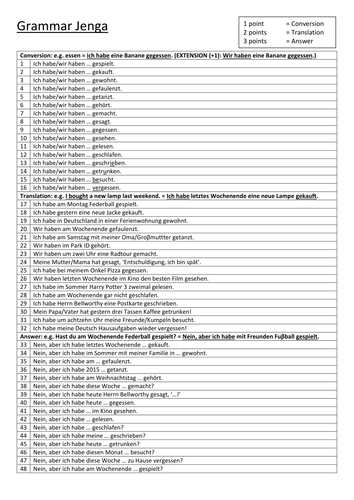 1. Purchase enough Mini-Jenga sets (Topple Tower) for each group of 4 in your class (= £1 each)! 2. Label each wooden block with a number (1-48?)! 3. Assign to each number a challenge: e.g. grammar (conversion [spielen = gespielt]/translation [spielen = to play]/answer [Hast du am Freitag Federball gespielt?]) e.g. vocabulary (conversion [spielen = das Spiel]/translation (Wir haben am Samstag das Spiel verloren! =We lost the game on Saturday!)/sentence [spielen = Ich spiele Samstags mit Freunden im Park Fussball!]) e.g. pronunciation (word [verlieren = /fe-lear-r£n])/sentence prominence/intonation) 4. Provide each student group with the challenge sheet and the answer sheet. 5. Ascribe points to Easy (1), hard (2) and harder (3) tasks and students tally their scores. 6. Play Jenga as per normal, but the winner is the one with the most points from the challenges. My thanks to Emilie Burguin for her inspiration!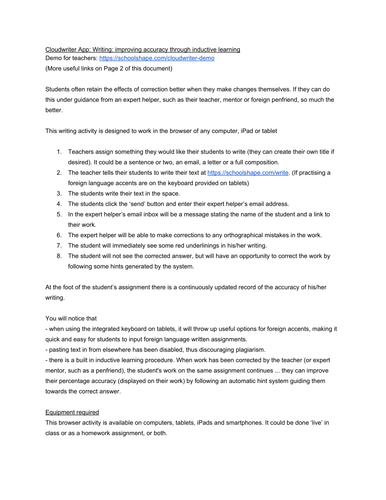 Students often retain the effects of correction better when they make changes themselves. If they can do this under guidance from an expert helper, such as their teacher, mentor or foreign penfriend, so much the better. This writing activity is designed to work in the browser of any computer, iPad or tablet Teachers assign something they would like their students to write (they can create their own title if desired). It could be a sentence or two, an email, a letter or a full composition. The teacher tells their students to write their text at https://schoolshape.com/write. (If practising a foreign language accents are on the keyboard provided on tablets) The students write their text in the space. The students click the 'send' button and enter their expert helper's email address. In the expert helper's email inbox will be a message stating the name of the student and a link to their work. The expert helper will be able to make corrections to any orthographical mistakes in the work. The student will immediately see some red underlinings in his/her writing. The student will not see the corrected answer, but will have an opportunity to correct the work by following some hints generated by the system. At the foot of the student's assignment there is a continuously updated record of the accuracy of his/her writing. You will notice that - when using the integrated keyboard on tablets, it will throw up useful options for foreign accents, making it quick and easy for students to input foreign language written assignments. - pasting text in from elsewhere has been disabled, thus discouraging plagiarism. - there is a built in inductive learning procedure. When work has been corrected by the teacher (or expert mentor, such as a penfriend), the student's work on the same assignment continues ... they can improve their percentage accuracy (displayed on their work) by following an automatic hint system guiding them towards the correct answer. Equipment required This browser activity is available on computers, tablets, iPads and smartphones. It could be done 'live' in class or as a homework assignment, or both.