Early years Mandarin resources: days, dates, months, seasons
Keeping your class engaged with new and interesting classroom resources is vital in helping them reach their potential. With Tes Resources you'll never be short of teaching ideas. We have a range of tried and tested materials created by teachers for teachers, from early years through to A level.

Breathe new life into your lesson plans with our primary and secondary classroom resources. Whether you're looking for fun maths worksheets or brand new guided reading activities, we have thousands of free and premium resources for you to download. From early years to primary, you'll find phonics worksheets and numeracy games and all you need to revise for Sats. From secondary to post-16, we have everything from French lessons to algebra activities, as well as GCSE revision guides and more.
Read more
Days, dates, months, seasons
Celebrate the Chinese New Year 2018 with this poster. Once downloaded, it can be enlarged to an A3 size and made into a poster to decorate the language classroom and/or school. The colours used, red, apple green and sky blue, are specific to the Year of the Dog in the Feng Shui tradition. The dog's bark (gou, gou) is the Chinese word for dog.
Engaging Posters ready to be displayed in classroom. This series of word mats can also be printed out as a mini-book. Including: Sports Countries Colours Body Parts Food&Drinks Clothes My Pets (Animals) Ballgames Days of the week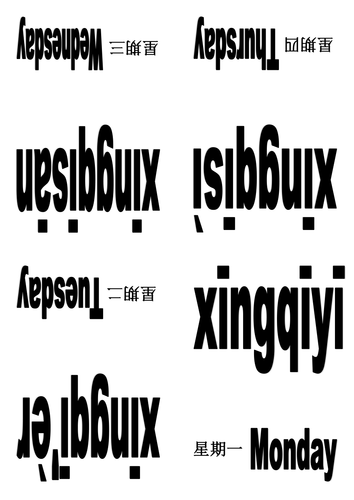 Hi Everyone, Here are some days of the week / months of the year flashcards, something I made before I came to China. Just a quick flash card to help me remember days and months. Included on the cards are; English Number, Pinyin (pronunciation), and Chinese (Simplified - Mandarin) Symbol for each number. I hope you find these as useful as I did! As per my profile, all of my resources are charged at £1 [This is listed at £2 - I couldn't go any lower!] and these funds will be uploaded monthly to my fundraising page. Please see the links/my profile for more information! Thanks for having a look, and I hope to see you again! Jess