Early years Mandarin resources: greetings
Keeping your class engaged with new and interesting classroom resources is vital in helping them reach their potential. With Tes Resources you'll never be short of teaching ideas. We have a range of tried and tested materials created by teachers for teachers, from early years through to A level.

Breathe new life into your lesson plans with our primary and secondary classroom resources. Whether you're looking for fun maths worksheets or brand new guided reading activities, we have thousands of free and premium resources for you to download. From early years to primary, you'll find phonics worksheets and numeracy games and all you need to revise for Sats. From secondary to post-16, we have everything from French lessons to algebra activities, as well as GCSE revision guides and more.
Read more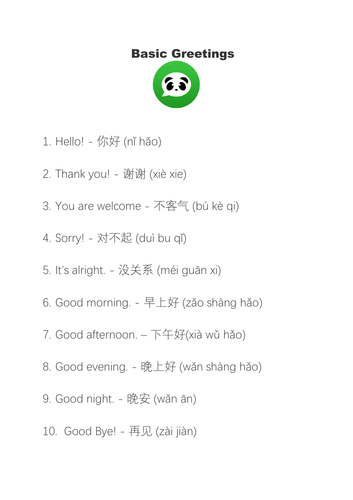 10 engaging worksheets included for different acitivites and different age groups.
This worksheet is a part of the Around the World series. Need some quick activities for your country theme? These are for you! The fun and engaging 6-pager worksheet introduces the student to a great variety of fun and educational exercises about China. Overview: Cut & Paste: Quick facts about China Reading Text: Brief introduction to China Feature reading: The Panda Think & Write: 5 Short Q&A Word Game: Word Search Play with me: Chinese Zodiacs Charades Exploration: Geography and conversation exercise Cultural exercise: Funny Fingers game Let's go and travel around the world! Key Words:Reading, writing, conversation and learning games, geography, China, china, Chinese, Mandarin, Asia, Capital, Beijing, Panda, Bamboo, Zodiac signs, exploration, fun finger gestures.
Posters for classroom display, introducing new vocabulary and reviewing.
Flashcards of Basic Greetings Basic Greetings Hello! - 你好 Good Bye! - 再见 How are you? - 你好吗? Thank you! - 谢谢 You are welcome - 不客气 Sorry! - 对不起 It's alright. - 没关系 Good evening! - 晚上好 Good night. - 晚安 Good morning! - 早上好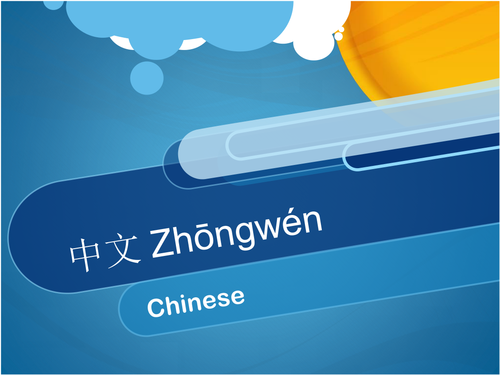 In this PowerPoint resource you can introduce Chinese to pupils with a snap shot of cultural and geographical points of interest, before exploring the key language of introduction phrases and numbers 1-10. Includes some games and activities such as Connect 3 to consolidate language presented throughout the lesson. Includes activity sheet to allow pupils to start writing basic Mandarin Chinese right away!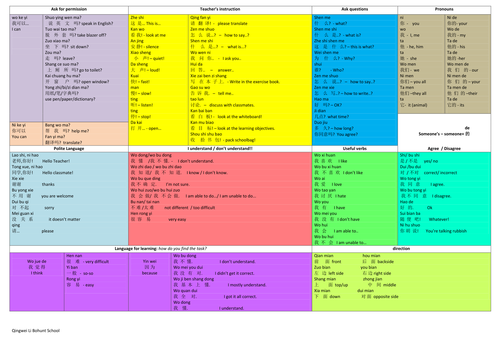 Mandarin Chinese/English target language mat. It includes common classroom instructions, verbs and adjectives for beginners. I recommend to print it on A3 size. Please note that this mat doesn't have pinyin due to limited space.