Brillantina's Shop
Head of Languages at Wyedean School. You can buy me a coffee here: https://www.buymeacoffee.com/MFLWyedean
68Uploads
8k+Views
2k+Downloads
Head of Languages at Wyedean School. You can buy me a coffee here: https://www.buymeacoffee.com/MFLWyedean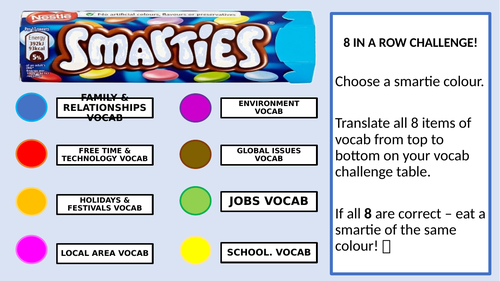 Smarties Vocab Challenge Template - each smartie colour corresponds to a topic from the GCSE Languages topic list. Compeletely editable so you can input the vocab that your students may struggle to remember. Students must choose a colour, translate 8 items of vocab to eat a smartie! Repeat the process until all smarties are gone! :)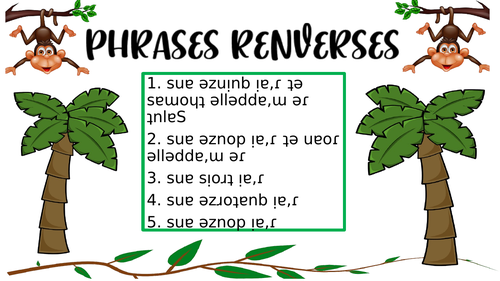 Upside down sentences - students re-write the sentences correctly, challenge to translate them into English. Great for Conti's method of chunking! (link to change text is in text box on the bottom of the slide)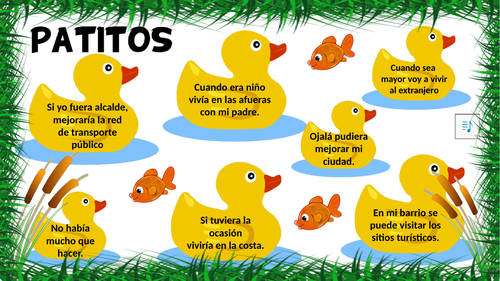 upon a click of the mouse, each duckling will take 20 seconds to disappear fully. in that time, students are to translate the sentence from TL-Eng or Eng-TL.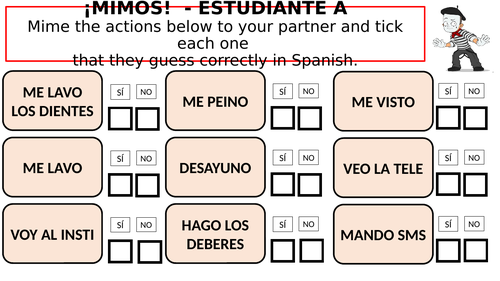 This is my Spanish Charades and SuperMario Translation Challenge Game templates using Gianfranco Conti's methods of chunking.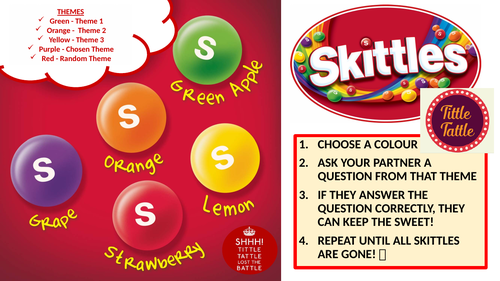 Template for the Skittles Conversation Practice Challenge - editable. STUDENTS CHOOSE A COLOUR ASK THEIR PARTNER A QUESTION FROM THAT THEME IF THEY ANSWER THE QUESTION CORRECTLY, THEY CAN KEEP THE SWEET! REPEAT UNTIL ALL SKITTLES ARE GONE! :)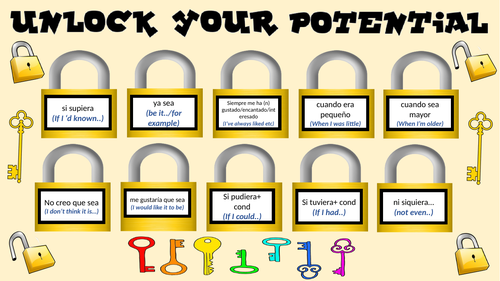 Spanish GCSE Higher Level Phrases Template - completely editable to include the higher level phrases that you would like students to learn.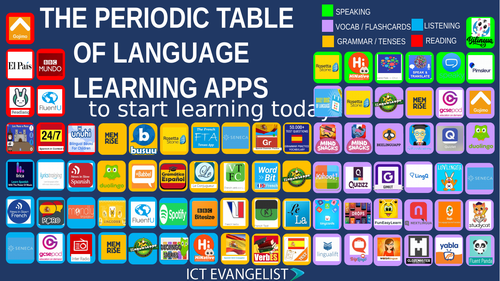 I made this - the Periodic Table of Language Learning Apps -template and idea taken from the lovely ICTEvangelist.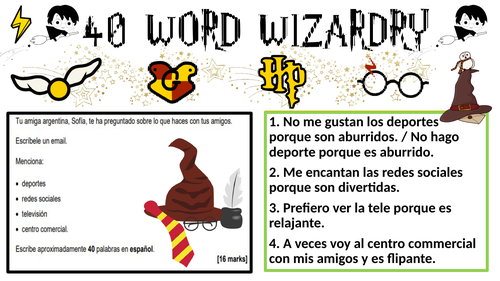 A template for the 40 word question with AQA for the GCSE spanish writing exam. Getting students to simplify their answers and not to overcomplicate!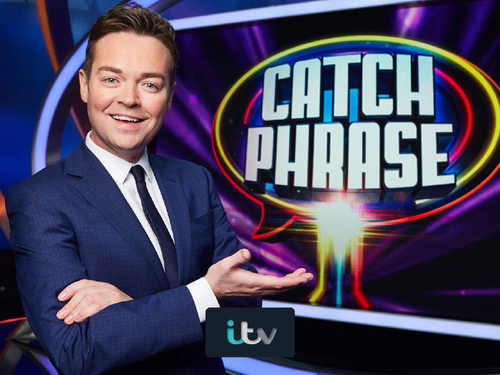 A template for the gameshow Catchphrase - I use it to practise Gianfranco Conti's method of chunking - students have to remember the action behind the squares and say the answer in Spanish.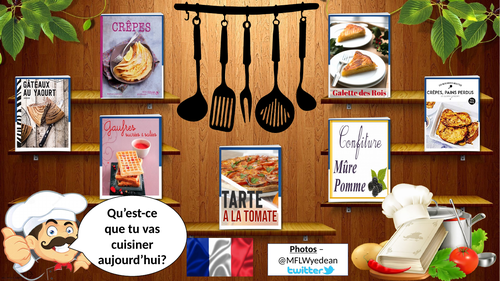 This powerpoint contains videos of typical French recipes - easy to follow for students learning French.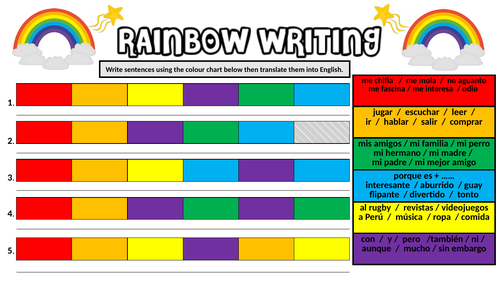 Students use the colour chart to create sentences in Spanish. Challenge is to translate them into English. Totally adaptable.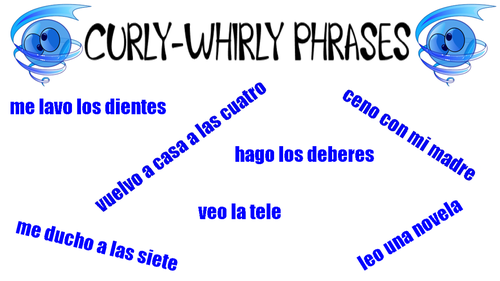 Students guess the sentence that whirls around on the screen. Website used to create the animated text is in the comment box under the slide.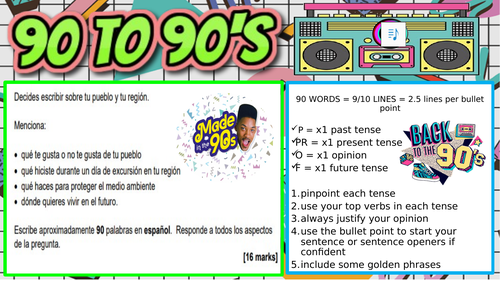 A template to look at simplifying the 90 word writing question for GCSE Languages (this template is Spanish). After studying the requirements and going through strategies, students complete the 90 word task to 90's music - embedded playlist on the slide!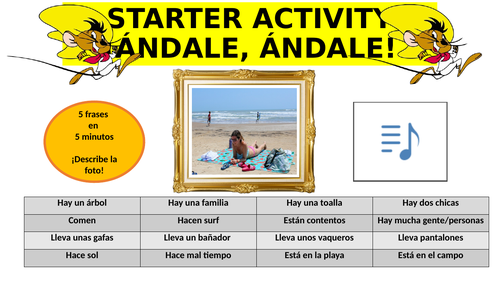 x40 Spanish photocards for practise in class. I use this at KS3 but can also be used for foundation level GCSE. Apologies but there may be some accents missing as the file changed fonts when I opened it on a different computer!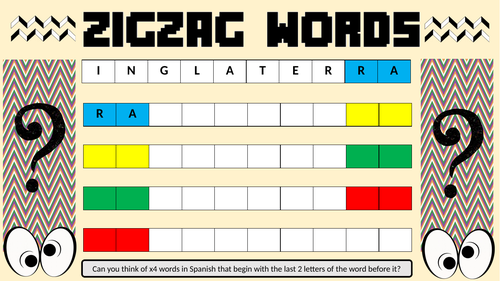 Starter activity - perhaps quite challenging for KS3 but ideal for top end KS4 and KS5 to get them thinking about vocab.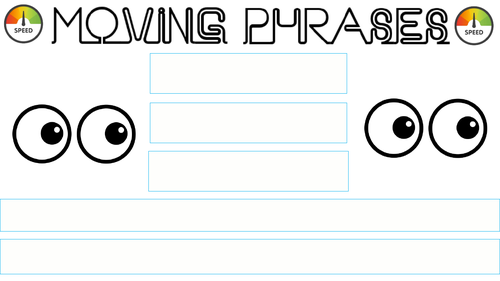 Using the website Flamingtext.com I have created a Moving Phrases template. Students write the sentence they see before it disappears. Challenge is to translate it.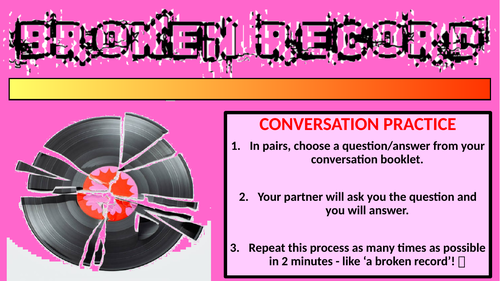 A template with timer for 2 mins: In pairs, student A asks B a question from the conversation booklet - student B must answer the question - they then repeat this process with the same question/answer, as many times in 2 mins.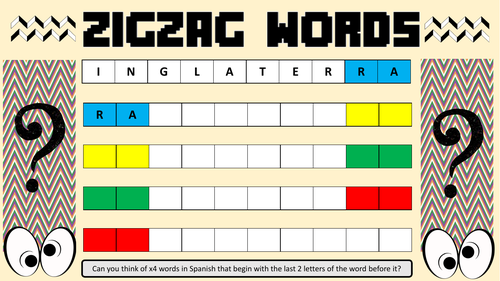 Students use the last 2 letters of each word to create the next one! Challenge: translate the words!