Grefintec's Shop
Resources made by me and shared for free.
57Uploads
55k+Views
47k+Downloads
Resources made by me and shared for free.

Keywords linked to variation and classification. Developed for use with a Ks3 science class but could be used for GCSE. A great way to settle a class whilst consolidating learning of definitions linked to the topic.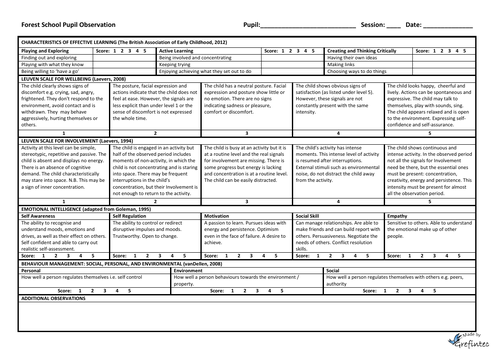 Created for the Forest School's Leadership Qualification (Level 3). Specifically for Unit 5: 2 – Be able to assess the impact of Forest School on participants. 2.1 – Observe 3 individuals and assess the impact of Forest School on their behaviour and learning References British Association of Early Childhood Education (BAECE) (2012) Early Years Foundation Stage. Development Matters. London: Early Education. Goleman, D. (1995). Emotional intelligence. Bantam Books, Inc. Laevers, F. (1994) The Leuven Involvement Scale for Young Children. Experiential Education Series, No 1. Leuven: Centre for Experiential Education. Laevers, F. (Ed.) (2008). Well-being and Involvement in Care Settings. A Process-oriented Self-evaluation Instrument (SiCs). Brussel: Kind & Gezin. VanDellen, M. R. (2008). Social, personal and environmental influences on self-control. [Online] Available at: https://dukespace.lib.duke.edu/dspace/bitstream/handle/10161/612/D_VanDellen_Michelle_a_200805.pdf?sequence=1&isAllowed=y (last accessed 05.01.2020).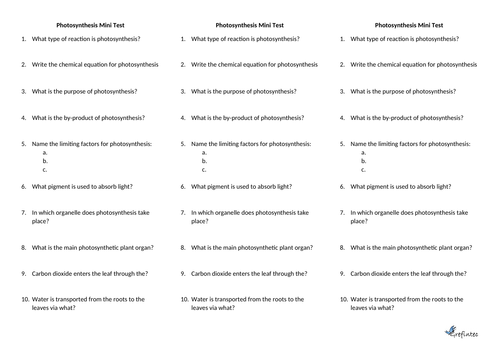 I have created this mini test as a quick assessment of my Year 10's photosynthesis knowledge. Formated with three tests to a page so can be easily answered on the sheet and stuck in books without lots of printing. Answers included.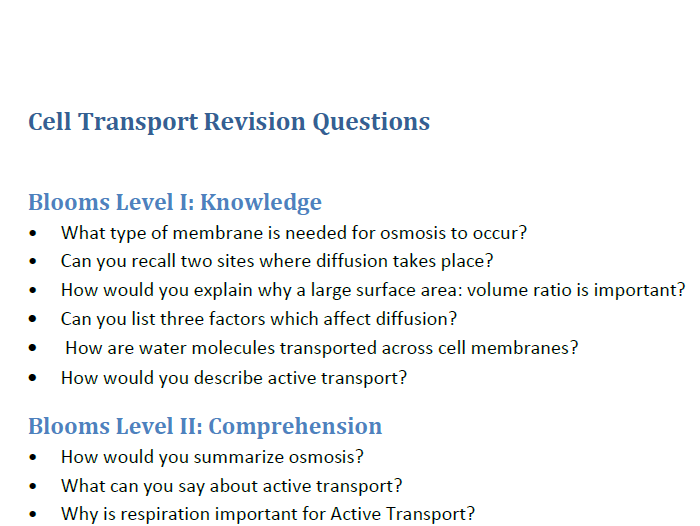 A set of questions to use either in a targeted manner, or as a whole class AfL using whiteboards, or simply as raised hands questioning. Ranked according to Blooms taxonomy Keywords: cell transport, diffusion, cell transport and osmosis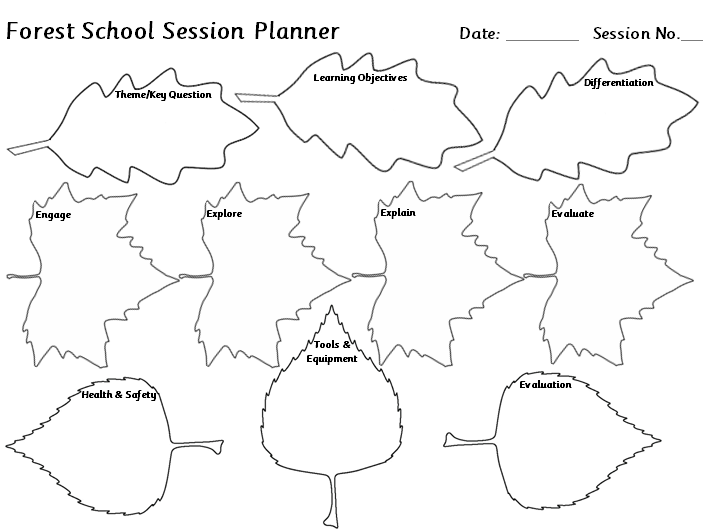 Developed for specifically to help achieve the Unit 4 elements of the Forest School Leader (Level 3) "Plan initial 6 forest School programme sessions, showing links to own client groups learning and development objectives and needs"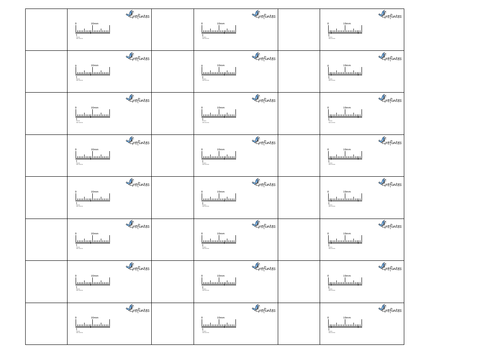 Whilst I do not claim that these are of the quality you would purchase from a science shop, they are certainly good enough for use in class. Obviously quality is also dependent upon your printer and please only print on printable OHP acetate film . If you use the incorrect type it can melt inside your printer and wreck it. Method Print out on printable transparency acetate film 24 micrometers per A4 sheet Cut out and use directly (no need to put on a slide) Each interval is 500um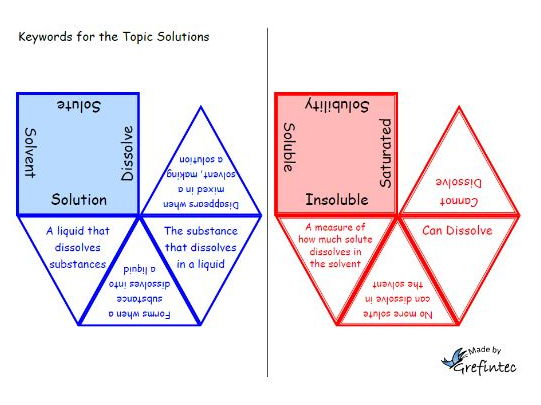 Keystage 3 Resource A card sort where pupils are asked to match keywords with their definitions. Each central square has four keywords printed on each side. The definitions are on triangles which match up to the appropriate keyword. There are two sets of keywords, one in red and one in blue. They are also single or double bordered which means that the sets can still be identified when printed in greyscale. The card sort has been designed so that minimum cutting is required! Keywords: Solution, soluble, insoluble, saturated, dissolve, solubility, solvent, solute

Analogy for Competitive and Non- Competitive Enzyme Inhibition Rate Graph Situation: Preschool birthday party game of musical chairs. The preschoolers are the substrate, the chairs are the enzymes, dads are competitive inhibitors and siblings are non-competitive inhibitors. Competitive Inhibition Some of the parent's want to play. But the more parents there are the less likely the preschoolers are going to get a seat when the music stops. Eventually there will be a point when they are out competed for the seats because there are so many parents playing Non Competitive Inhibition The preschoolers have older siblings who are too cool to be at a party like this. When the music starts they run around pushing the chairs over so they can't be used in the game anymore. It doesn't matter how many preschoolers there are, they can't ever fill all of the chairs because some are out of action.

A useful settling task for starting a revision session on the AQA biology syllabus.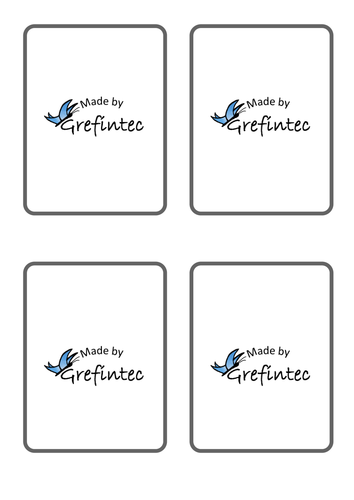 I work as an SEN assistant and am employed to work one-to-one with a three year old child who has global developmental delay. Whilst she has very limited verbal communication, I have discovered that she is great at playing memory and enjoys playing the game. We have been focusing more recently on colour and shape so I have created this memory game to specifically support her learning. The game consists of 32 colour cards. The shapes are square, circle, triangle and star printed in pairs in each of four colours: red, blue, yellow and green. I do not play the game using all 32 cards and currently use either all of one particular shape in all of the colour variations or one of each shape in different colours. She now recognises the four different shapes. But you can adapt the game to play in any way which you see fit. Because the game uses pairs of cards it can be played either as memory or snap. I will shortly be publishing a black and white version of this game to support those children who work better using this colour scheme. Keywords: SEN, memory, shapes, colour, game, learning through play, snap, EYFS, Curriculum for Excellence, numeracy,

Pupils are asked to complete the table as part of an explore task. To be delivered as part of the curriculum for AQA GCSE 4.1.3.1 Diffusion Research can be conducted using textbooks or as part of a websearch Diffusion: adaptations, root, small intestine, leaves, kidney and lungs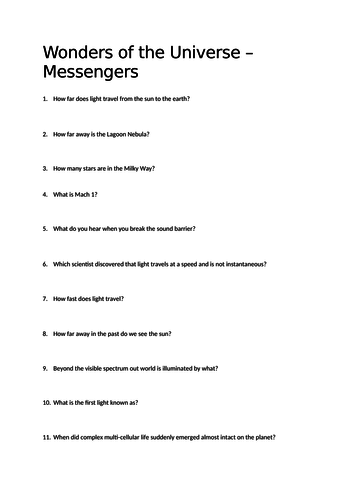 A set of questions and answers written to go with a class watching the 'Messengers' episode (Ep 4) of Brian Cox's 'Wonders of the Universe' series. Links into topics Light and Sound. Helps to keep engagement throughout the film. A good lesson for end of term or a cover lesson.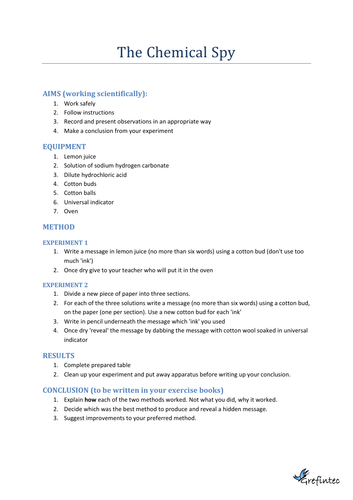 A practical delivered as part of a KS3 topic entitle 'Materials and Everyday Chemistry'. Students carry out two experiments investigating heat triggered invisible ink and pH triggered invisible ink.

A Learning Outcomes/Objectives Slide proforma which can be added to your own lesson PowerPoint to show pupils which outcomes/objectives aim to be achieved during the lesson. Differentiated using Bloom's taxonomy enabling you to clearly show lower and higher level outcomes/objectives. Just adapt to your own requirements by deleting the boxes that you do not need - an example is given with three outcomes. Just type in the outcomes into the colour coordinated text box. Keywords: Bloom's taxonomy, knowledge, comprehension, application, analysis, evaluation, synthesis, lesson outcomes, lesson objectives, higher level, lower level, differentiation.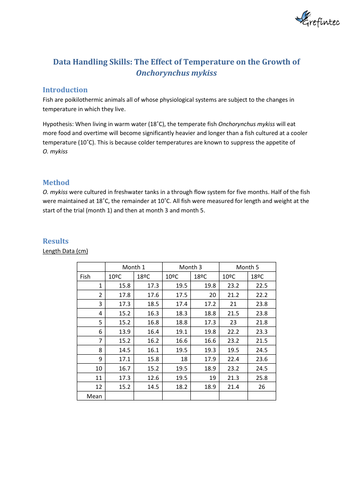 I have created this worksheet to support A-Levels students to plot data accurately, but could easily be used with GCSE students. I deliver it as part of a lesson, prior to them doing a practical where they are required to demonstrate this as a skill. The data looks at the effect of temperature on the growth of * Onchorynchus mykiss* (Rainbow trout).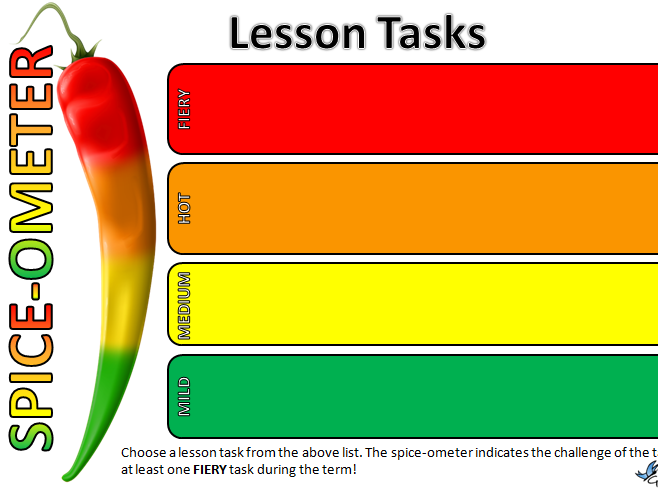 A whole school PowerPoint slide to present differentiated lesson tasks. This differentiated task sheet enables students to take ownership for their own learning. The resource has been created using PowerPoint, this means that text boxes can be inserted onto the challenge levels to describe the tasks. I suggest two or three choices of task per challenge level. The challenge levels are indicated by spiciness, the spicier the task, the more challenging it is. Keywords: whole school, lesson, task sheet, worksheet, class template, chili, differentiated

Encourage independent learning with this 'Twelve Days of Christmas' template. Simply add text to the (bacteria/virus) baubles and ask your students to choose what they want to do. How you deliver this is entirely up to you. For example you could ask them to do a minimum of two home works. In order to position the text boxes over the baubles I have just used the number '1'. This means that they can be easily edited and personalised by you. #festive; #Christmas; #independent learning #homework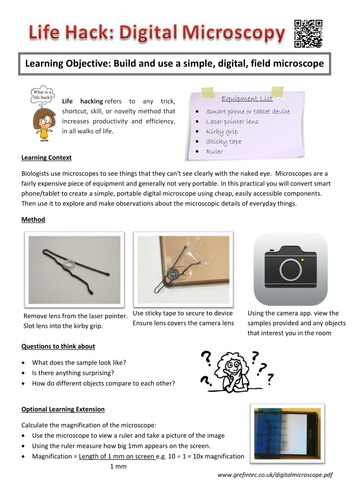 Biologists use microscopes to see things that they can't see clearly with the naked eye. Microscopes are a fairly expensive piece of equipment and generally not very portable. In this practical you will convert smart phone/tablet to create a simple, portable digital microscope using cheap, easily accessible components. Then use it to explore and make observations about the microscopic details of everyday things. Keywords: science, microscopes, DIY, simple, fun activity, biology, STEM, STEM activity, STEM project, Science Club, STEM club.

This is a ten minute game which I created as a revision quiz for A-Level students revising semi-conservative DNA replication, although the board can be used for any biology topic, you just need to set the questions! You can either access the catchphrase board online at: http://www.grefintec.co.uk/catchphraseforbiology/story.html (copy and paste url to address bar) Or you can now download it for offline use from http://www.grefintec.co.uk/downloadslides.html (instruction on the site) Ask the first question to the class. The pupil who gets the question right, gets to choose a square to remove. This continues until either the questions are completed or the catchphrase is guessed. The winner is the person who can guess the biological catchphrase from the picture Just in case you can't work it out - the catchphrase is 'Survival of the fittest' Tip: Ask a pupil to be the game facilitator - enabling you to present the quiz. Enjoy!! Keywords: catchphrase, class game, biology, quick quiz, quiz, genetics, semi-conservative, DNA, DNA replication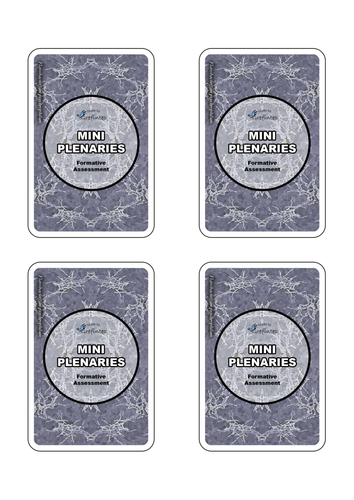 Mini plenaries are a type of formative assessment and are a great way to review progress of learning during a lesson. It also allows pupils opportunities for self reflection. "Teachers have also begun to be more flexible in introducing effective 'mini plenaries' at critical points in a lesson to review progress, clarify misunderstandings and move the work forward (OFSTED Dec. 2003)". Just ask a pupil to select a card and in so doing will feel like they are taking responsibility for their own learning. Just print out 9 copies of page 1 of the PDF and return to the printer for double sided printing and then print out pages 2-10. It is best to print out the cards on thick paper/thin card. I have laminated my set for durability. There are five sets available from my TES shop, the only difference is the back design, the actually mini plenary suggestions are the same. This is the biology themed back. Keywords: formative assessment, mini plenaries, plenary, assessment.