Grefintec's Shop
Resources made by me and shared for free.
65Uploads
72k+Views
61k+Downloads
Resources made by me and shared for free.

An A4 sheet with six prepared exit tickets. A quick and easy way to collect feedback on learning which is taking place in your class.

Pupils are asked to complete a storyboard to illustrate what happens when a bacteria enters their body. The process starts from the moment 'Toby' gets scratched by his cat. His blood begins to clot then the immune system uses phagocytes and lymphocytes to target the bacteria. Key words: Y shaped molecules, antibodies, phagocyte, phagocytosis, lymphocyte, agglutination, immune system, bacteria, storyboard

The theorist Piaget was the first person to define the term subitising as the ability to instantly recognise the number of objects in a small group without needing to count them. This simple game helps children to learn this key skill. Take the pattern for the number three on a dice, children can recognise that this represents the value of three even if they can't read the number '3'. Children can also see numbers within numbers using dot patters. For example, they can see the numbers two and one within three. When we played this game, children took turns to choose a counter and match it to the number pattern. It proved to be very popular!

This is a ten minute game which I created as a revision quiz for A-Level students revising semi-conservative DNA replication, although the board can be used for any biology topic, you just need to set the questions! You can either access the catchphrase board online at: http://www.grefintec.co.uk/catchphraseforbiology/story.html (copy and paste url to address bar) Or you can now download it for offline use from http://www.grefintec.co.uk/downloadslides.html (instruction on the site) Ask the first question to the class. The pupil who gets the question right, gets to choose a square to remove. This continues until either the questions are completed or the catchphrase is guessed. The winner is the person who can guess the biological catchphrase from the picture Just in case you can't work it out - the catchphrase is 'Survival of the fittest' Tip: Ask a pupil to be the game facilitator - enabling you to present the quiz. Enjoy!! Keywords: catchphrase, class game, biology, quick quiz, quiz, genetics, semi-conservative, DNA, DNA replication

Keywords linked to variation and classification. Developed for use with a Ks3 science class but could be used for GCSE. A great way to settle a class whilst consolidating learning of definitions linked to the topic.

Analogy for Competitive and Non- Competitive Enzyme Inhibition Rate Graph Situation: Preschool birthday party game of musical chairs. The preschoolers are the substrate, the chairs are the enzymes, dads are competitive inhibitors and siblings are non-competitive inhibitors. Competitive Inhibition Some of the parent's want to play. But the more parents there are the less likely the preschoolers are going to get a seat when the music stops. Eventually there will be a point when they are out competed for the seats because there are so many parents playing Non Competitive Inhibition The preschoolers have older siblings who are too cool to be at a party like this. When the music starts they run around pushing the chairs over so they can't be used in the game anymore. It doesn't matter how many preschoolers there are, they can't ever fill all of the chairs because some are out of action.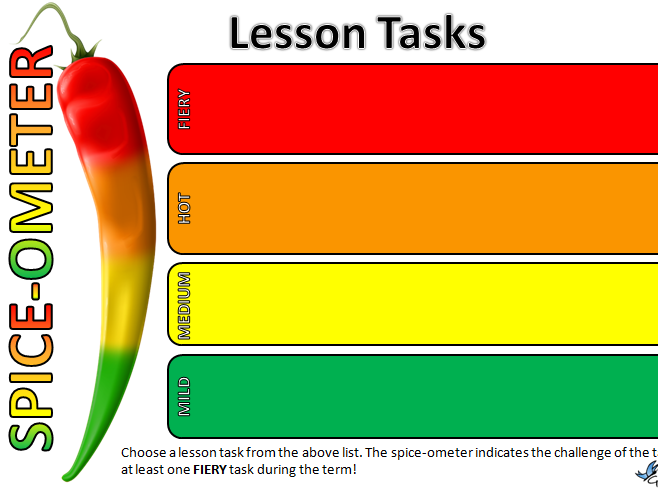 A whole school PowerPoint slide to present differentiated lesson tasks. This differentiated task sheet enables students to take ownership for their own learning. The resource has been created using PowerPoint, this means that text boxes can be inserted onto the challenge levels to describe the tasks. I suggest two or three choices of task per challenge level. The challenge levels are indicated by spiciness, the spicier the task, the more challenging it is. Keywords: whole school, lesson, task sheet, worksheet, class template, chili, differentiated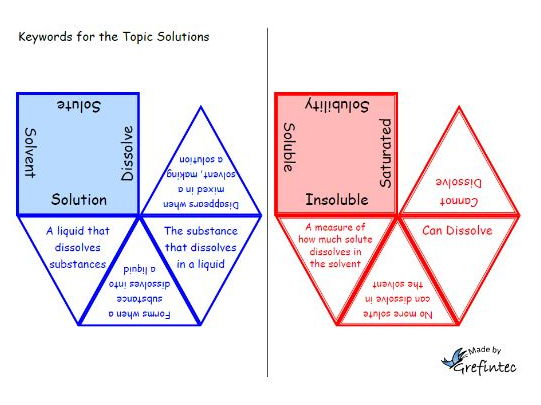 Keystage 3 Resource A card sort where pupils are asked to match keywords with their definitions. Each central square has four keywords printed on each side. The definitions are on triangles which match up to the appropriate keyword. There are two sets of keywords, one in red and one in blue. They are also single or double bordered which means that the sets can still be identified when printed in greyscale. The card sort has been designed so that minimum cutting is required! Keywords: Solution, soluble, insoluble, saturated, dissolve, solubility, solvent, solute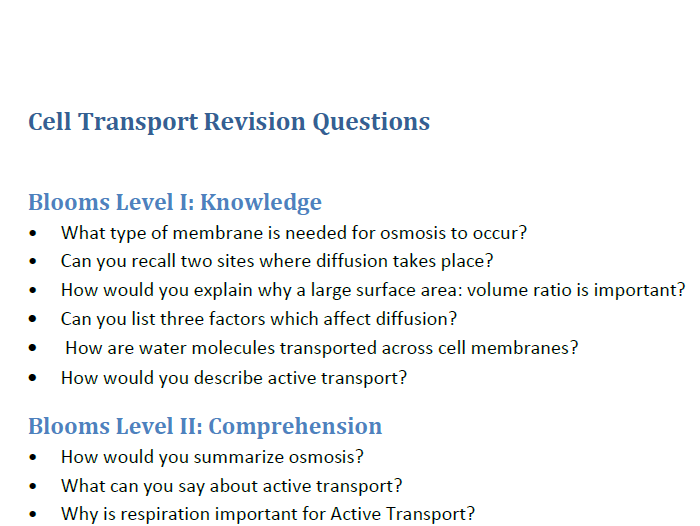 A set of questions to use either in a targeted manner, or as a whole class AfL using whiteboards, or simply as raised hands questioning. Ranked according to Blooms taxonomy Keywords: cell transport, diffusion, cell transport and osmosis

A useful settling task for starting a revision session on the AQA biology syllabus.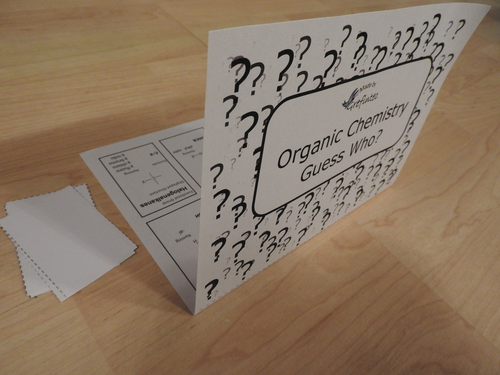 A Guess Who game designed for pupils revising Organic Chemistry functional groups. Inspired by the childhood game 'Guess Who?' and played in a similar way. Print out pages two copies of page 1 and print on the reverse page 2 so that when folded in half (as in the picture) the title page obscures the view of the functional groups. Print out two copies of page 3 and cut out the rectangles. Players face each other. Each player chooses a functional group and keeps it a secret. Players take it in turns to guess the identity of the other player's chosen group using clues associated with the different groups. Players use the white rectangles to cover the functional groups eliminated from the game. First player to guess the other player's functional group wins! Keywords: organic chemistry, functional groups, alkanes, alkenes, alcohols, aldehydes, ketones, carboxylic acids, esters, halogenalkanes, game. Guess Who?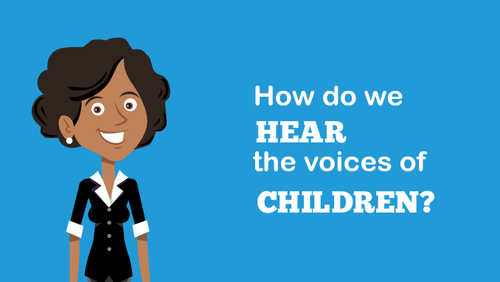 Listening to children is a skill which requires much more than the use of our ears. We can observe their actions and pay attention to their behaviour. This animation was developed for Anne Emerson-Smith Play Training Ltd and shares the key strategies for listening to children. Excellent for training early years and KS1 teachers, teaching assistants and early years educators.

Table for students to complete detailing the different biological components of inspiration and expiration Created for an A-Level class but may be suitable for higher level GCSE #ventilation #gas exchange #breathing #lungs #inspiration #expiration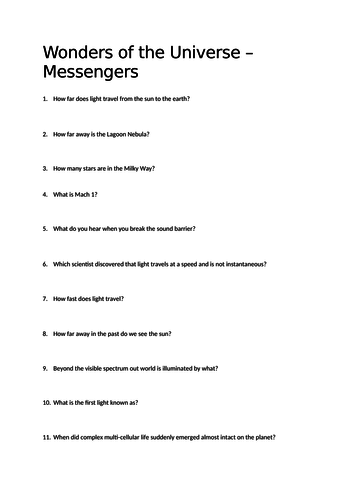 A set of questions and answers written to go with a class watching the 'Messengers' episode (Ep 4) of Brian Cox's 'Wonders of the Universe' series. Links into topics Light and Sound. Helps to keep engagement throughout the film. A good lesson for end of term or a cover lesson.

Formative Assessment/Assessment for Learning 1. At the start of a new topic, get your pupils to stick this in on the first page. 2. Ask them to write everything that they already know about the topic in the centre square. 3. Then either mid way through the lesson, or mid way through the topic, turn back to this first page and ask the pupils to write everything that they know in the middle rectangle - using a different colour ink really highlights their new learning. Also at this point they can work as a 'talking pair' and expand on this. 4. At the end of the topic, return to this first page and complete the final rectangle, again using a different colour is a good idea, as is incorporating 'talking pair' information. A simple way to let both you and your students know what progress they have made.

LO 3 Evaluate a Forest School programme 3.2 Carry out a summative evaluation at the end of the six Forest School sessions and explain how this will inform future sessions Template form to evaluate a block of six session for use as part of a Forest School Leader portfolio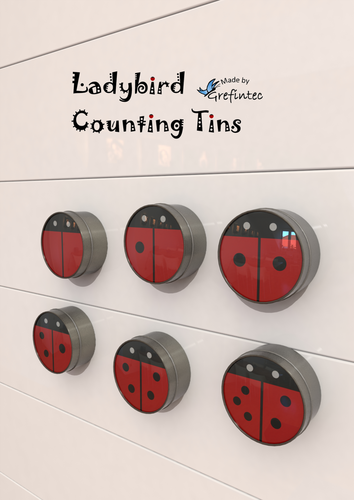 I created these tins for use in my former nursery where they were enjoyed by children aged 2.5 years to school age. On one side are the ladybirds with 0 - 5 spots and on the reverse the number is written. The tins were left on one of the radiators and the children accessed them when they chose. Sometimes I would find some very curious things in the counting boxes but more often than not the quantity would match the number of spots on the ladybird. Keywords: EYFS, Curriculum for Excellence, Early Numeracy, Numbers, Counting, Nursery, Reception

Encourage independent learning with this 'Twelve Days of Christmas' template. Simply add text to the (bacteria/virus) baubles and ask your students to choose what they want to do. How you deliver this is entirely up to you. For example you could ask them to do a minimum of two home works. In order to position the text boxes over the baubles I have just used the number '1'. This means that they can be easily edited and personalised by you. #festive; #Christmas; #independent learning #homework

A set of dominoes to use as a plenary or as a revision resource. Students have to cut out the dominoes and then match up the questions with the answers. All are from the GCSE biology topic 'plant hormones'.