English Language and Lang/Lit
42Uploads
19k+Views
11k+Downloads

This is a bundle of resources and a SOW for tackling Arthur Miller's 'All My Sons' for the Dramatic Encounters element of the AQA A Level English Language & Literature qualification (new spec). The SOW spans 14 weeks, although this is based on my centre, which has 90 minute sessions (there was one lesson per week on the play). It provides directed reading activities, starters, extract analyses and presentations on aspects of the play. Some sample essay questions are provided. Quizzes to test understanding, sometimes mentioned in the SOW, can be found on Moodle: search for username 'KeriLO'. There is also a revision booklet. (Where I refer to PETE paragraphs, this means Point, Evidence, Technical Term, Elaboration - it's something we use here to encourage students to write in enough detail.)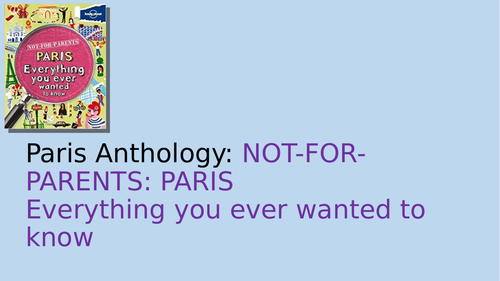 Based on the AS/A Level Paris Anthology for AQA English Language & Literature. Contains activities, centred around exam-relevant skills like language and structure, and ways to approach unfamiliar texts and genres. Intended to support students of all levels. The slides make mention of 'PETE' paragraphs (point/evidence/technical terms/elaboration) but could easily be modified for whatever structured paragraph model you use!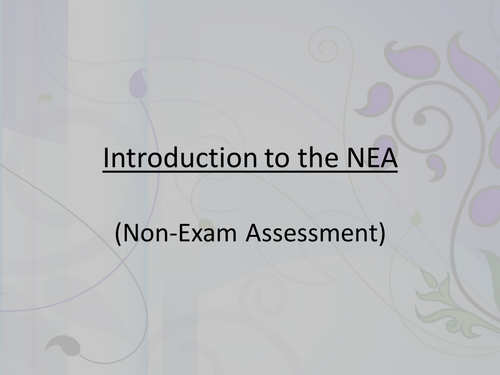 This set of resources contains a number of presentations, tasks and a guide booklet tailored towards a bite-sized approach to the new specification coursework. It assumes that you will be taking students through the different elements in class, with scope for them to then go away and work independently. I make mention of 'the textbook' on some of the slides - I'm referring to the Cambridge textbook. I've left this on (the book has been useful!) but feel free to remove if you're not using it. I go through: - Getting started on the NEA - Different kinds of investigations - The importance of data and research - The introduction and methodology sections (with examples) - The analysis section - Concluding and evaluating (with examples) - An introduction to the original writing component - An introduction to style models, with a short sample text - Writing the commentary (with an embedded mark scheme). This has worked well for my students this year. I hope it's useful to some of you!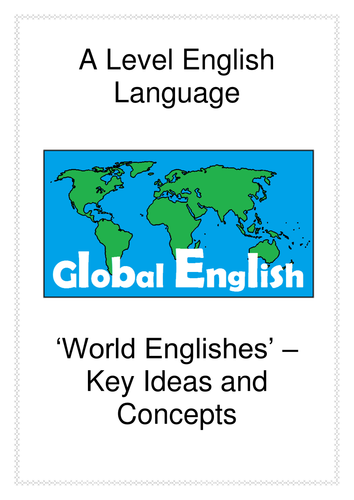 Closely following David Crystal's book, English as a Global Language, this reference booklet identifies some of the reasons for: - The English language's position of world importance - Issues and considerations surrounding the topic of English as a global language - What could happen in future. It is intended to support AQA's new A Level English Language (second year of the course). The booklet asks lots of questions: these could be for students to discuss in class, make notes on in their own time, or even draft their own exam questions for one another (if they can also identify a suitable piece of data to accompany their questions!) It should support learner understanding of some of the relevant context for the position of English.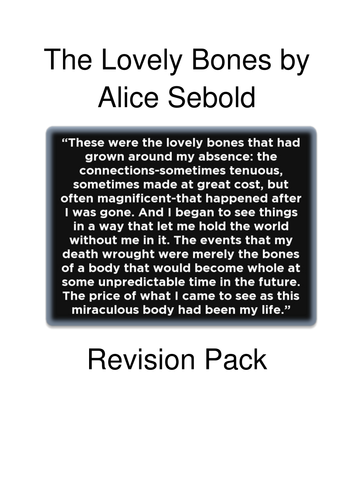 Designed to accompany the new AQA specification for AS Level English Language & Literature: Paper 1 (Views and Voices) for those who have elected to study The Lovely Bones by Alice Sebold. This resource goes into general detail on the structure and timings of the exams, focusing on Paper 1; it deals with FAQs and provides structured guidance on how to prepare for the exam from three months prior to it. It also contains space for students to self-assess their own revision requirements, with some add-on activities on themes in the novel, plus comment on how setting, point of view, sense of space/place/time and characterisation are explored (in line with AQA's own guidance on exam responses). Finally, there are a range of text extracts and possible questions, to allow students to practice their writing skills. This resource is intended to be given out when all the reading is complete. It also presupposes that students will have kept a reading log.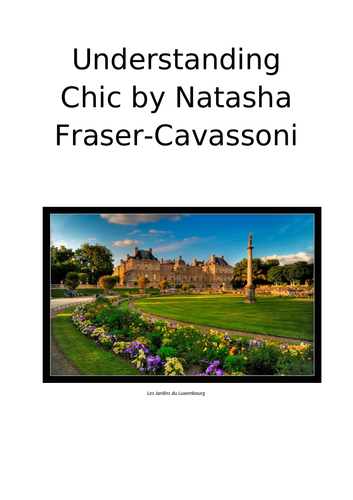 This activity pack is intended to be used with AQA's new specification English Language & Literature course - developing understanding of one of the texts in the Paris Anthology, Understanding Chic by Natasha Fraser-Cavassoni. The workpack includes a discussion of the key term 'chic', work on language techniques such as sensory language, more focused work on language techniques (such as how a sense of the dramatic is created in the text), mind-mapping, written extension tasks, and a recast activity which links in with other texts in the anthology.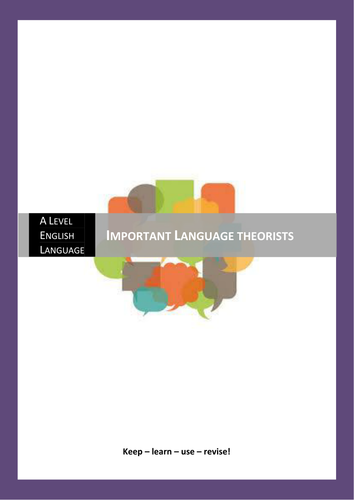 This resource has been designed for AQA A Level English Language (new specification). It is a brief glossary of theorists relevant to the different areas of study on the course: - Language and dialect/accent - Language and Age - Language and Occupation - Language Change Over Time - Language and Gender This could be useful to re-cap from the AS course, for revision towards the end of the AS course, or to give to students now on the second year of the new programme. Whilst it is not exhaustive, it's intended to give students a bedrock of relevant theorists explained in a brief but clear way, and it's a straightforward resource they can use for reference, revision, or to support other classroom/homework activities.

Put together for A Level English Language students (AQA). This presentation worked for the Language Change Over Time element of the old specification, but could be useful for Language Change in the new specification too. Contains: - Basic introduction - Embedded media clips (correct at time of posting) - Timed activity, with link to online timer - A sample of Johnson's writing, from the Preface to the Dictionary - Stretch & Challenge activity - Ideas and discussion points - Links to Johnson's Online Dictionary and an activity based on this.

Some of the Paris Anthology texts are very tricky; this resource is intended to support students as they read The Seven Ages of Paris by Alistair Horne. It breaks down the text into manageable chunks, providing summaries and glossaries for each section. There are some illustrations to aid understanding, and at the end there are some short development tasks. This would be suitable for AS or A Level students studying this text.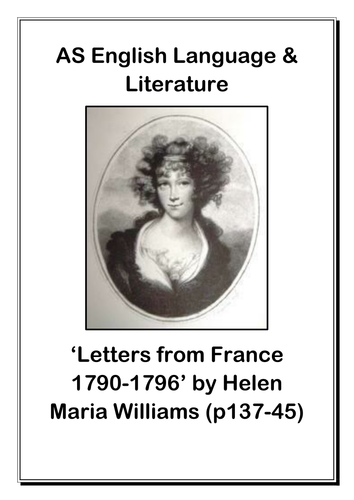 One of the more challenging texts in the Paris Anthology for AS English Language & Literature, it can feel like you need to give a mini history lesson before tackling the text itself with Helen Maria Williams' 'Letters from France'. This PowerPoint presentation and an accompanying booklet help to blend an understanding of the political/social climate with tasks encouraging closer reading of literary techniques.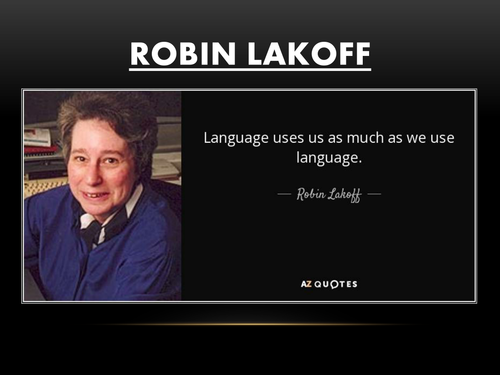 A resource in-line with Language Diversity work for AS/A Level English Language (AQA, but may be applicable for other boards). Introduces the Dominance Model and the Difference Model - with information on Robin Lakoff and Deborah Tannen respectively. Would suit note-taking, discussion and revision work. There's also a fun starter to test Lakoff's idea that women know more words for describing colours than men!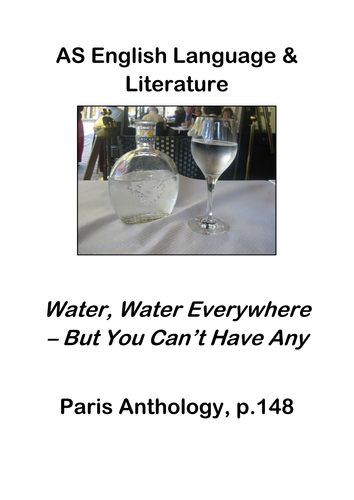 Another set of activities, in a booklet, to help students get to grips with one of the more challenging texts in the Anthology - 'Water, Water Everywhere - But You Can't Have Any' from The Sweet Life in Paris: Delicious Adventures in the World's Most Glorious and Perplexing City – David Lebovitz (p. 148 of the Anthology). It has a combination of language analysis activities, work to help students focus in on author intention, dictionary work, summarising, highlighting tasks and a longer task on how Paris is represented in the extract. It could be a class activity or a homework extension.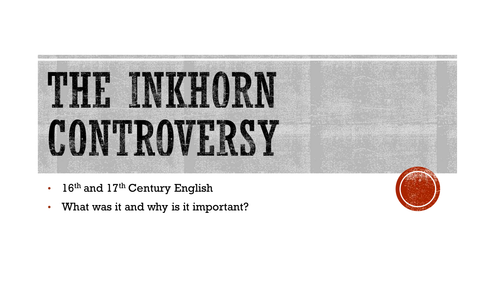 This presentation contains an introduction to the controversy over 'inkhorn words' which originated in the 1500s. Whilst this slightly pre-dates the new specification start date for the language change material of 1600, it's important context and has been mentioned in AQA materials. The PowerPoint contains: - An easy-to-understand introduction to the idea of 'inkhorn words' and why they arose - Some examples of inkhorn words which didn't last - A timed task for students to think about why there would be resistance to some of these words - A look at the arguments for and against - A sample text extract on the topic from the mid-1500s, for students to read and questions for them to answer - The question of national identity and language - Some inkhorn words which are still in use, for students to read and use - Links between the Inkhorn Controversy and the Prescriptivist and Descriptivist schools of thought which followed (with a snippet from a modern Guardian headline which illustrates that controversy over language change is still current).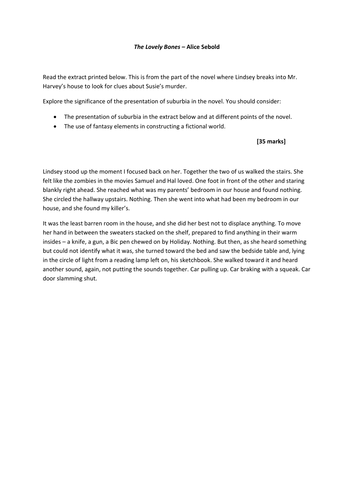 I have put together some practice questions for The Lovely Bones, as there are only a very small number on AQA's website at the moment. These try to follow the extract size suggested by AQA's sample material and may be useful for revision.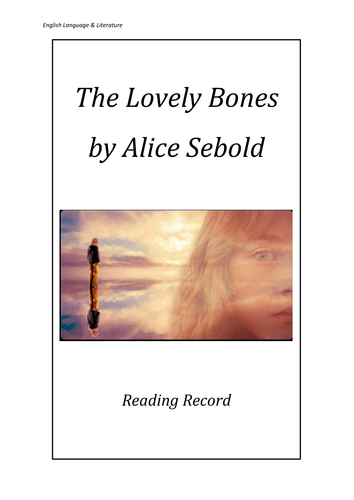 This resource includes a complete SOW for teaching this novel for the new AS English Language & Literature specification (AQA). Because there's a great deal to fit into the AS year, the scheme runs over twelve weeks (our sessions run for ninety minutes.) Included are: - A 24 page Scheme of Work with activities, links, how work can be assessed, differentiation and space to self-evaluate how the sessions have gone - A range of PowerPoint presentations, clearly linked to the appropriate week. Presentations embed written skills, a range of activities and are linked to AQA specifications - Worksheets and writing frames for student support, again all clearly numbered and linked to the SOW - A reading record for students.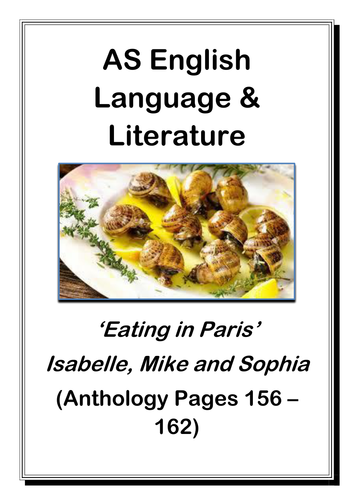 This is an activities booklet based on pages 156-162 of the AQA AS English Language and Literature Paris Anthology. It's the second conversation between Mike, Sophia and Isabelle. It's a complete set of activities which could be done for homework or in class. It has a starter, paired work activities, whole class discussion, purpose and audience recap, work on meanings and representations, writing activities (using the PETE - Point, Evidence, Technical terminology and Explain model, though this can easily be adapted) and a recast activity. The recast supposes students have seen the 'Fine French Food' Lonely Planet clip, and the resource assumes students have some knowledge of conversational features (filled pauses, etc.) This is an accessible resource for all capabilities, and tailored towards exam skills.

This revision pack is intended for the new AQA LangLit specification. It's for the Dramatic Encounters: Exploring Conflict element of the second paper for those centres doing Arthur Miller's 'All My Sons'. It contains: - Clear information about the format of the exam - An easy-to-understand explanation of the Assessment Objectives covered - Elements which could be written about for AO1 - A list of some of the possible areas of 'conflict' which could appear in the exam question - Detailed information on AO3 (context) - Some of the broader considerations of the play, such as moral responsibility - Some of my own 'made up' exam questions, which are in line with the sample material currently available.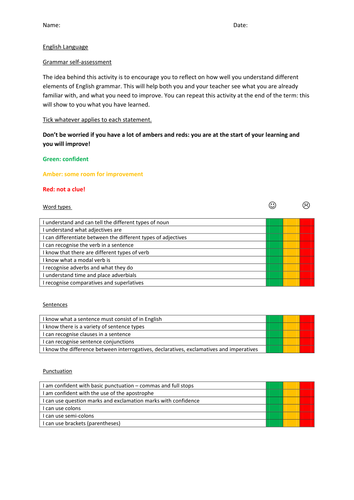 To be used at the start of a term or a course: this quick resource encourages students to self-assess what they know about grammar by simply RAG-rating their skills. Repeating the activity later can allow them to see the progress they have made.

Two PowerPoint presentations relating to Language & Occupation, one of the areas which could come up in the first examinations of AQA's new English Language AS specification (Paper 2). The areas covered: - Swales and 'discourse communities' - Applying Swales to the sample text given by AQA in their sample materials and Cambridge textbook - Activities and examples - Techniques and strategies for approaching a Language & Occupation question in the exam.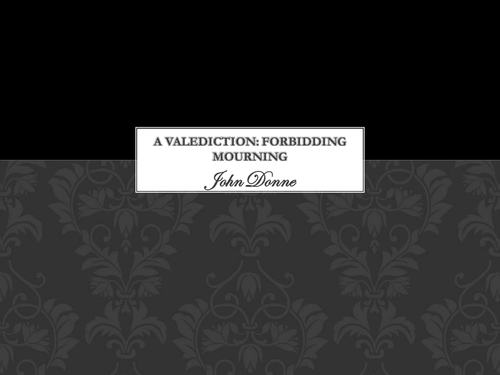 A series of PowerPoint presentations with embedded discussion and written activities, plus a number of stretch and challenge extension tasks, aimed at students studying John Donne for the new AQA AS English Language & Literature specification. Useful for all learner abilities and may be a useful support for revision. Contents: John Donne and the Theme of Love The Flea Air and Angels The Apparition The Anniversary Elegy V A Valediction Against Mourning