A Level English Language and A Level Lang/Lit
48Uploads
32k+Views
19k+Downloads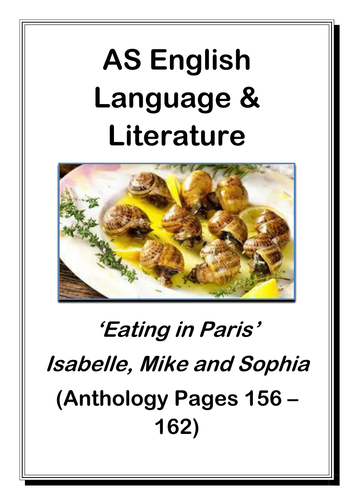 This is an activities booklet based on pages 156-162 of the AQA AS English Language and Literature Paris Anthology. It's the second conversation between Mike, Sophia and Isabelle. It's a complete set of activities which could be done for homework or in class. It has a starter, paired work activities, whole class discussion, purpose and audience recap, work on meanings and representations, writing activities (using the PETE - Point, Evidence, Technical terminology and Explain model, though this can easily be adapted) and a recast activity. The recast supposes students have seen the 'Fine French Food' Lonely Planet clip, and the resource assumes students have some knowledge of conversational features (filled pauses, etc.) This is an accessible resource for all capabilities, and tailored towards exam skills.

Intended for A Level English Language students entering the second year, studying World Englishes, debates and ideas (AQA new specification). This also includes a BBC newspaper article on Hinglish (attributed, with link) followed by some questions for students.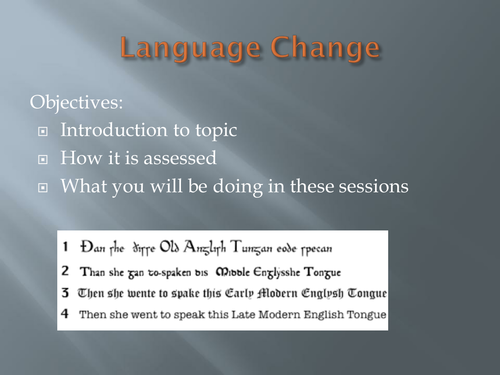 This is a bundle of resources which I've used in the past for teaching A Level English Language - Language Change Over Time, which could still be useful on the new specification. These are a range of activities and presentations which aim to get across main areas of context for key centuries, as well as offering specific examples of texts which students could use to analyse, discuss etc. In keeping with the new specification I have also offered pairs of texts from different time periods on the same theme.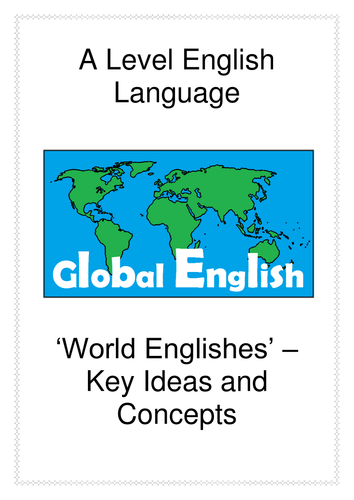 Closely following David Crystal's book, English as a Global Language, this reference booklet identifies some of the reasons for: - The English language's position of world importance - Issues and considerations surrounding the topic of English as a global language - What could happen in future. It is intended to support AQA's new A Level English Language (second year of the course). The booklet asks lots of questions: these could be for students to discuss in class, make notes on in their own time, or even draft their own exam questions for one another (if they can also identify a suitable piece of data to accompany their questions!) It should support learner understanding of some of the relevant context for the position of English.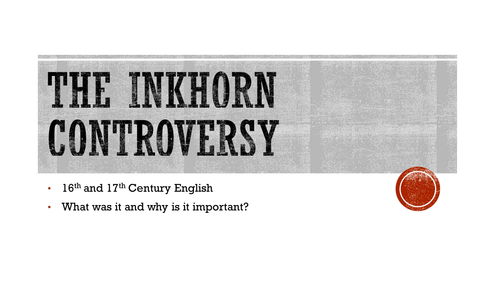 This presentation contains an introduction to the controversy over 'inkhorn words' which originated in the 1500s. Whilst this slightly pre-dates the new specification start date for the language change material of 1600, it's important context and has been mentioned in AQA materials. The PowerPoint contains: - An easy-to-understand introduction to the idea of 'inkhorn words' and why they arose - Some examples of inkhorn words which didn't last - A timed task for students to think about why there would be resistance to some of these words - A look at the arguments for and against - A sample text extract on the topic from the mid-1500s, for students to read and questions for them to answer - The question of national identity and language - Some inkhorn words which are still in use, for students to read and use - Links between the Inkhorn Controversy and the Prescriptivist and Descriptivist schools of thought which followed (with a snippet from a modern Guardian headline which illustrates that controversy over language change is still current).

This revision pack is intended for the new AQA LangLit specification. It's for the Dramatic Encounters: Exploring Conflict element of the second paper for those centres doing Arthur Miller's 'All My Sons'. It contains: - Clear information about the format of the exam - An easy-to-understand explanation of the Assessment Objectives covered - Elements which could be written about for AO1 - A list of some of the possible areas of 'conflict' which could appear in the exam question - Detailed information on AO3 (context) - Some of the broader considerations of the play, such as moral responsibility - Some of my own 'made up' exam questions, which are in line with the sample material currently available.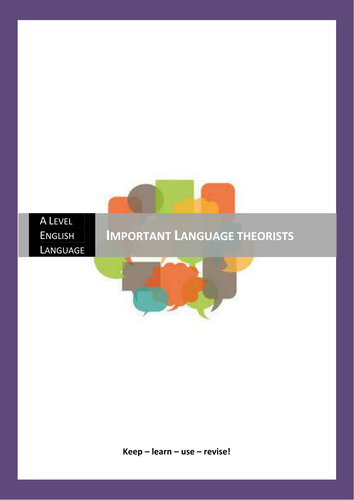 This resource has been designed for AQA A Level English Language (new specification). It is a brief glossary of theorists relevant to the different areas of study on the course: - Language and dialect/accent - Language and Age - Language and Occupation - Language Change Over Time - Language and Gender This could be useful to re-cap from the AS course, for revision towards the end of the AS course, or to give to students now on the second year of the new programme. Whilst it is not exhaustive, it's intended to give students a bedrock of relevant theorists explained in a brief but clear way, and it's a straightforward resource they can use for reference, revision, or to support other classroom/homework activities.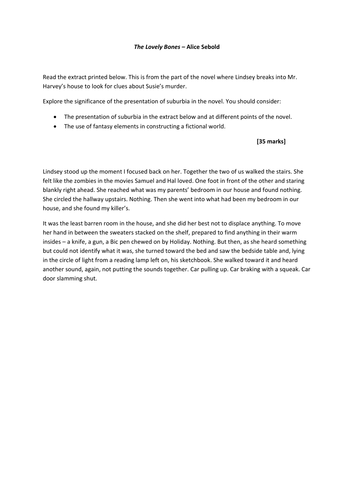 I have put together some practice questions for The Lovely Bones, as there are only a very small number on AQA's website at the moment. These try to follow the extract size suggested by AQA's sample material and may be useful for revision.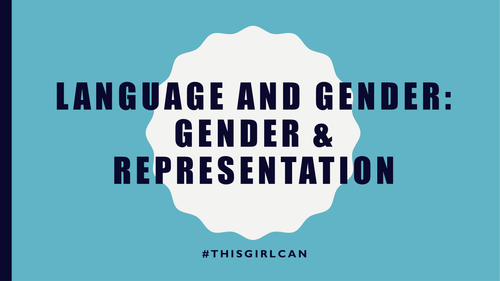 To finish off work on Language and Gender - Representation, we did some work on the #thisgirlcan campaign, which was a good opportunity to get up-to-date and think again about the semantics of the terms 'girl' and 'woman'. The PowerPoint has a link to the most recent advert, with some starter questions. Then there is some reading from The Guardian Online (an opinion article on the campaign) with further questions and an annotation exercise, with some case studies taken from the This Girl Can website which asks students to consider whether any stereotypes are present, and whether theorists they've studied can be linked in any way to this data.

A one-stop resource to support weaker learners with identifying word types.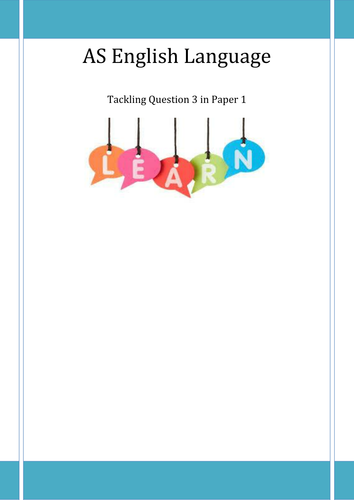 This is a revision resource for students following the new specification AS English Language qualification (AQA). It focuses on Question 3 specifically, based on feedback from my students that they were unsure what to identify/how to structure responses. The resource pack contains: - A recap on how Q3 differs to Q1 and Q2; - The Assessment Objective for Q3 and how to interpret this; - A possible 'toolkit' to help students engage with the task, pointing them towards Genre, Audience, Purpose and Structure; - A bank of useful terms for comparing/contrasting; - Two sample texts linked by topic, in keeping with the exam style questions (although slightly shorter than the sample exam material provided by AQA, to fit in with revision); - A planning grid for initial approaches to the texts; - A sample response, which encompasses AQA's recent training as well as the sample mark scheme for Paper 1; - Some general pointers and guidance on how to approach this paper of the exam. This activity could be given for homework or independent study, or it could be modified for classroom use.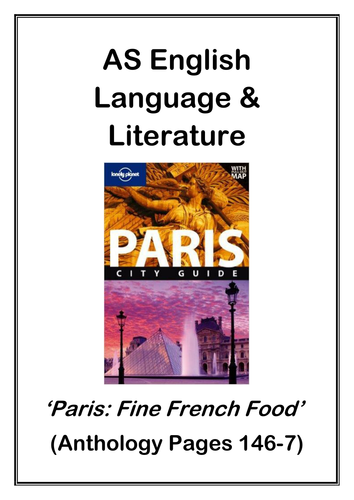 An introductory presentation, with activities, for the Paris anthology text on pages 146-7. EDITED: the foodstuffs mentioned on the slide have now been added. There is also a booklet of activities to go with it, encouraging students to identify language techniques, show basic understanding of the text, practise their paragraph writing (I use PETE: Point, Evidence, Technical Term and Explain, but this could easily be modified) and also attempt a 'recast' activity. All of these things help with exam skills and the booklet can be done in class, or at home.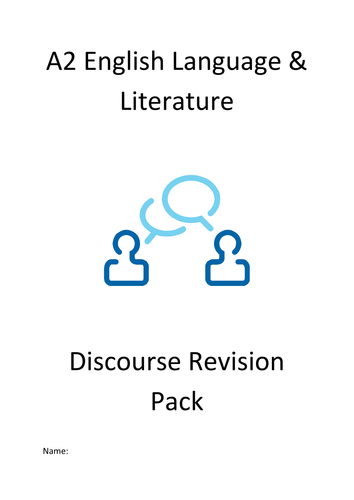 Intended to be used as revision of the discourse terms and theory useful to A2 Lang&Lit students when answering Question 5 of the AQA Specification B syllabus. It is relatively light-touch but encourages students to self-assess what they know, then provides them with a range of practice exercises.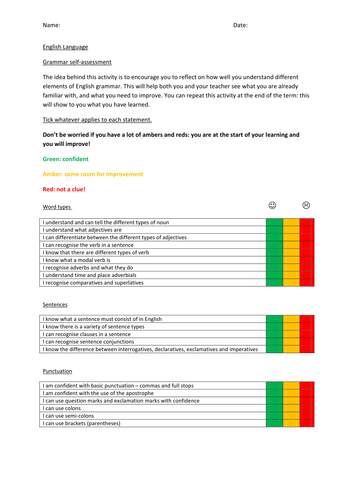 To be used at the start of a term or a course: this quick resource encourages students to self-assess what they know about grammar by simply RAG-rating their skills. Repeating the activity later can allow them to see the progress they have made.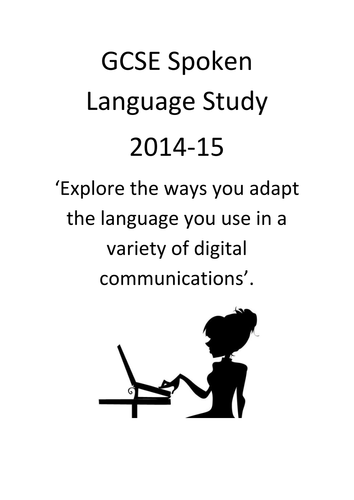 Intended as starter packs for students undertaking the Spoken Language activity for AQA's GCSE English Language; intended to get students, particularly lower-ability students, on their way to understanding some of the issues etc.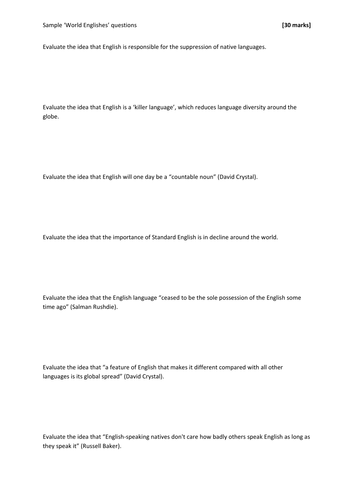 A Level English Language (AQA): Some sample 'evaluate' questions to test understanding of 'World Englishes'.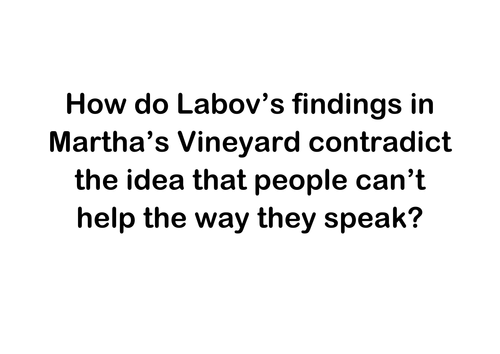 If you want to test how much your learners can recall about language variety in the UK, as well as some associated areas of study, then these questions could be good prompts. They could be displayed, or used as plenary questions, starters or quick-fire questions at the end of this topic area.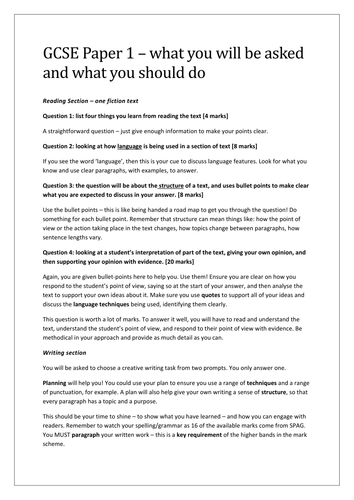 This is intended as a last-minute, 'look at this' resource for students taking the new GCSE English Language exams, on 6th and 12th June 2017. It breaks down what they will be doing for each question on each paper.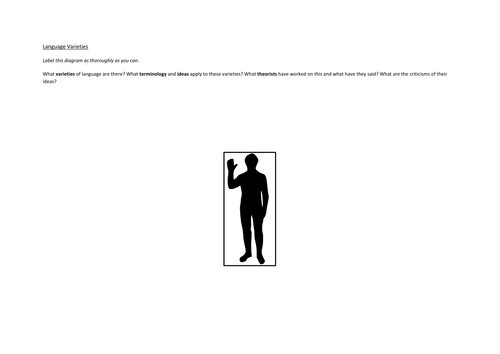 On A3, students can use this sheet for a revision exercise on AS English Language Paper 2: Language Varieties (AQA). They can start by going through the various -lects they will have learned about, then recapping vocabulary specific to each, and adding in any relevant theorists/ideas/critiques they may have covered. The idea is that they end up with a colourful revision aid which they could use as a poster.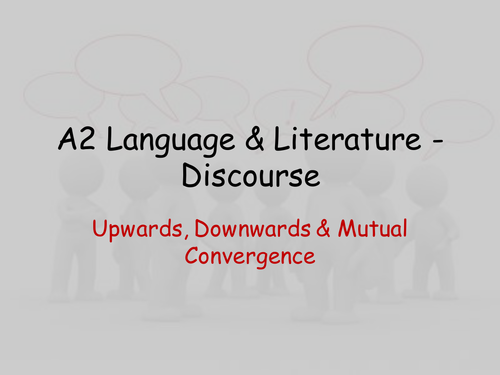 This resource is intended to quickly introduce learners on AQA AS/first year A Level English Language or the AQA A2 combined Language & Literature to the idea of Accommodation Theory - upwards, downwards or mutual convergence. There is scope for learners to generate their own dialogues at the end if they need consolidation.