Lizzie's little shop of History
46Uploads
134k+Views
611k+Downloads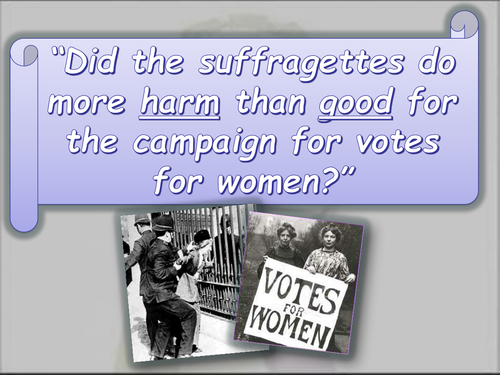 Powerpoint, accompanying worksheet for students to complete, evidence packs and a lesson plan for a 25 minute lesson for a mixed ability year 10 class, at the start of the their British History depth study. The class had not previously studied the suffrage movement, so this was intended to be an overview of the actions of the Suffragettes, the Suffragists and the actions of women during WWI, and was intended to help students to make an initial decision about which action was the most effective in women gaining the vote. For the lesson, I glued the evidence packs onto sugar paper and had students move round the packs of evidence after 5mins. I glued source C onto the back of the paper, as the intention was to use that source to challenge the most able students, encouraging them to analyse its provenance as well as its content.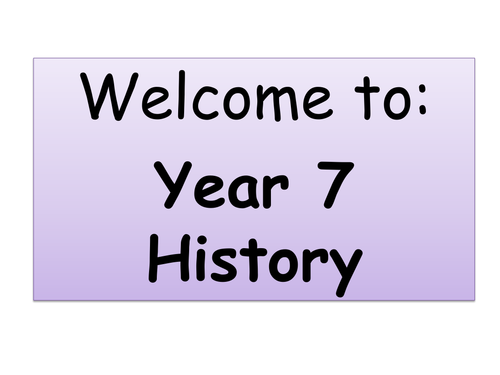 A 4 lesson mini-scheme, which could be used as an introduction to History for year 7 students - or for you, if you haven't taught History before! Lessons 1 and 2 give focus to Chronology skills and the importance of Chronology to Historians. Lesson 3 trains students to enquire into sources and evidence, and there is an optional homework task (which could help you to get to know students) included. Lesson 4 is a rapid fire tour through accuracy, reliability, facts, opinion and bias.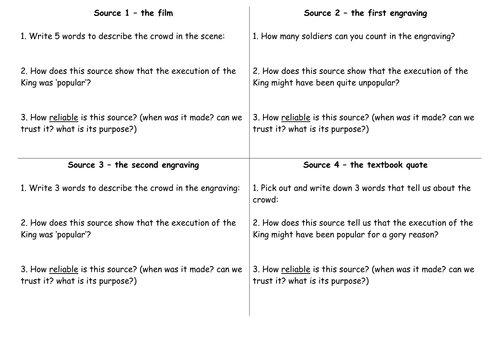 Lesson(s) that could follow on from English Civil War topic. Students are introduced to the idea of putting a King on trial, the main activity is then to recreate the trial, which has been divided up into 5 scenes. Students will need time to rehearse, make props and even learn lines - although I always let them use the scripts! Students then watch the whole play and fill in observer forms to put together the whole picture. Students can then decide/debate whether Charles ever had the opportunity of a fair trial. The lesson continues with Charles' execution, a worksheet to complete using source analysis and a creative final task. The execution clip is available on youtube, I usually show the Rupert Everett version (https://www.youtube.com/watch?v=IPmSR--BktE) though the Peter Capaldi one is usable too (https://www.youtube.com/watch?v=tqCFSg5xSw4)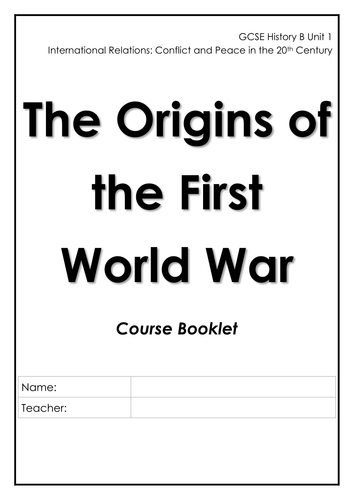 Booklet to accompany lessons on GCSE Unit 1, Topic 1: The Origins of the First World War. (I have also included a tick sheet that students could pop into their folders at the start/end of this topic, which lists the content they have covered and gives them space to colour in or tick the boxes - could be useful for a revision lesson before an assessment?)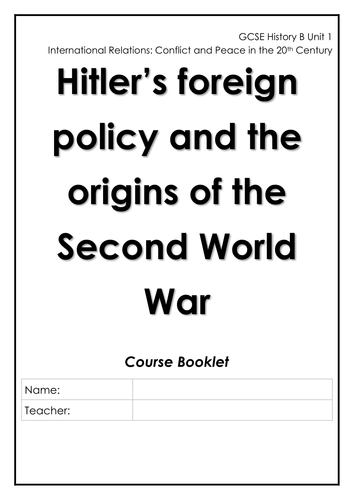 Useful booklet to accompany lessons on the 'Hitler's foreign policy and the origins of the Second World War' topic. Hope it comes in useful, and if you're using this along with some of the other booklets I have uploaded - I would suggest you get it printed in a different colour of paper!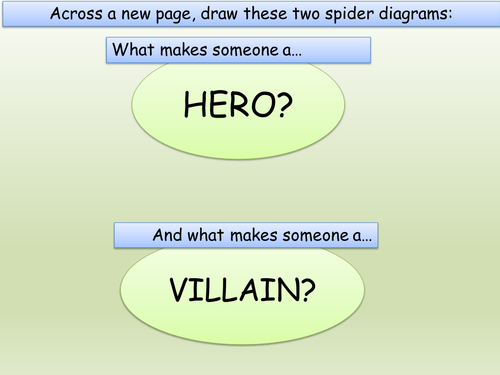 Lesson that could follow trial and execution of King Charles I. Students are given a straight forward introduction to your main man Cromwell, they then work in groups to produce a drama (with their own scripts) of a breaking news story about Oliver Cromwell's actions. Students will need time to read the information they have been given, decide on roles, write scripts and rehearse. Students then watch eachother's reports and fill in an observer form. This could lead to an assessed piece of writing, debating on whether Cromwell was a hero or a villain when he ruled England.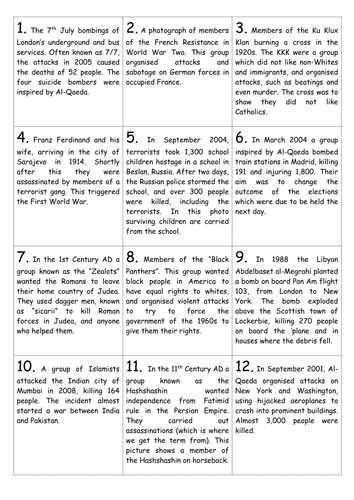 Lesson that works well at the start of an investigation into Terrorism, and would be well suited for higher ability students. The'cut and stick' starter could be done in pairs or groups, and could be extended into creating a tension graph and comparing this with other pairs/groups, which could open into a debate. Extension activities to stretch and challenge on the back of the worksheet.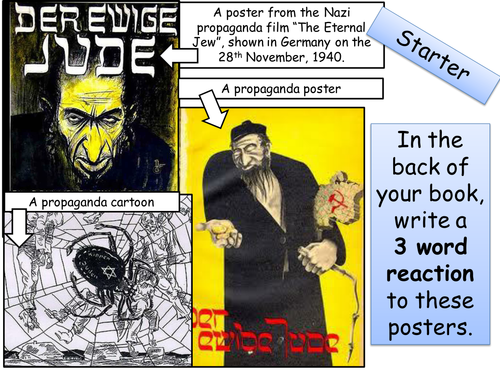 Introductory lessons to the persecution and dehumanisation of the Jewish race in Nazi Germany, with a card sort of laws restricting the rights of Jewish people, and lesson 2 covers the boycott of Jewish shops, Kristallnacht and ghettoisation. When I use these lessons, I tend to finish lesson 2/start a third lesson with the first 30-40mins of Roman Polanski's "The Pianist", although with a disclaimer to students that some scenes are distressing.