102Uploads
31k+Views
21k+Downloads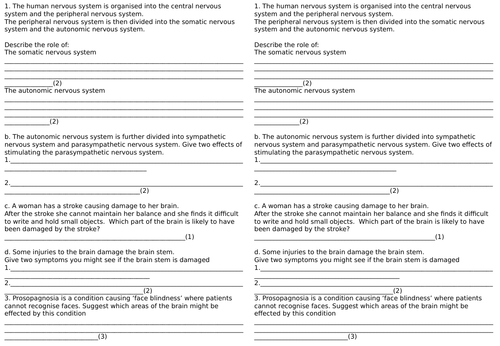 A lesson for AQA Applied Science Module 4 looking at the brain and brain damage. Includes a exam question sheet with answers on the powerpoint.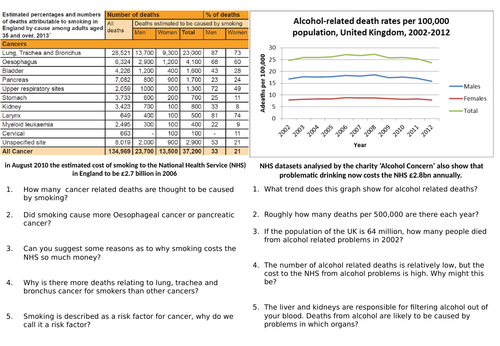 Two Lessons on non communicable disease, with data interpretation task about different types of cancer as an example of a non communicable disease. Can mix and match these activities and lesson powerpoint.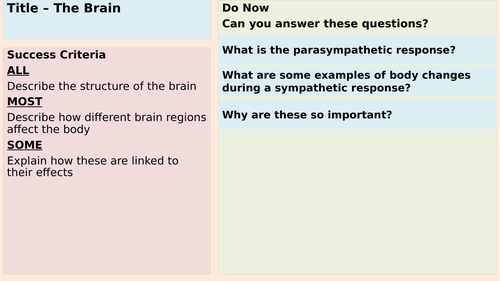 A lesson for AQA Applied Science Module 4 looking at the brain and the brain areas. It looks at what each part is associated with.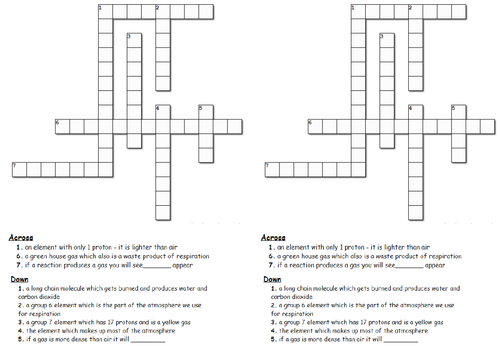 A starter crossword getting students thinking about the elements which will be looked at. Answers on powerpoint. A powerpoint which goes through all of the tests with practical ideas for two of them. A worksheet where students must label the diagrams to explain what is going on with each test. Answers on powerpoint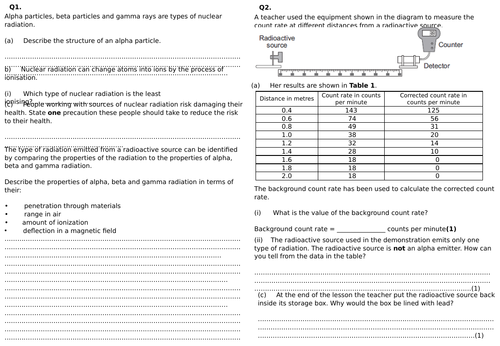 Two lessons on the types of radiation and their uses. Lesson includes multiple tasks throughout . Card sort activity and exam questions are included as well, both have answers on the powerpoint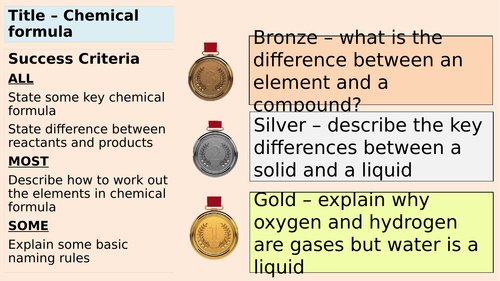 Lesson on chemical formula and how to work out the number of atoms in a compound based on its chemical formula worksheet attached with answers on powerpoint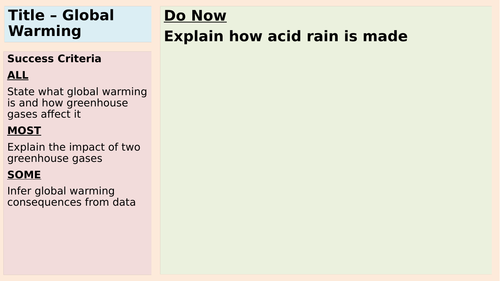 Here is a presentation which is split into two lessons, one on the concepts of global warming and greenhouse effect and one on climate change and its impacts. There are two activities to accompany this as well as activities embedded into the powerpoint.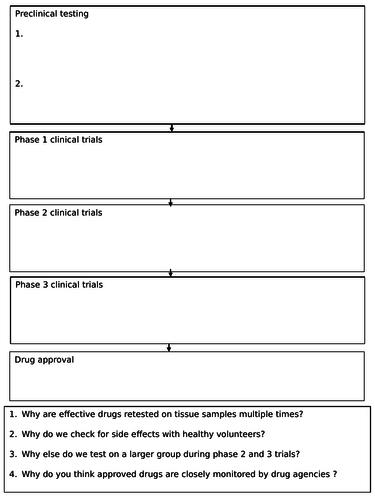 Lesson on stages of drug development and why they need to be trialled Includes card sort activity for the stages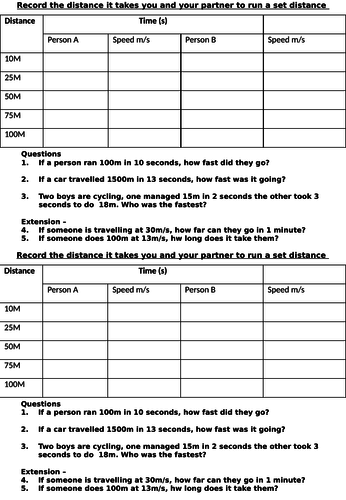 Powerpoint which takes you through how to work out speed, distance and time with given objects. It also looks at the concept of relative motion. There are two worksheets, one is practice questions with answers on the powerpoint. The other is for use when getting students outside to workout their speed over known distances.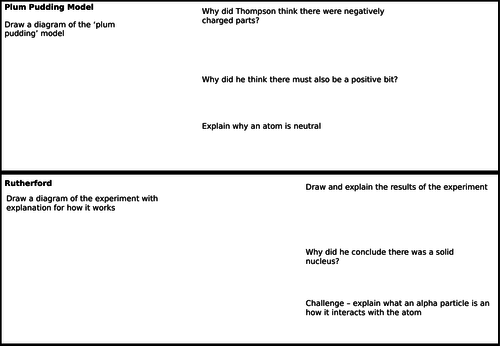 Depending on emphasis this can be used both for Chemistry (Periodic table) or Physics (particle model of matter) It gives an explanation of each of the stages and worksheet to accompany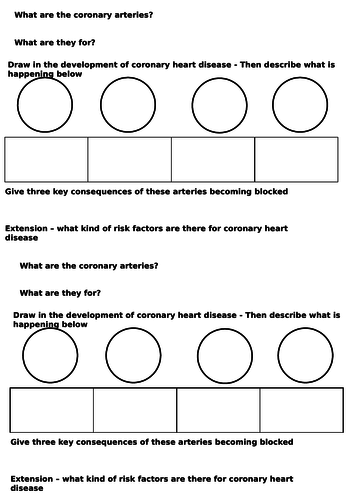 Two lessons worth on how coronary heart disease builds up. Followed by a lesson on how to prevent coronary heart disease. Exam questions added to finish.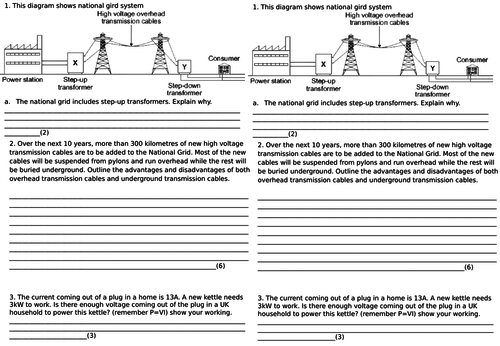 A lesson on the national grid set up. Includes card sort for each part, an explanation for why transformers are important and a comparison of overhead vs underground cables. Includes exam questions with answers on powerpoint to go through with students. Leads into lesson on assessing power stations and demand across the grid.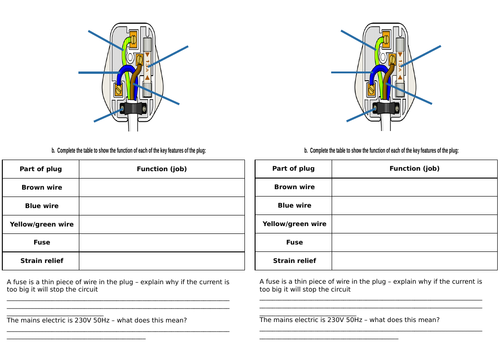 A lesson looking at mains electricity and the differences between AC and DC current. It also includes a look at how plugs are set put together and mains wiring in preperation for a plugs wiring lesson.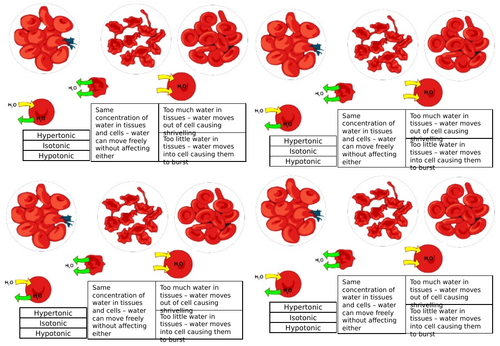 A lesson which looks at the role of kidneys in the body and how ADH controls the action of kidneys and water re-uptake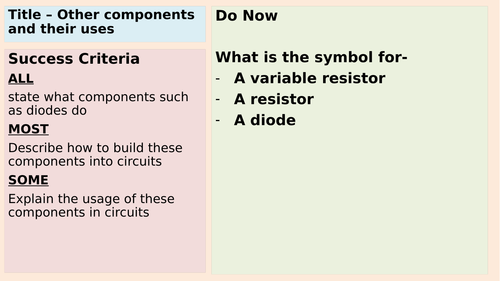 A lesson which looks at the thermistor, variable resistor, diode and LDR in detail. It includes an info hunt activity where students learn about how each one works and examples of where it may be used. It also includes exam questions with answers on powerpoint so students can go through questions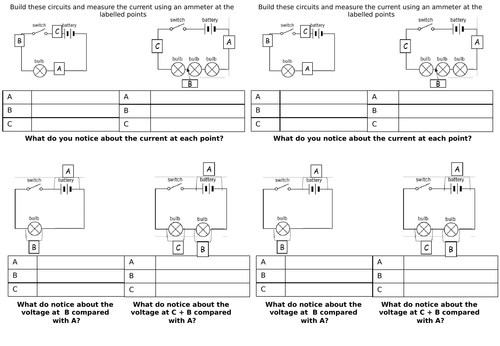 Lesson where students explore how series circuits affect current and voltage - includes practical worksheet for students to use. Includes activity where students must use V=IR and knowledge of series circuits to check readings from example circuits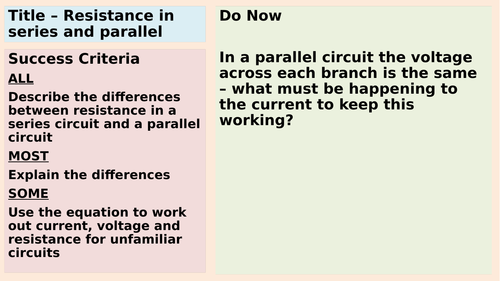 Lesson looking at resistance differences in series and parallel - includes worked through questions - a practical to investigate resistance in parallel circuits - and graph exercise with completed graph for students to compare to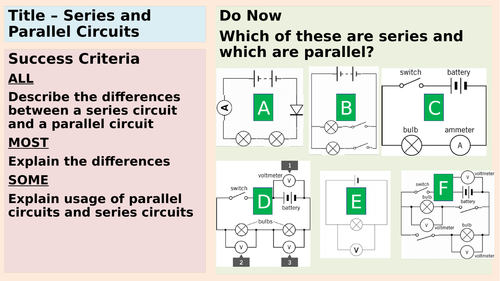 A lesson looking at a comparison between series and parallel circuits - a review of the previous few lessons. Includes a task where students must work out current and voltage on a circuit which has both series and parallel elements. Has exam questions which have answers on powerpoint to go through with students

This is the lesson on identifying frequency and amplitude in waveforms from my sound and light module. If you like this lesson consider looking at the whole scheme. The lesson looks at drawing waveforms, examples, how to identify the frequency and amplitude and how it relates to hearing. Full scheme found here https://www.tes.com/teaching-resource/ks3-sound-and-light-full-scheme-of-work-resources-12263056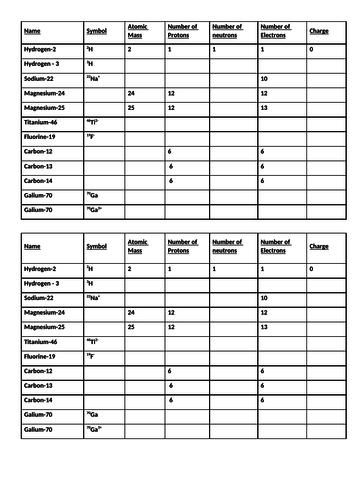 Lesson recapping atomic structure and looking at working out isotopes - includes worksheet and exam questions