102Uploads
25k+Views
15k+Downloads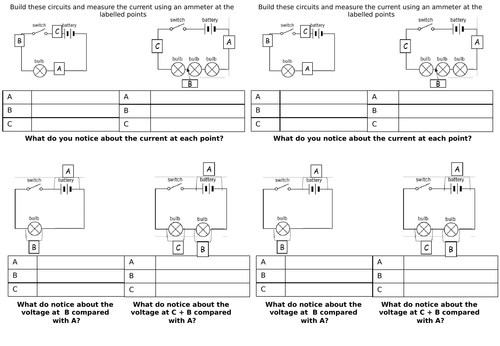 Lesson where students explore how series circuits affect current and voltage - includes practical worksheet for students to use. Includes activity where students must use V=IR and knowledge of series circuits to check readings from example circuits

Part 1 of 3 complete workbook taking students through P5 Forces module of physics for AQA. This includes all content for, foundation, higher and seperate science students. It has been designed in a textbook style with information followed by follow up questions and activities. Part B to be released soon.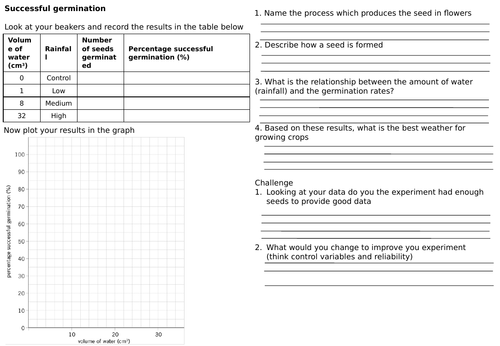 Two lessons which looks at how plants spread pollen. How a plant can form a seed and factors that affect seed germination. This includes a practical which takes place over two lessons. This is aided by the practical sheets students can use.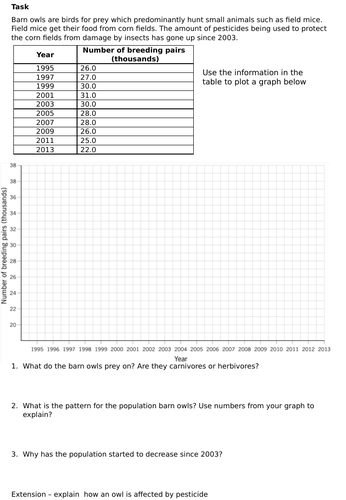 Three lessons with tasks and worksheets for looking at KS3 food chains, food webs and bioaccumulation. Each topic has its own lesson and worksheet to accompany it.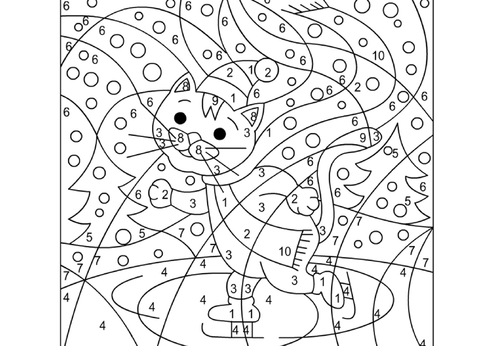 a selection of colour by numbers for science and end of the year. Asks questions which students in the year groups are likely to have come across.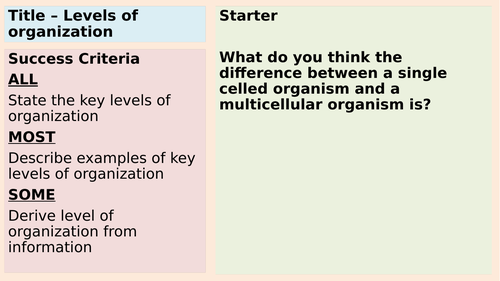 Lesson looking at how levels of organization in the human body. Includes tasks and a worksheet task where student must add an organ system to a diagram and explain what the organs and tissues are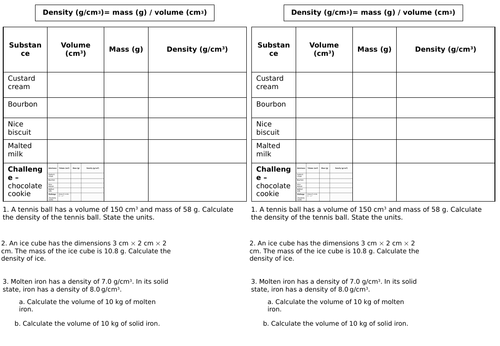 Three lessons on the density of regular and irregular objects. Linked to the AQA physics scheme of work. There are practical sheets which accompany both lessons and exam questions to assess learning. Lesson 1 -looking at density of regular objects , including practical sheet with questions (answers on powerpoint) for working out density of regular objects Lesson 2 - same idea but now for density of irregular objects, again practical sheet with questions (answers on powerpoint) Lesson 3 - a review, looking at density of liquids, some ideas of precision in this practical and some exam questions to complete. Answers in detail on powerpoint.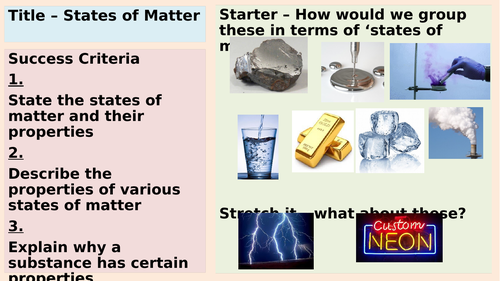 Lesson for states of matter (AQA) introducing solids, liquids and gases properties and nailing down the key terms for this module and in exams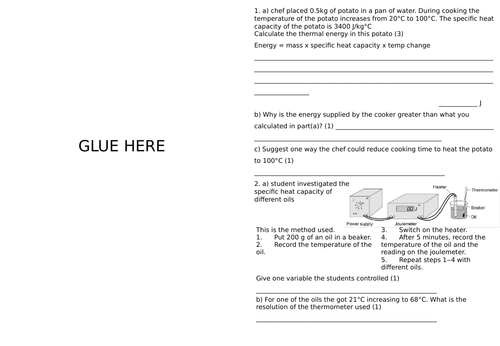 Three lessons covering everything for the AQA specific heat capacity required practical Lesson 1 - a look at the theory of specific heat capacity with some example questions for students to have a go at on sheet Lesson 2 - the practical itself with a guidance sheet to assist with working out the specific heat capacity. Sheet is especially helpful to scaffold students with working out the power and then the energy in the absence of a joulemeter for practical Lesson 3 - a review of the practical including exam questions covering this and relevant science skills. Answers in detail on powerpoint for you to go through with students This can be a faff for specialists and non specialists so I hope this helps you.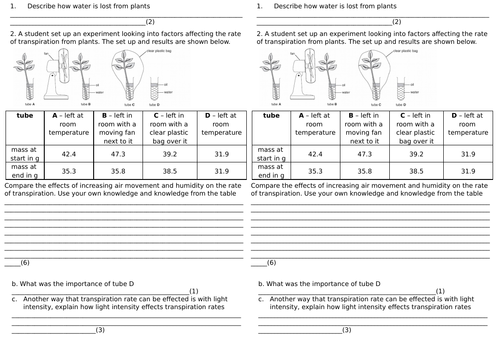 Lesson looking at xylem and phloem with information about how the rate of transpiration can be effected. Includes a sheet with exam questions relating to the work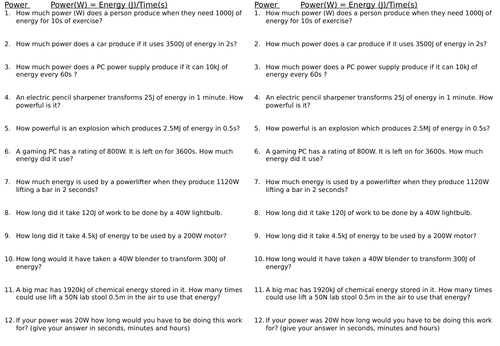 A lesson with accompanying worksheet looking at power. This is aimed mostly at covering power in forces and energy with reference to work done , rather than to do with electricity specifically. Includes practical about working out your own power by running up stairs. answers to questions included in powerpoint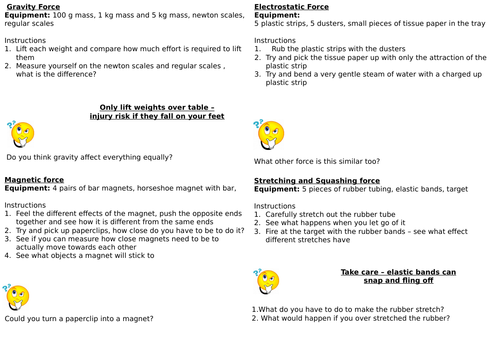 Lesson where students look at the basics of forces and complete a forces circus to investigate the effects of some examples. Students learn to categorize forces as contact or non-contact.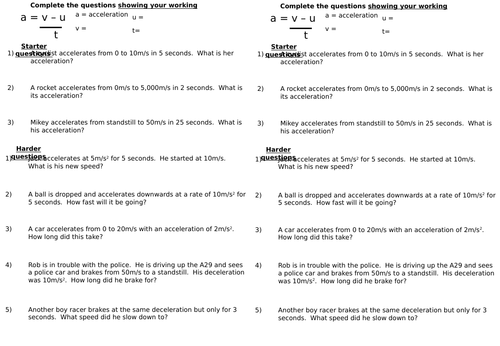 Lesson 1 - looking at acceleration and acceleration due to gravity. Working out acceleration due to gravity via a free fall practical (explanation in lesson) - including practice of calculating acceleration with exam questions Lesson 2 - calculating acceleration from real life examples. Velocity in a circle. Example questions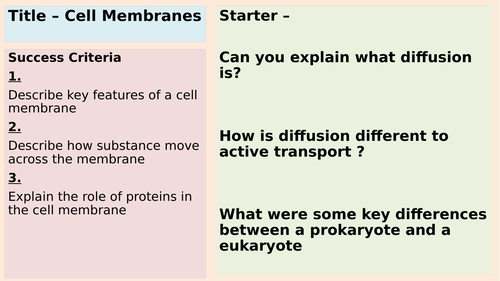 A lesson suitable for A level or Applied level biology looking at the key features of a cell membrane . Label the membrane task where students label and describe the key features of the cell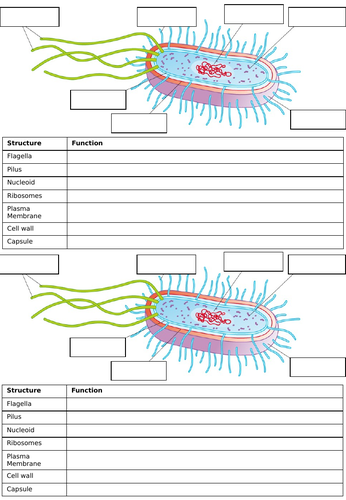 A look at the key differences between eukaryotic cells and prokaryotic cells. Covers what is needed for Applied Level Biology but would work just as well for pure A level Biology. Tasks throughout and exam questions at the end. Includes sheet to label a prokayotic cell (bacteria)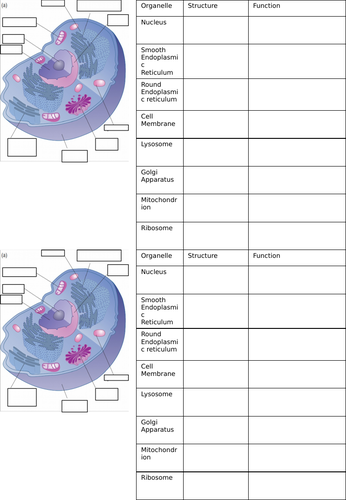 A look at plant and animal cells to A level (or applied level). Takes student through GCSE knowledge and then the new bits they need to know. Label and describe worksheet attached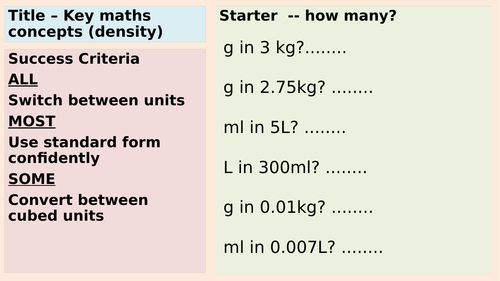 A lesson exploring all th key maths concepts that will be needed for the AQA particle model of matter module

A workbook for students which takes them through the first half of B6 Inheritance and Variation. Finishing at cloning. Includes all the information they will need, links to resources and activities for them to do as they go. Includes exam practice, key words, tasks and more. This was originally designed for separate science students, but that means it has everything that it could possible need. Part 2 coming soon.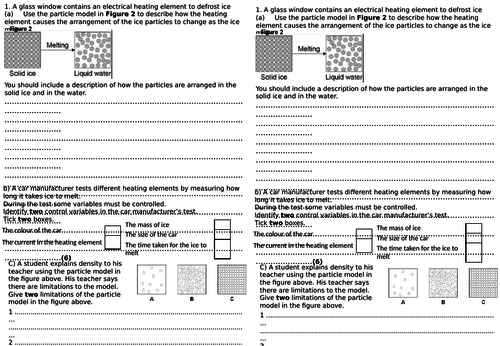 AQA Changes of state, two lesson looking at how matter changes shape, identifying key terminology. Includes worksheet for practical where students attempt to find the melting point of stearic acid . Also includes exam questions with answers on powerpoint.