Freckle06's Shop
Geography resources for KS3 & 4.
82Uploads
314k+Views
224k+Downloads
Geography resources for KS3 & 4.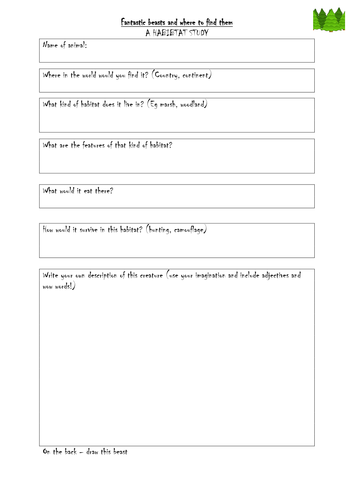 As part of our Drop Everything and Read Day on Harry Potter I decided that a habitat study using 'Fantastic Beasts and Where to find them&' (and a lot of imagination) was a tongue in cheek way of getting some Geography in whilst still meeting the brief! You&';ll need a copy of the book to give the children extracts of various creatures.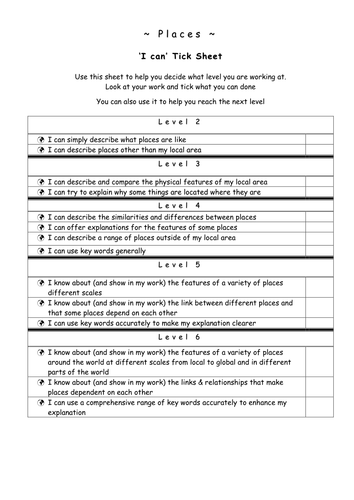 A teacher and student version of the Geography level descriptors. For students there is a tick sheet for each of the four strands and for teachers an overview. Very useful for writing differentiated success criteria and assessing pupils progress.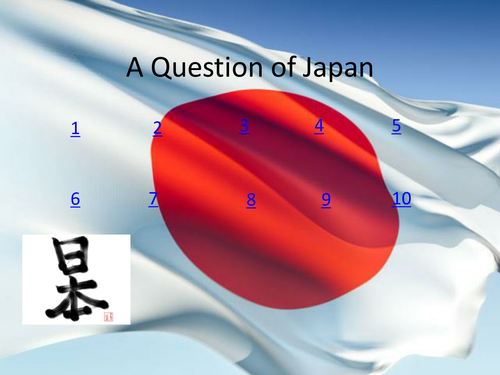 A starter or plenary for studying Japan - students work in teams (house groups works well, if you have them). Students choose a number - an image of Japan appears for 1 point students can identify it, for 2 points - can they come up with the UK equivalent - you may want to change the image of the castle from Carisbrooke - we're on the IOW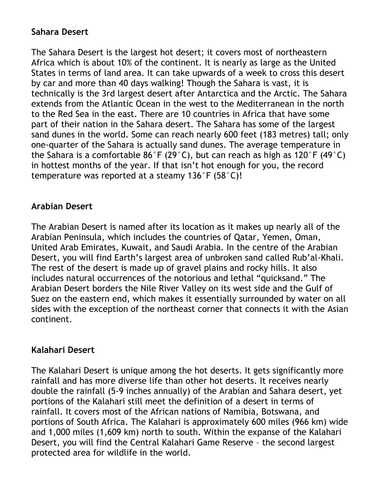 The aim of this lesson was for students to see that not all deserts are hot and sandy. Students start by naming deserts that they know, before distributing an information strip with one desert per student. Students then need to complete their table by finding students who have a desert that is a different type to their own. I was pleased with how well it worked. Children then completed a map about where some of these deserts are located (not included)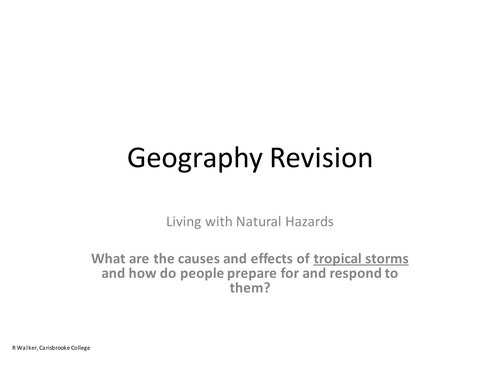 Written for my students to help them revise in school and at home from the AQA Geography B textbook by D Payne. Includes a range of activities to promote understanding and aid revision, also includes hyperlinks.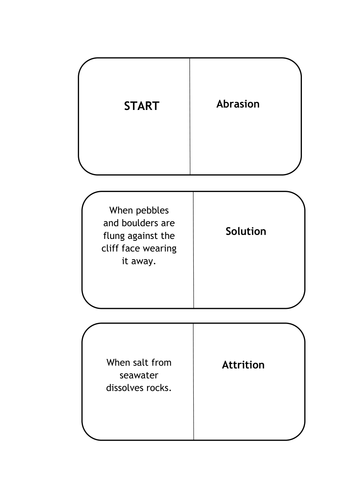 A set of dominoes for students to have definitions of some key words associated with erosion and weathering on the coast.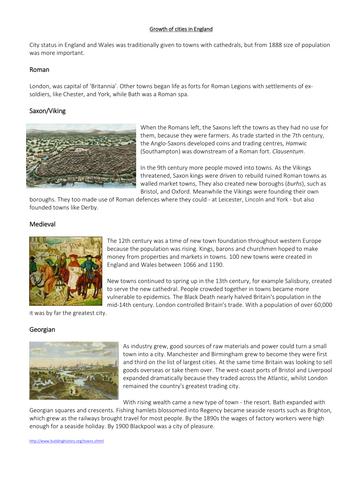 I made this as a final piece of work on settlement. Worksheet about the founding of towns and cities in England with PowerPoint that can be adapted. Suggest you get the children to map the locations of these cities. Has fun Question of Sport type plenary - uses photos of modern England (I know the Clifton Suspension bridge is not Saxon). Worksheet adapted from http://www.buildinghistory.org/towns.shtml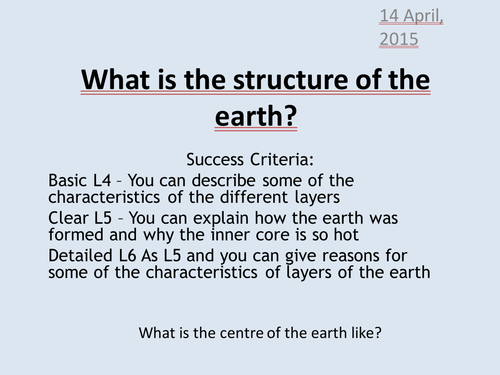 Introduction to volcanoes and earthquakes - what is the structure of the earth. Uses BBC2's How the Earth was formed and students use worksheet and instructions in presentation to make their own cross section of the earth. A very nice activity, if I do say so myself.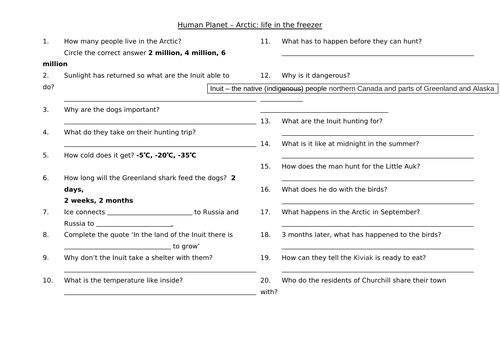 A double question sheet to accompany the Arctic episode of Human Planet. The reverse has differentiated questions for pupils to complete before and after watching the programme. There are questions for pupils to complete whilst watching the programme which cover; hunting the Greenland shark, collecting mussels, hunting the little auk, and the polar bears of Churchill. I've glossed over narwhal and reindeer.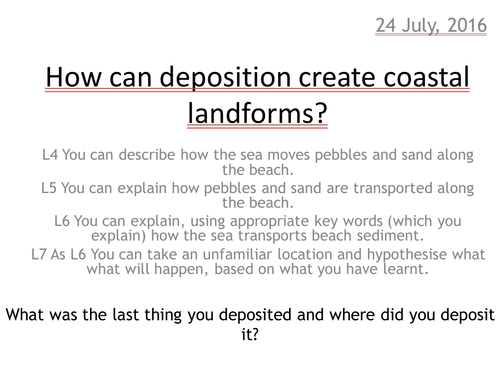 2 lessons to get to grips with longshore drift. The first is an overview of how the process works, including video, then draw the process. Uses an aerial photograph of Sandbanks to extend students to see if they understand. The second lesson uses examples of Hurst Spit, Slapton Sands and Chessil Beach. Students draw how a spit is formed (SEN sheet included) and more able go onto to examine bar and tombolo annotating photos from the presentation. Please leave a review.

Uses the Top Trump format to get children to make cards about Christmas. I tend to encourage a range of secular and religious figures - and a range of categories; present giving powers, ability to fly and relevance in the Christmas story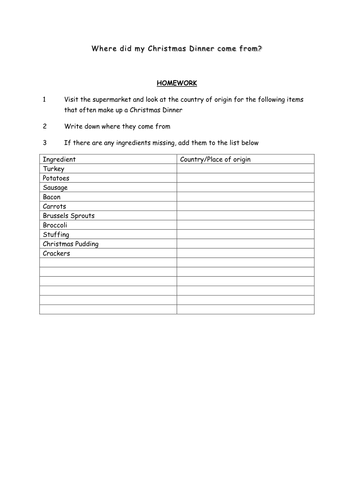 Encourages students to consider food miles and once they have gathered information, locations can be mapped and the food miles of their Christmas dinner calculated

Uses Banksy images and tags to encourage students to consider what is graffiti and what effect it can have on an environment.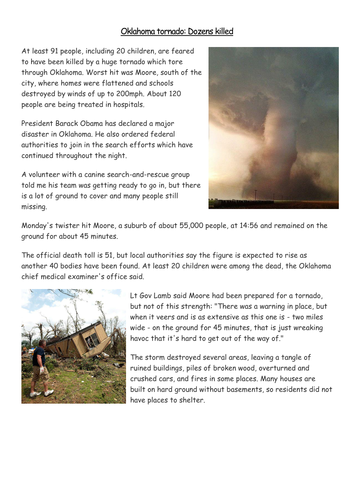 Uses photos and news reports from Oklahoma Tornado on 20th May to consider the effects of the tornado on people and the environment. Starter activity of 'reading photo&' and encouraging empathy, then DARTs (Directed Activity Related to Texts) to colourcode information to find it to answer questions. Differentiated extension; to write a diary. Planned as a standalone lesson in view of the disaster, could fit as a case study in a scheme of work on extreme weather. Please review.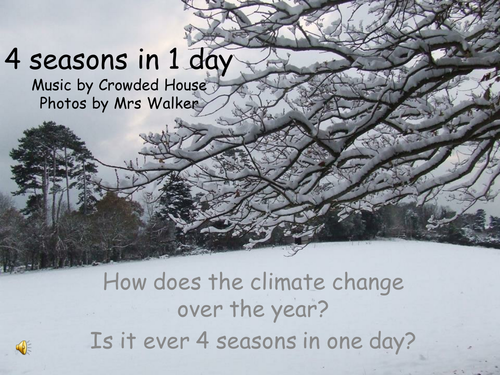 I had so many photos of the seasons I decided to use them. Encourages the children to think about the seasons in the UK and how they change. It's worth getting them to realise that not all countries have 4 distinct seasons. Perhaps a nice homework to get them to find out about seasons in other countries?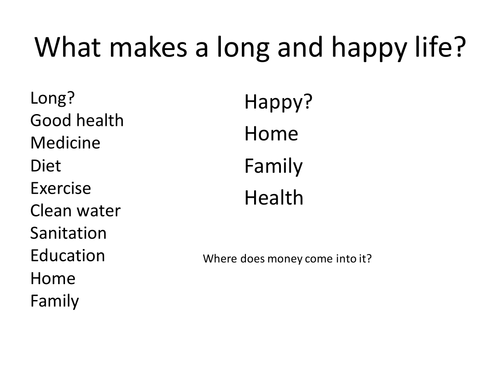 Any good atlas will have statistics in it about population, birth rate, death rate etc. Starter - what makes a long and happy life? Plenary - Play Your Life Expectancy Right - game using data on Life Expectancy, will it be Higher or Lower. My Year 8's love this! Links with my other resources on population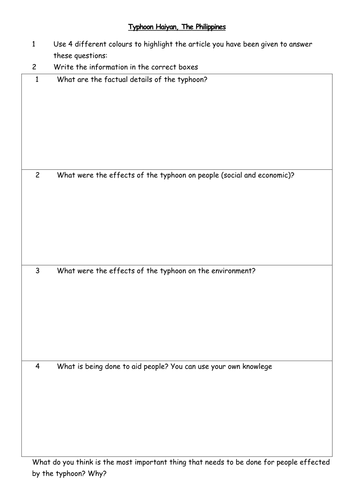 Uses BBC article (adapted from http://www.bbc.co.uk/news/world-asia-24894529) from 11 November to look at the effects of the typhoon and consider what needs to be done to benefit the people whose lives have been so greatly impacted.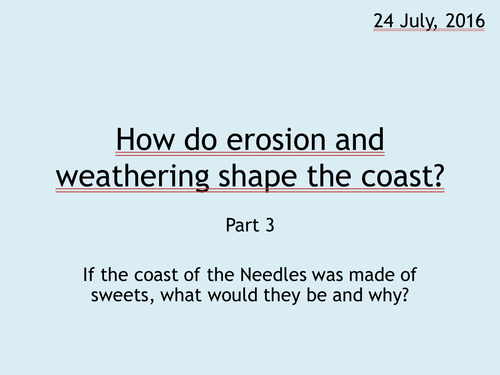 Following lessons on erosion and weathering, and coastal landforms and before an assessment, students wrote scripts about the formation of stacks and stumps. They then used playdoh to make models, which they filmed using start stop animation to make movies. The results were amazing (and their understanding really thorough!).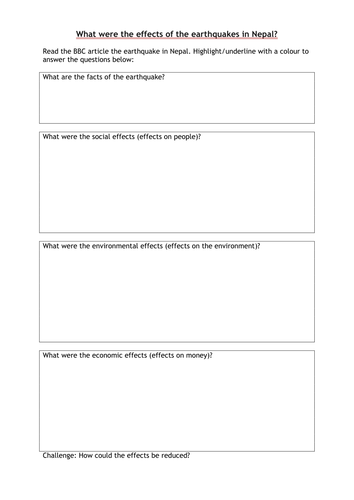 Two lessons to encourage students to make comparisons between earthquakes - one in an LEDC and one in an MEDC. Start by with a quiz to identify Nepal, followed with an annotated photograph and DARTs activity. Then using San Francisco 1989 (or choose a different one. I wanted a lot of damage but significantly lower death toll and different effects e.g. fires). Starter - half class answer questions about San Francisco photo and half (including any absentees) look at Nepal. Students then complete an extended answering (using Point, Evidence, Explanation structure) to explain why the effects of earthquakes vary between countries - could use it as an assessment? Please leave a review