Freckle06's Shop
Geography resources for KS3 & 4.
75Uploads
327k+Views
237k+Downloads
Geography resources for KS3 & 4.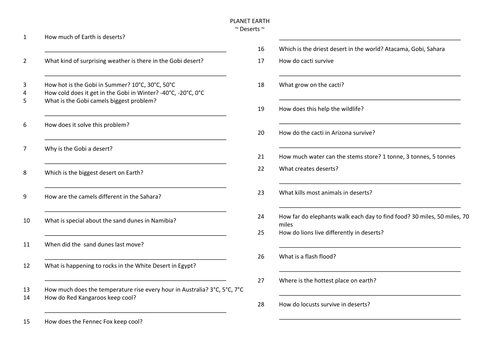 A question sheet to accompany the Deserts programme of BBC's Planet Earth. Backed with a prompt sheet to encourage students to consider how not all deserts are hot and sandy! Feedback appreciated please.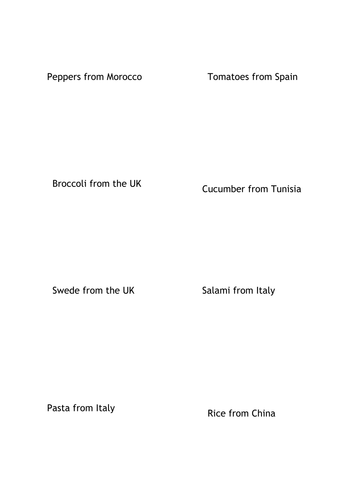 This lesson is designed to encourage students to think about where our food comes from and how far it has travelled. Students need food cards which have a photo of food on one side and what it is/where it comes from on the reverse (photocopy food cards sheets back to back and cut up in envelopes) so that they can design their own menu. There is a wide variety of foods with enough choices for all diets and any cards can be omitted for religious reasons. They then map where the food came from and measure the distance travelled to work out the total number of food miles. Results are often very surprising! Resources: Food cards which have a photo of food on one side and what it is/where it comes from on the reverse (photocopy food cards sheets back to back and cut up in envelopes) Royalty free map Presentation for lesson with extension tasks Table to record food miles

Exactly what is says on the tin - an end of year quiz for Geography - country catchphrase, capital cities, flags, MEDC or LEDC, hot desert or cold desert and birth rates. Easily adaptable or pick up and run with it!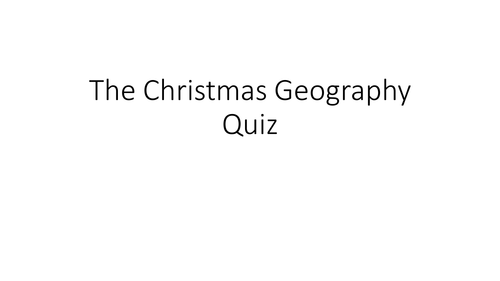 An updated version of my Geography Quiz from a couple of years ago. Includes rounds like; country catchphrase, where did Santa leave his presents and where is Santa's hat (world landmarks). Enjoy!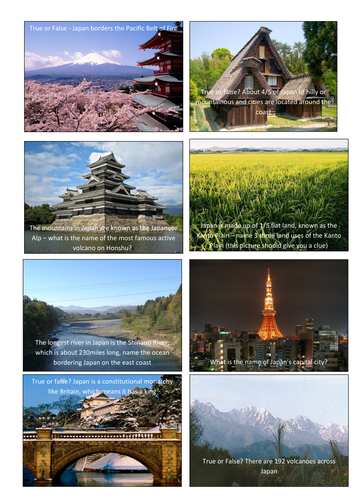 Sheets need to be cut up and put into numbered envelopes. Students work in groups and are assigned a number. They take one card, and using the information sheet find out the answer. When they have checked their answer and are right, they can take another card. When students have all cards, they sort them into human or physical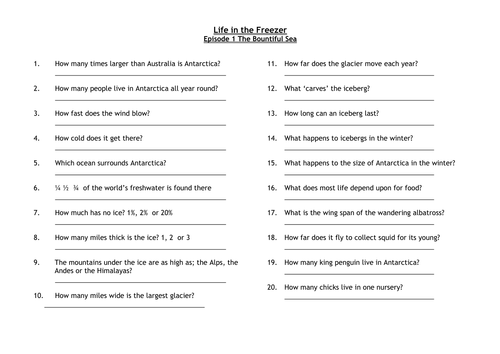 Question sheet to accompany episode 1 of the BBC programme Life in the Freezer. Focuses on physical geography rather than wildlife e.g. 10. How many miles wide is the largest glacier? 13. How long can an iceberg last?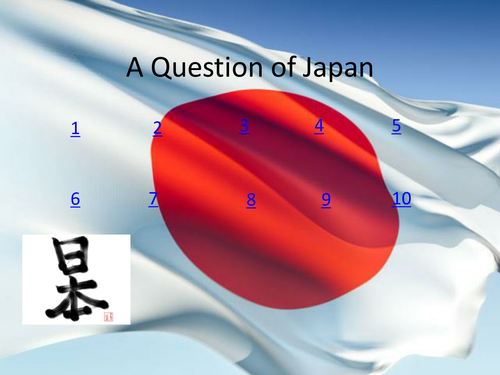 A starter or plenary for studying Japan - students work in teams (house groups works well, if you have them). Students choose a number - an image of Japan appears for 1 point students can identify it, for 2 points - can they come up with the UK equivalent - you may want to change the image of the castle from Carisbrooke - we're on the IOW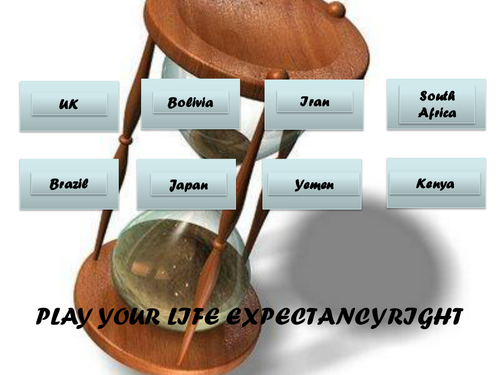 PowerPoint game based on play your cards right format, but for life expectancy. Students are shown life expectancy for first country and then have to work out, using prior knowledge, if the next country will be higher or lower. Great fun, has always worked well with classes and gets them thinking! Comments welcomed!!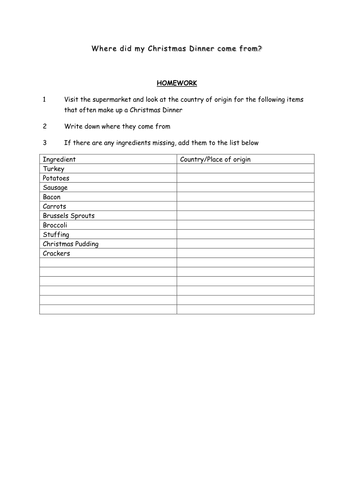 Encourages students to consider food miles and once they have gathered information, locations can be mapped and the food miles of their Christmas dinner calculated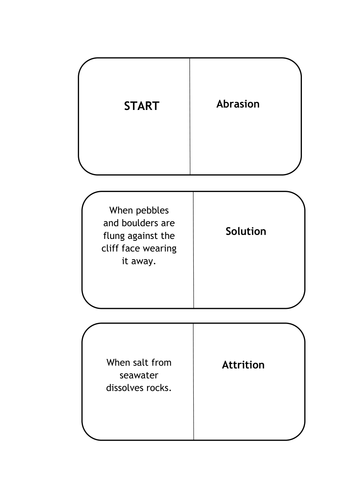 A set of dominoes for students to have definitions of some key words associated with erosion and weathering on the coast.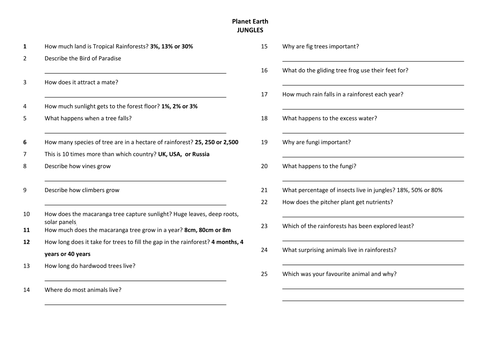 Question sheet to accompany the Jungles episode from Planet Earth. I strongly recommend you stop watching the DVD at 45 minutes before the chimpanzees fight.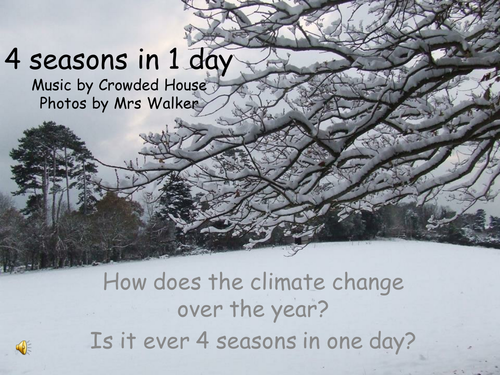 I had so many photos of the seasons I decided to use them. Encourages the children to think about the seasons in the UK and how they change. It's worth getting them to realise that not all countries have 4 distinct seasons. Perhaps a nice homework to get them to find out about seasons in other countries?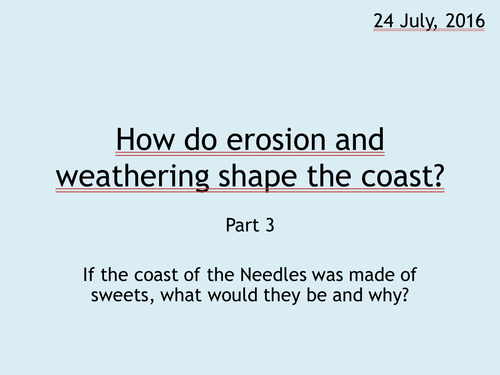 Following lessons on erosion and weathering, and coastal landforms and before an assessment, students wrote scripts about the formation of stacks and stumps. They then used playdoh to make models, which they filmed using start stop animation to make movies. The results were amazing (and their understanding really thorough!).

A DARTs (Directed Activity Related to Text) regarding the Earthquake and Tsunami on 11th March, uses CBBC Newsround. Suggest students then write a blog, some of ours went on the the school VLE.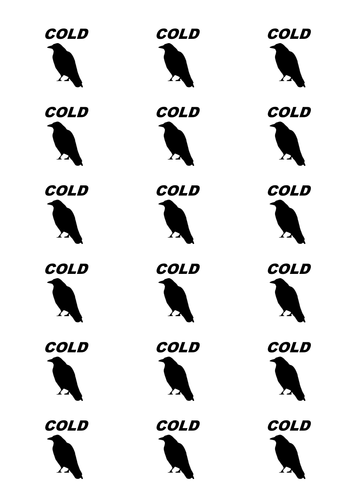 A series of labels that can be used to encourage students to find better vocabulary. Each resource is a sheet of the same word that can be printed on labels and stuck in books for students to find alternative vocabulary either with a thesaurus or by themselves. Always a successful starter activity. Made for Avery A4 & A5 L7161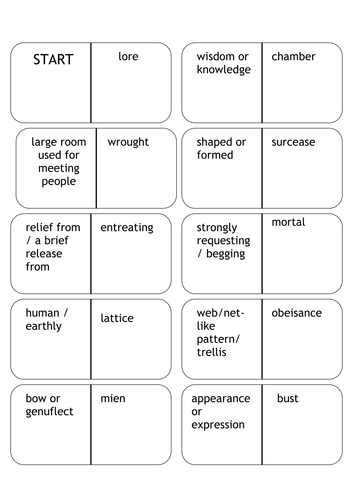 Two sets of dominoes for some of the difficult language in The Raven - each card has a word on one side and a definition of a different word on the other side. Students start with START card and first word and then try to find definitions to help them access the poem on a deeper level.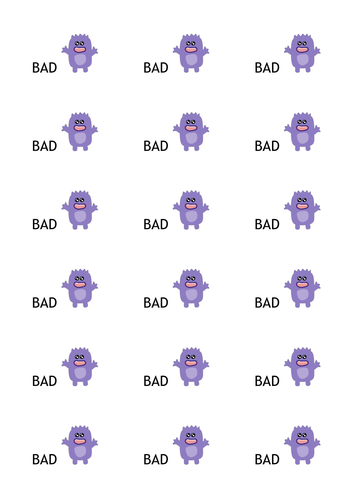 A series of sheets that can be printed on labels. Each sheet has one word (nice, sad, old etc) with an alien. The students (either with a thesaurus or from their own vocabulary) has to find alternatives to 'bust' the alien. How many alternative words they have to find is up to you, I usually go for 5. Always a successful starter activity. Made for Avery A4 & A5 sizes, L7161.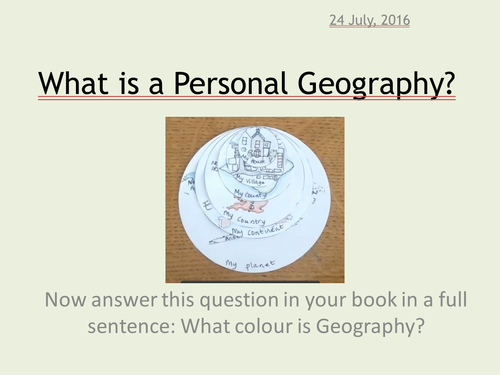 An introduction for Year 7 (can be used with other year groups) to encourage the students to think about their place in the world. Uses a series of concentric circles for students to make their own personal geography; smallest circle is their house, followed by settlement, county, country, continent and then finally in the largest circle, the world. Produces an excellent outcome, and a useful point of reference for future lessons. Includes; powerpoint lesson to follow Worksheet for student to make their own personal geography. Speeded up video of how to make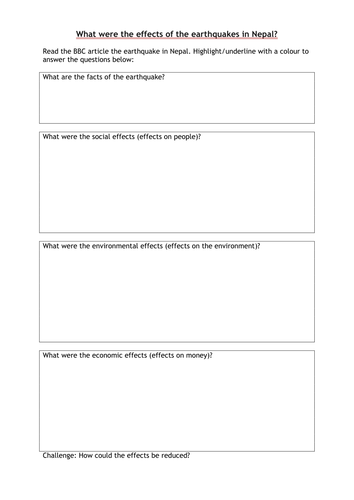 Two lessons to encourage students to make comparisons between earthquakes - one in an LEDC and one in an MEDC. Start by with a quiz to identify Nepal, followed with an annotated photograph and DARTs activity. Then using San Francisco 1989 (or choose a different one. I wanted a lot of damage but significantly lower death toll and different effects e.g. fires). Starter - half class answer questions about San Francisco photo and half (including any absentees) look at Nepal. Students then complete an extended answering (using Point, Evidence, Explanation structure) to explain why the effects of earthquakes vary between countries - could use it as an assessment? Please leave a review