Freckle06's Shop
Geography resources for KS3 & 4.
82Uploads
313k+Views
223k+Downloads
Geography resources for KS3 & 4.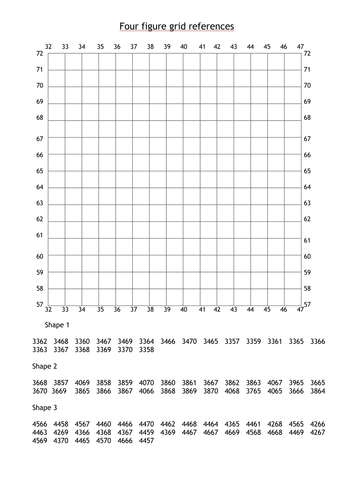 A practical method of ensuring children understand four figure grid references. Students colour squares as indicated to reveal three shapes hidden in the grid. Answers included.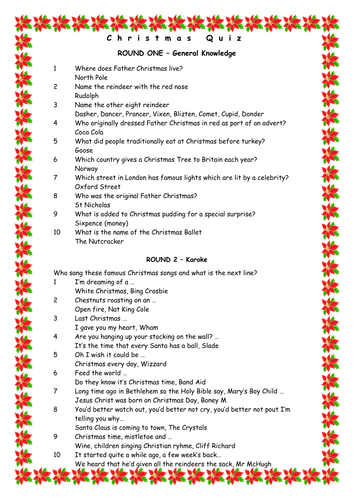 Some of the Christmas Quizzes that I've used over the years, with rounds on The Christmas Stories, Christmas Kareoke, Pantos, General Knowledge - mix and match or just use one. I've used them in form time.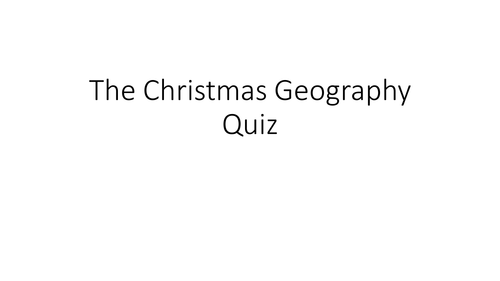 An updated version of my Geography Quiz from a couple of years ago. Includes rounds like; country catchphrase, where did Santa leave his presents and where is Santa's hat (world landmarks). Enjoy!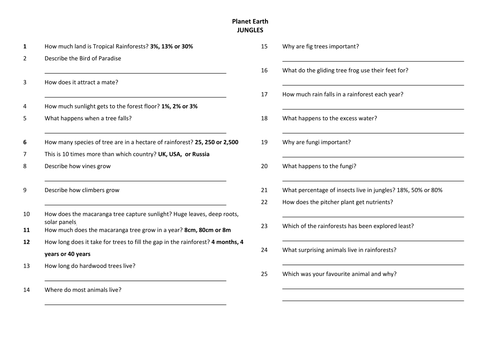 Question sheet to accompany the Jungles episode from Planet Earth. I strongly recommend you stop watching the DVD at 45 minutes before the chimpanzees fight.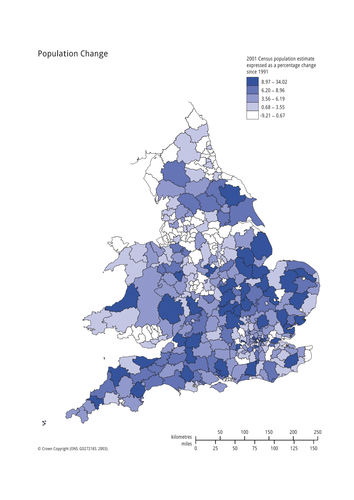 Uses maps from the Office of National Statistics to look at the population density of the UK. Links with my other resources on Population.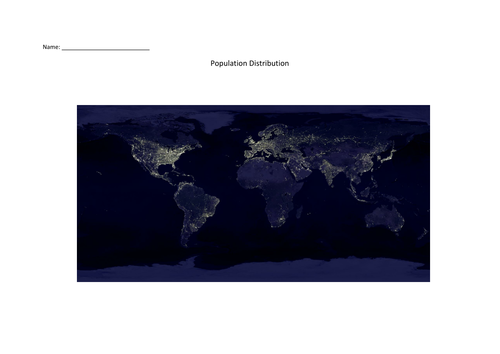 Uses NASA images tp show the world's lights and get students thinking about population distribution. Plenary - Play your Life Expectancy Right - based on play your cards right. Will Life Expectancy be higher or lower? My Year 8 students love this! Links with my other resources on population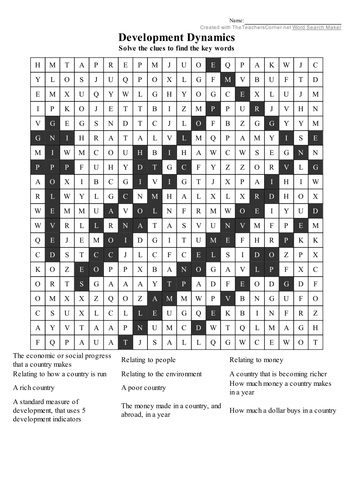 A series of crosswords and word searches written using key words from the Development Dynamics Topic. Two different crosswords - the first has general key terms (GDP, GNI, HDI etc) the second has more specific vocabulary (top-down, bottom-up, TNC, FDI). Wordsearches have clues to the single words hidden inside (developed, emerging, political, social etc) rather than just the answers to get pupils thinkings. Answers to all puzzles are included. I suggest these can be used as starters, homework or revision.

A DARTs (Directed Activity Related to Text) regarding the Earthquake and Tsunami on 11th March, uses CBBC Newsround. Suggest students then write a blog, some of ours went on the the school VLE.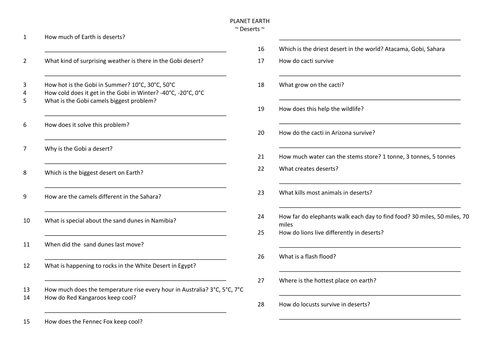 A question sheet to accompany the Deserts programme of BBC's Planet Earth. Backed with a prompt sheet to encourage students to consider how not all deserts are hot and sandy! Feedback appreciated please.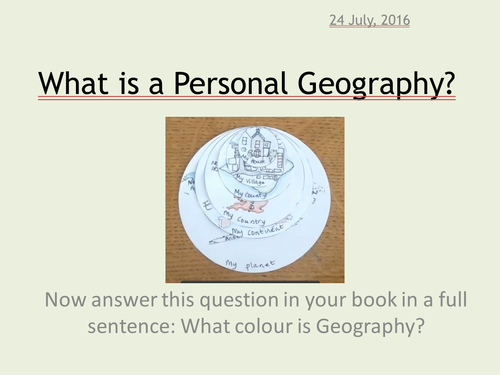 An introduction for Year 7 (can be used with other year groups) to encourage the students to think about their place in the world. Uses a series of concentric circles for students to make their own personal geography; smallest circle is their house, followed by settlement, county, country, continent and then finally in the largest circle, the world. Produces an excellent outcome, and a useful point of reference for future lessons. Includes; powerpoint lesson to follow Worksheet for student to make their own personal geography. Speeded up video of how to make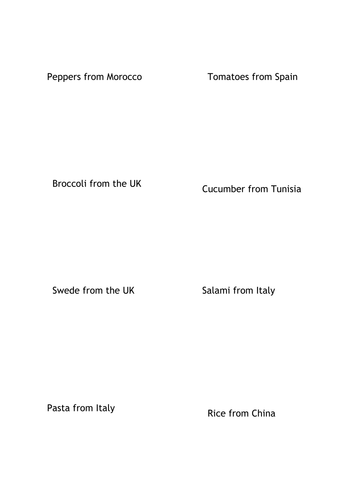 This lesson is designed to encourage students to think about where our food comes from and how far it has travelled. Students need food cards which have a photo of food on one side and what it is/where it comes from on the reverse (photocopy food cards sheets back to back and cut up in envelopes) so that they can design their own menu. There is a wide variety of foods with enough choices for all diets and any cards can be omitted for religious reasons. They then map where the food came from and measure the distance travelled to work out the total number of food miles. Results are often very surprising! Resources: Food cards which have a photo of food on one side and what it is/where it comes from on the reverse (photocopy food cards sheets back to back and cut up in envelopes) Royalty free map Presentation for lesson with extension tasks Table to record food miles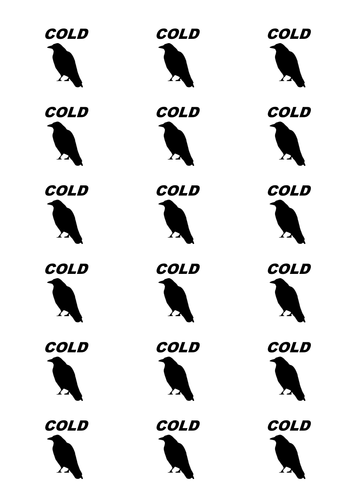 A series of labels that can be used to encourage students to find better vocabulary. Each resource is a sheet of the same word that can be printed on labels and stuck in books for students to find alternative vocabulary either with a thesaurus or by themselves. Always a successful starter activity. Made for Avery A4 & A5 L7161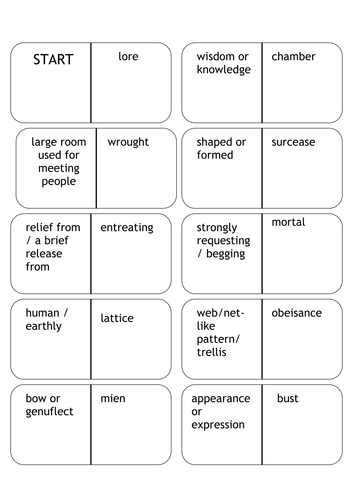 Two sets of dominoes for some of the difficult language in The Raven - each card has a word on one side and a definition of a different word on the other side. Students start with START card and first word and then try to find definitions to help them access the poem on a deeper level.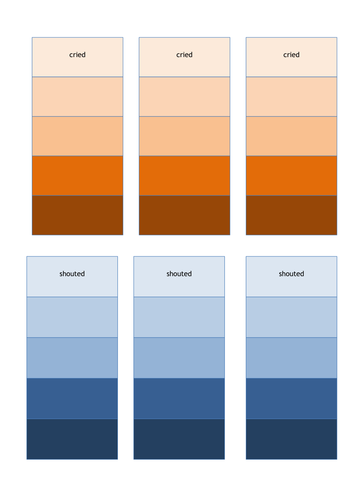 A lesson on 'show, don't tell' to up level speech and vocabulary, thereby making work more interesting to the reader. Uses the concept of paint charts to encourage students to make more interesting word choices for said as the the colours get darker. This is then applied to a series of settings where students need to show what is happening rather than just tell. Includes models of what students can aim for. Resources: Paint charts with alternatives for said (asked, whispered, cried, shouted, begged, laughed) Presentation with modelled examples at different levels.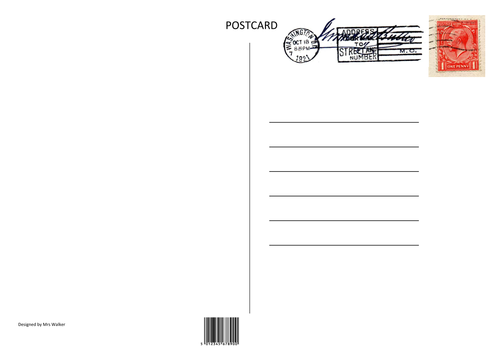 A blank postcard that can be used for a variety of purposes. Blank on one side, the other side has stamp, franking mark, bar code, lines for the address, vertical line through the middle and the word POSTCARD. Nice as a back to school activity to catch up with what students did over the summer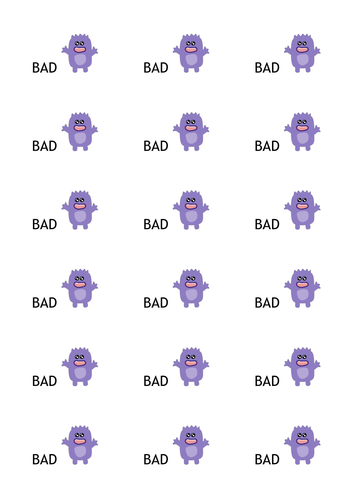 A series of sheets that can be printed on labels. Each sheet has one word (nice, sad, old etc) with an alien. The students (either with a thesaurus or from their own vocabulary) has to find alternatives to 'bust' the alien. How many alternative words they have to find is up to you, I usually go for 5. Always a successful starter activity. Made for Avery A4 & A5 sizes, L7161.

A quiz that I've made to use at the end of Year 9. But might also suit the end of Development Dynamics for Edexecel B. This follows my popular Christmas Quiz and Geography end of year quiz Contains 5 rounds: Country Catchphrase, Developed, emerging or developing, Flags, Life expectancy, Landmarks - what's the country? Places emphasis on SPAG with bonus points for pupils who remember the basics.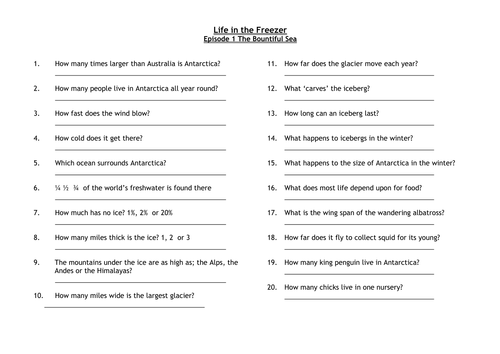 Question sheet to accompany episode 1 of the BBC programme Life in the Freezer. Focuses on physical geography rather than wildlife e.g. 10. How many miles wide is the largest glacier? 13. How long can an iceberg last?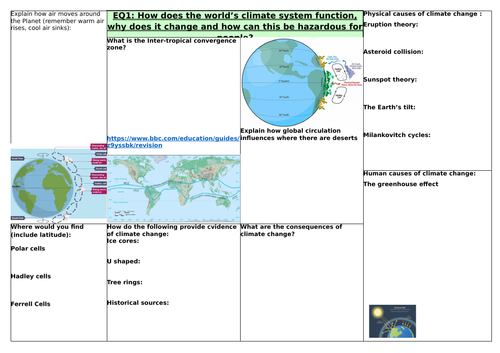 Revision sheets for Topic 1 (to be copied onto A3). Three sheets, with tasks groups by enquiry question. These can be completed in school or at home as standalone sheets or then be used by students to make mind maps or flash cards.