118Uploads
25k+Views
3k+Downloads The assembly is based on the story of Lance Armstrong. The first section shows a picture of Lance Armstrong and asks the question who is and why is he famous? The next clip shows a short video about the rise and fall of Lance Armstrong. The key facts about his careers and then his demise. I then talk through the timeline of his famous rise and fall. The next is a trailer of the famous documentary that was taken throughout his career where he admits lying to the public and covering up his performance enhancement use. The final clip is a Nike advert that stars lance Armstrong. In this advert he says 'people often ask me what I am on, what am I on? My bike 6 hours a day, what are you on?' I then go on to relate the Armstrong Lie to school. How Lance Armstrong knew he was cheating but created a cover story to make him look like he was working 6 hours a day to achieve his goals and not cutting corners by cheating. The assembly then finishes by asking students to not be a Lance Armstrong. To not tell parents, staff, friends that they are working hard/revising if they are not really. To be honest so that people are aware if they need support and can put that in place. I finish by asking the group to pereservere with their challenges but asking for help is not a weakness. It is actually a huge strength.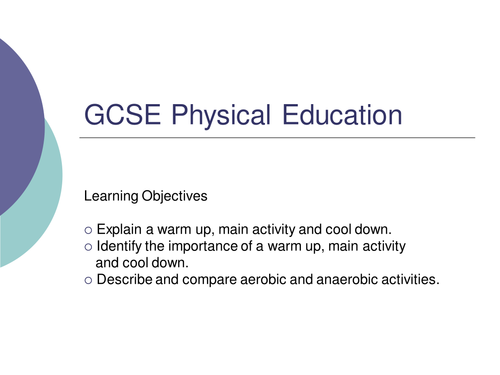 Learning Objectives: - Explain a warm up, main activity and cool down. - Identify the importance of a warm up, main activity and cool down. - Describe and compare aerobic and anaerobic activities.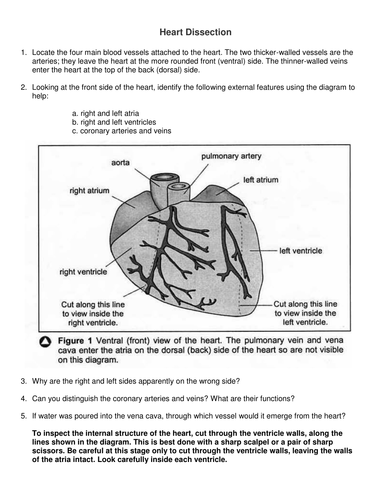 The practical worksheet should be used alongside a practical heart dissection. The worksheet contains 15 questions that will guide students through a heart dissection. I have used this hand out for years, it is very effective.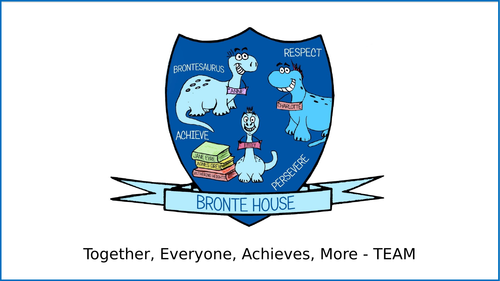 This assembly focuses on one of the British Values with regards to Mutual Respect and Tolerance. The first slide is a definition of respect "A regard for the feelings, wishes, or rights of others". The next slide asks the students to compare and contrast the sports football and rugby with regards to the respect shown by both the players and spectators. This should spark debate about the respect and possible lack of respect shown in each. The following slides show footballers abusing referees and and then an article detailing how many referees are leaving football due to the abuse that they take. A short video of a rugby referee then follows this which demonstrates how rugby players generally show great respect for the referee as he tells off 30 men who were not following the rules without any of them questioning him in any way. The next two slides show a recent Manchester football derby where the police had to create a line to keep the fans away from each other. The next slide shows two rugby fans stood together at a game shouting on their teams. This is the hook into the theme of mutual respect because why does rugby seem to have a culture of respect whilst football does not? I then explain that when people show each other respect this makes for a happier experience for all people involved. I then ask the students how can we show respect for each other at our school and within our house to make it a nice place to be? I have broken this up into respecting yourself, respecting the environment and then others. Whilst talking about respecting others I then introduce the term mutual respect and explain why this is important. This leads into discussion about that fact that in Britian we live in a diverse nation made up of many different cultures, languages, races, and backgrounds and how we can learn from others. I then finish the assembly with a golden rule about mutual respect: Treat others as you want to be treated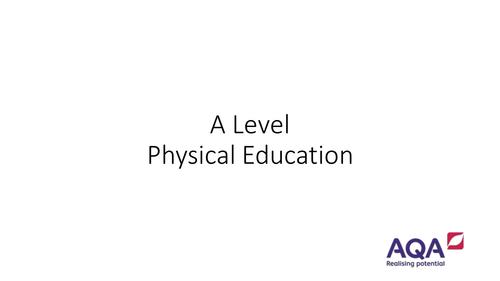 Learning Objectives: Outline the rationalisation and modern day development of Association Football. Identify the factors affecting the emergence of elite female performers in football in late 20th and early 21st century. Consider the changing role of women in sport.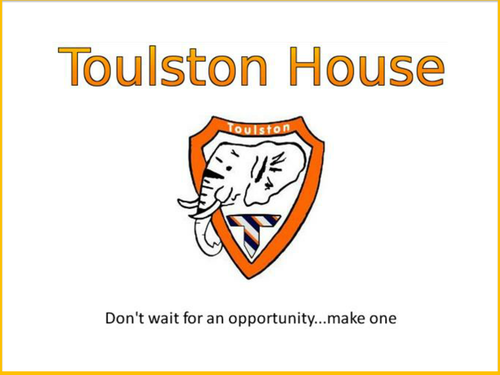 This is a really fun assembly that students love. The start of the assembly shows the cover of the song "Everybody's Free (To Wear Sunscreen)" by Baz Luhrman. I explain to the group that this song made number 1 in 1999 and was one of my favourite songs whilst at school. The whole song is centred around someone giving life advice. I then play the song and show a picture that details of the advice given in the song. I then move onto the next part of the assembly. This requires some preparation. You need to ask staff to send pictures of themself from their school years and insert this into the presentation. I then show pictures of member of staff and ask the students who they think it is. This normally gets a great laugh. Once I have been through all of the pictures my message is that as staff we often give lots of advice and sometimes students feel that we are nagging or getting at them. The message is that as staff, we have all made the mistakes that you are going to make so use us and trust us when we offer advice. The assembly is centred around students finding a way to motivate them self and tapping into this to work hard in school. The first section of the video is a short funny video about a student who procrastinates for an entire day, making excuses to do silly tasks so that he does not have to revise. My starter here is that I believe that some of the students in my house are very similar when it comes to their won work or revision. I then define motivation and talk about some of the challenges that students will face shortly that will require motivation to succeed. Examples include their exams, finding a job, their driving test etc. The next section of the assembly is another short video that takes clips from movies with inspirational quotes. Threaded throughout this video are extracts from a motivational American speaker called Eric Thomas. He was once homeless but is now a multi millionaire. I have taken my faviourite quotes from this short video that I can relate too and I believe that the students will as well such as this: 'I don't do well in math, your right. You ain't never studied. I'm not good at writing, because you have never written before. Most of you won't be successful because when you're studying and you get tired, you quit. (Eric Thomas - How Bad Do You Want It, 2013) I end the assembly by saying that I often listen to Eric Thomas because when I do it makes me feel inspired and motivates me. The task I then set my House is to think about what motivates them individually and use that the next time they feel like procrastinating for a day to avoid school work.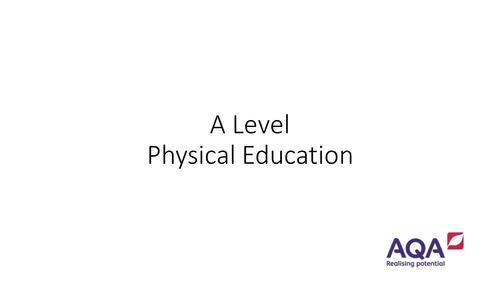 Learning Objectives: Introduce the four theories of learning. - Operant Conditioning. - Observational Learning (Bandura). - Social Development Theory (Vygotsky). - Insight Learning (Gestaltist theories). Understand how the theories of learning impact on skill development. This resource contains a quiz with 20 questions based on the rules and tactics of rugby union. I use this for wet weather lessons when teaching rugby union. Examples of question are: 1. What is a scrum? 2. What does a hooker do in a rugby team? Muscular and Skeletal Systems, Movement Analysis based lessons Student workbook with exam questions and mark schemes is also included plus the tasks associated with each lesson.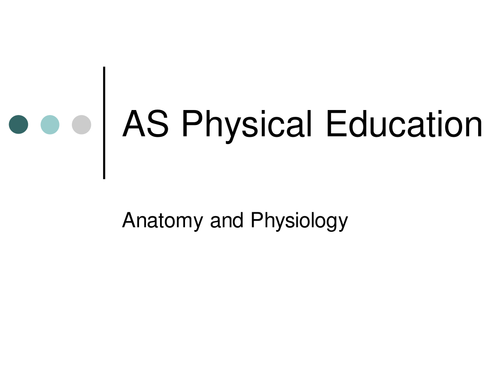 A Level Anatomy and Physiology lesson. Learning objectives: - Introduce the vascular shunt mechanism. - Describe the distribution of cardiac output at rest and during exercise. - Explain the role of the vasomotor centre and the involvement of arterioles and pre-capillary sphincters.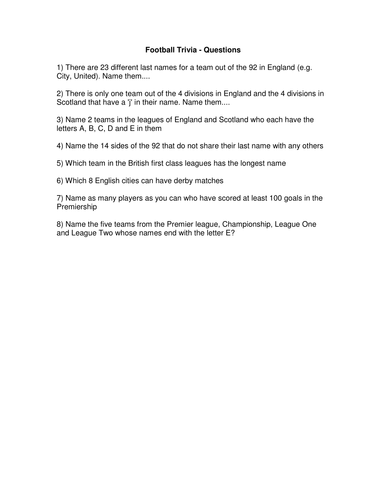 This quiz contains 8 questions that are based on football. I use these for wet weather football lessons. An example includes: 1) There are 23 different last names for a team out of the 92 in England (e.g. City, United). Name them....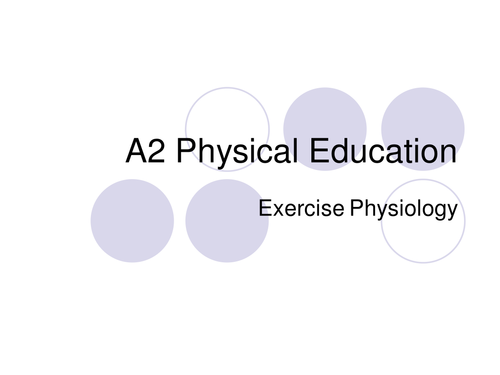 A Level Exercise Physiology lesson. Learning objectives: - Describe the breakdown and re-synthesis of ATP. - Introduce the three energy systems used to supply ATP to working muscles. - Explain how duration and intensity of exercise for relates to each energy systems.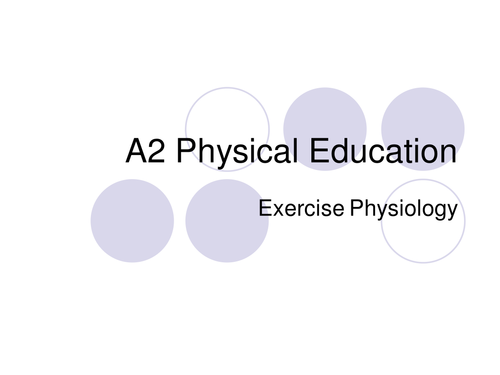 A Level Exercise Physiology lesson. Learning objectives: - Define the different types of strength and identify the factors that affect strength. - Describe the methods of evaluating each type of strength. - Evaluate the different types of training used to develop strength. A Level Exercise Physiology lesson. Learning objectives: - Describe the energy system and the food/chemical fuels used during each type of strength training. - Explain the physiological adaptations that take place after prolonged periods of physical activity. - Plan a programme of strength training.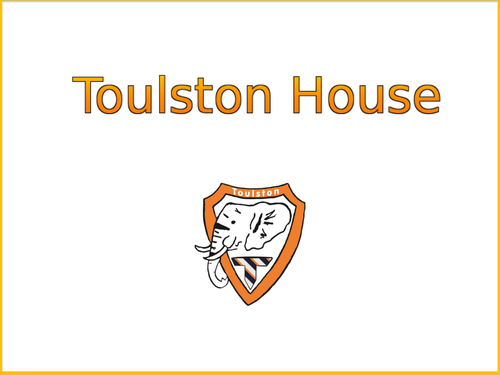 The focus of this assembly is about perseverance. The first clip is taken from the film 'Catch me if you can'. It takes a scene where someone describes two mice falling into a bucket of milk. Once drowns but the other tries so hard to get out that it churns the milk into butter and walks out the bucket. The next clip is taken from 'Educating Yorkshire'. It shows a young man with a speech impediment trying to talk through some work and getting frustrated. The next clip is one of him speaking in the Year 11 leavers assembly. The next section shows Andy Murray getting upset after losing the Wimbledon final followed by the moment he won Wimbledon the following year. I then go on to talk about how in these situations both people went on to be successful by not giving up and persevering with the challenges ahead of them. This then links in to the challenges that the students will face this academic year. The assembly finishes with a quote by Gary Player who once said "It's funny but the more I practice, the luckier I get."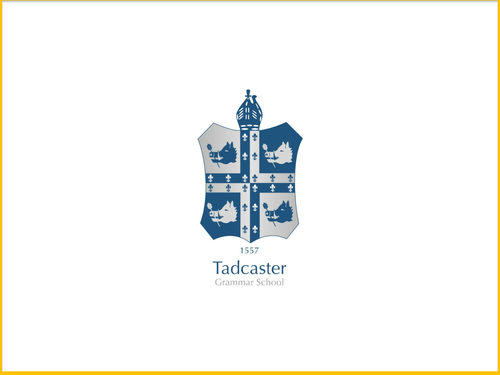 The assembly is based around a fixed and growth mind set. It uses a series of clips taken from I'm a Celebrity Get Me Out of Here from a couple of years ago when Helen Flannigan was voted to do a number of Bush Tucker Trails. The first two clips show here saying that 'she isn't feeling this today' and then quits before really having a go. The next clip shows here saying that she is going 'to give it her very best' and she completes the trial gaining all of the stars. The message is about approaching a task with a positive mindset. I then list the challenges that each Key Stage will face during the academic year and the importance of being positive and giving everything 100% effort.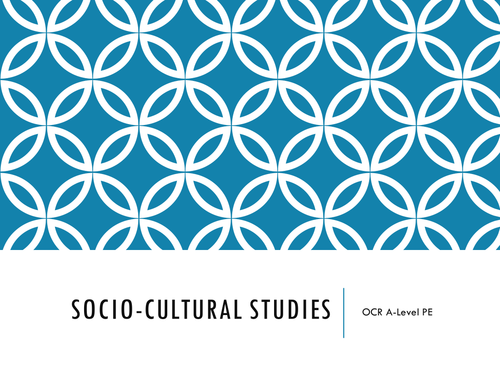 Learning Objectives: - The History of the Olympic Games. - The commercialisation of the Olympic Games. - The IOC & BOA.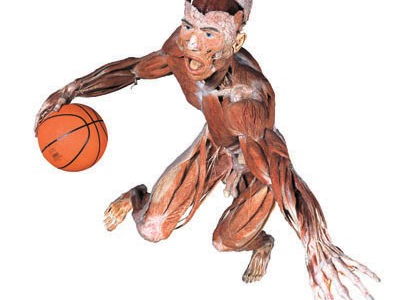 Respiratory system based lessons. Student workbook with exam questions and mark schemes is also included plus the tasks associated with each lesson. I use this document as a progress checker during lessons and have this laminated and blown up into A1 size in my classroom to use. As the beginning of the lesson when I go explain the learning objectives of the lesson I ask students to write their names on a post it note and then stick their name on the thermometer depending on how confident they feel against the topic. During the lesson I then ask students to move their names if they feel they have made progress against the learning objectives. This is a brilliant tool to demonstrate progress as it is visual and can be visited at any pint during a lesson.