Loustinch's Shop
Creative Religious Education resources for key stages 3 and 4 which draw on an experiential pedagogical perspective.
148Uploads
34k+Views
12k+Downloads
Creative Religious Education resources for key stages 3 and 4 which draw on an experiential pedagogical perspective.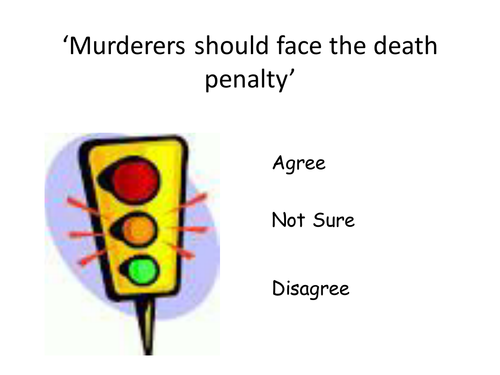 Intro to capital punishment. This lesson looks at what capital punishment is and the reasoning for and against it. Students reflect on a series of high profile case studies and consider whether they feel capital punishment can be just. Links to RS edexcel syllabus.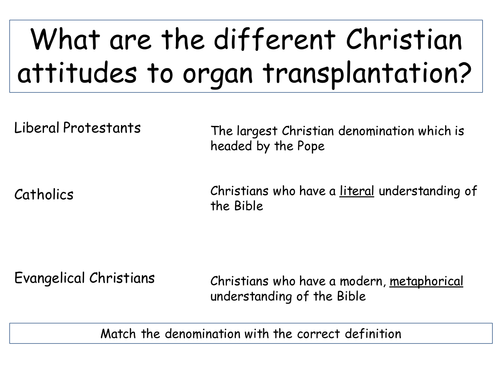 Lesson centered around the case study of the conjoined twins Mary and Jodie. Explores different Christian attitudes to transplant surgery. Edexcel text book is useful for one of the activities.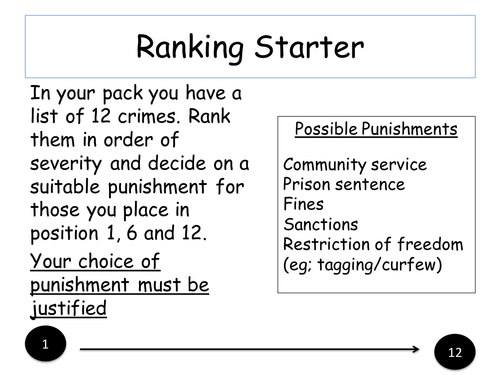 Intro the ideas of reform, protection, deterrence and retribution. Contains a game as a starter which encourages students to reflect on a variety of crimes, the punishments administered and why as well as a main task that requires them to think of the logic and theory behind different theories of punishment along with their strengths and weaknesses. Links to edexcel syllabus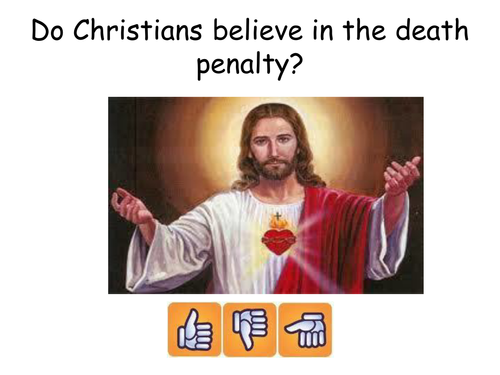 Students explore the differing Christian response to Capital punishment and the Biblical reasoning behind the attitudes. This lesson links to edexcel syllabus.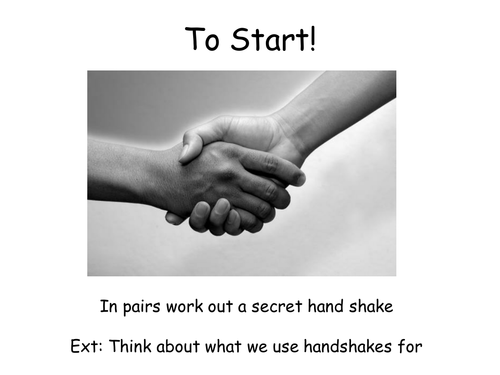 Students examine what the covenant is and why it is an essential aspect of Judaism. They do this through examining key moments of revelation. This lesson has both paired and individual activities. It encourages reflections on symbolism.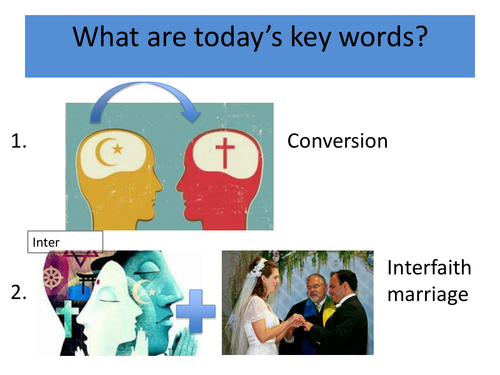 Lesson focus' on whether or not multi-faith societies lead to a decline in religion. Uses case studied to help students recognise some of the complexities of maintaining religious adherence in a multi-faith society. Links to edexcel syllabus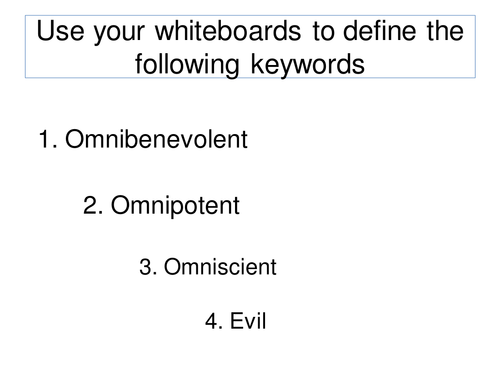 How the story of Adam and Eve claims to explain the existence of evil in the world.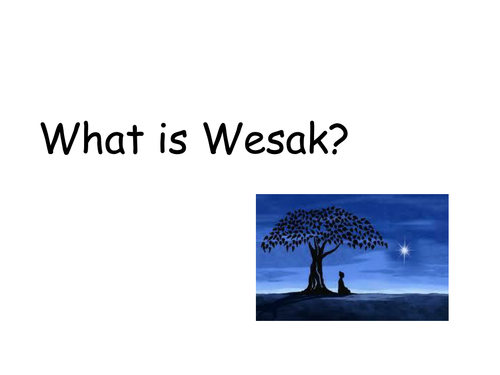 Buddhist festivals Vesak and dharma day This powerpoint covers both Vesak and dharma day as two individual but short lessons which are aimed to take around 30 mins each. It can be adapted easily to be used as two distinct full lessons. The dharma day lesson has a good SMSC quality.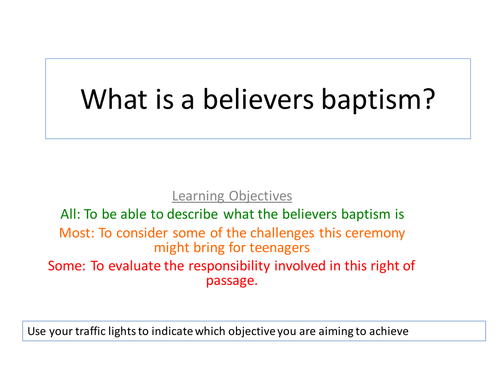 This lesson explore what confirmation is and the problems associated with teenage rights of passage. It includes discussion, written and role play exercises.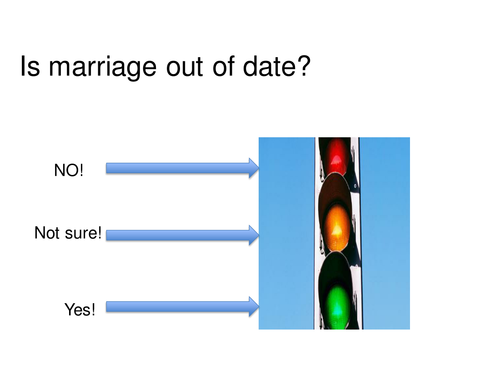 symbolism of wedding ceremony different types of relationship * Sadly the video links (4thought) for this lesson have expired so a transcript has been attached.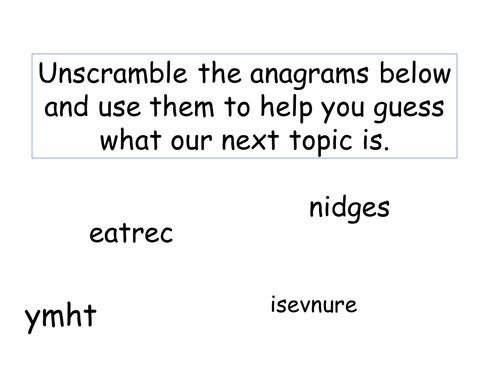 This lesson encourages students to consider whether the world needs a creator or whether it could have occurred by chance. It is a good introduction to units of work that link to creation stories or science and religion. The lesson asks students to reflect on their ideas of the origins of the world and uses a myth to help them reflect on the arguments surrounding creation. There is a leveled writing task which brings the ideas together.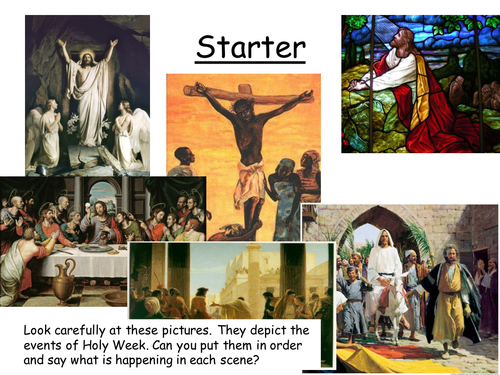 This lesson introduces students to the key events of Holy week. Includes a card sort, freeze frame activity and exam question. Links to new RS edexcel syllabus.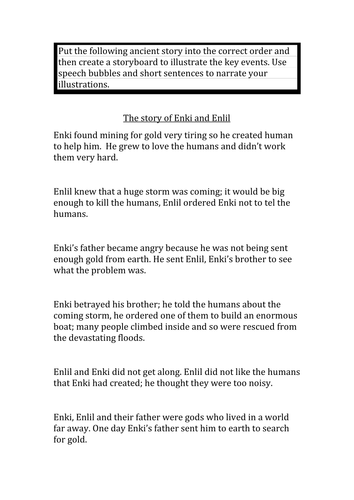 The lesson aims to compare the story of Noah's ark to other ancient flood myths. There are a range of tasks, some of which are differentiated.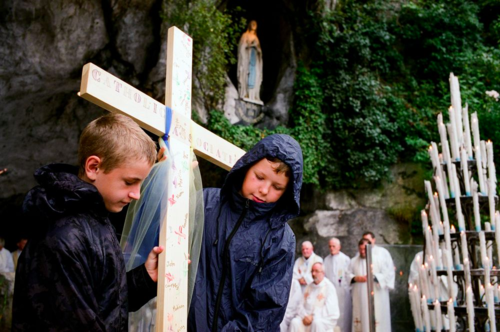 These lessons on pilgrimage include an introduction to pilgrimage, pilgrimage to Lourdes, the Holy Land and a mini assessment. These lessons include a range of tasks to help students understand and explore the relevance and history of pilgrimage in Christian traditions. These lessons relate to the new Edexcel GCSE syllabus within the 'Living a Christian Life' section.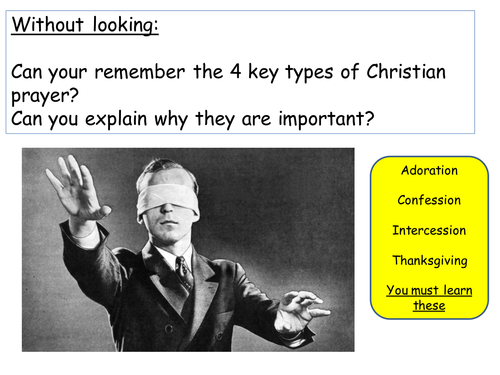 This lesson explores what intercessory prayer is and the potential problems with it. It includes a worksheet with differing (fictional) examples of intercessory prayer and urges students to consider the strengths and weaknesses of each from a Christian perspective. It also draws on video sources to help students understand the nature of this form of prayer. Links to new edexcel GCSE syllabus
This bundle comprises of three lessons complete with lesson plans. The trio begins with a lesson on Lent which urges students to reflect on the practice of fasting and abstinence before moving onto a lesson on Holy Week. This lesson draws on the Biblical events of the last week of Jesus' life. Finally the Easter lesson focus' on the symbolism of Easter day and concludes with a comparative exam question which reflects on the Easter and Christmas festivals. Links to new Edexcel RS GCSE syllabus.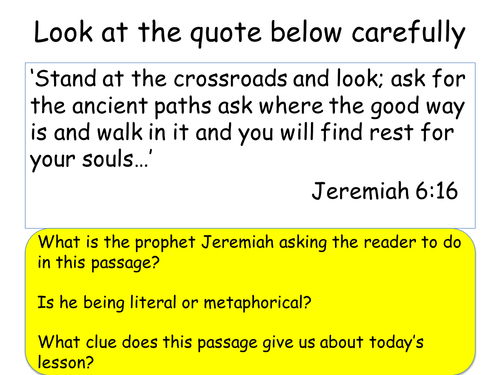 This lesson provides an introduction to the idea of pilgrimage within the Christian tradition. It urges students to reflect on the meaning and purpose of spiritual journeys with the help of a video clip and a range of activities. Links to new RS edexcel syllabus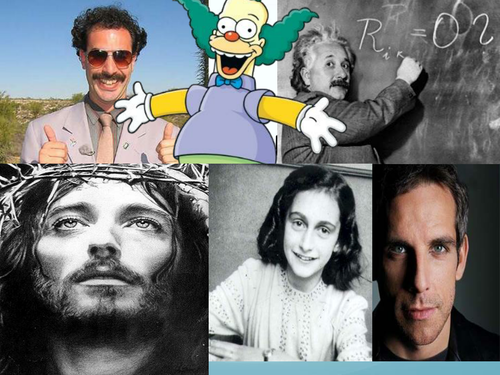 This lesson is about recognising Judaism as a world religion and recognising stereotypes. I did this lesson with several classes who predominantly thought that Jew's were exclusively people with top hats and curls. It can serve as an introduction to diaspora communities also.