123Uploads
11k+Views
2k+Downloads
Languages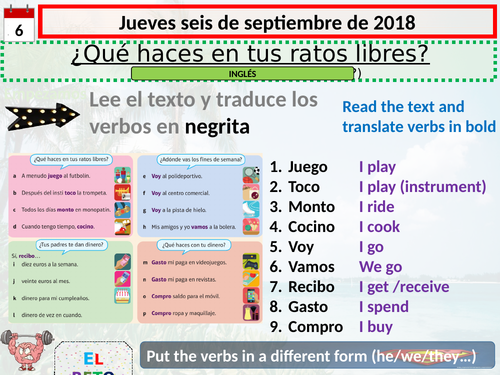 This unit of work contains 18 lessons to prepare your students for the general conversation on theme 1, Identity and culture. It's based on Module 4 from Viva (higher and foundation), Free time activities(music, cinema, TV and sport). It covers topics on free time and tenses (present perfect, imperfect, preterite and present tense).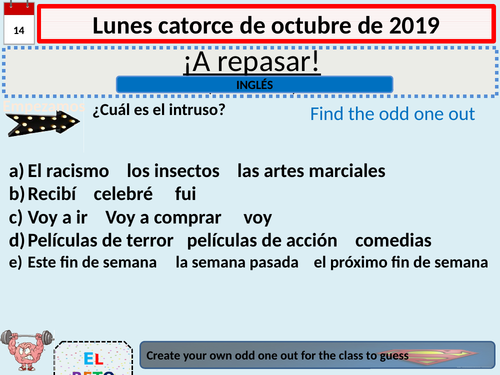 A lesson to revise the end of module -Somos así (Rojo). Plenty of games focusing on all the skills and a mini test at the end for students to self assess themselves.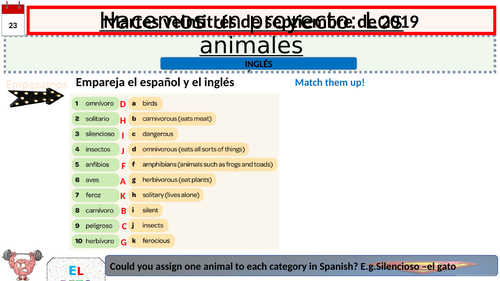 A lesson based on viva, end of module activity.

Two lessons based on module 2 viva 3 'cómo va a ser tu futuro'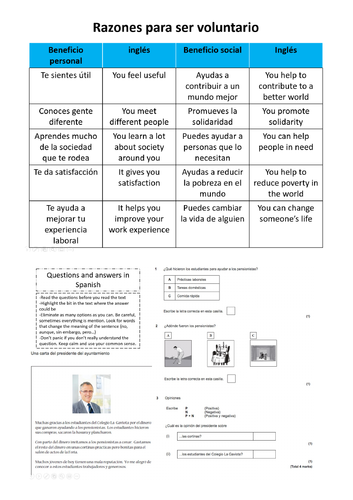 3 lessons on poverty and homeless aimed at Y11 mixed ability group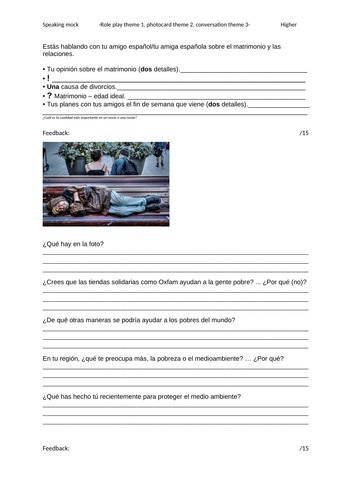 6 different worksheets for students to practice their speaking (3 foundation and 3 higher) based on past papers. Each worksheet has a role play, photocard and conversation questions on three different themes.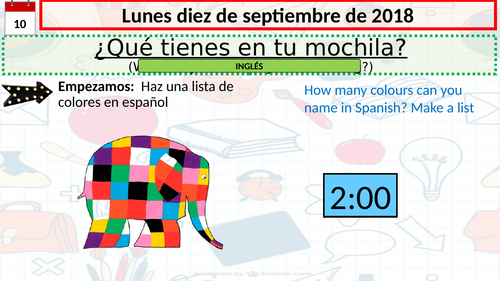 Two lessons based on MIRA 1 to introduced gender in Spanish. Contents: Vocabulary (in my pencilcase) Un/una Hay/no hay different games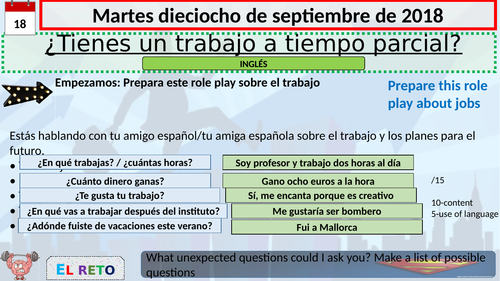 A lesson based on page 140 from Viva Higher. The power point contains: Role play on the topic of jobs. Use of lo/la pronouns to avoid repetition. Reading from page 140 -Viva Higher (with some modifications) in a GCSE style.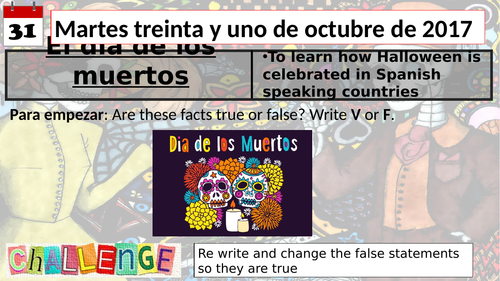 A cultural lesson for El día de muertos, mostly in English but with some Spanish key words to understand the Mexican tradition.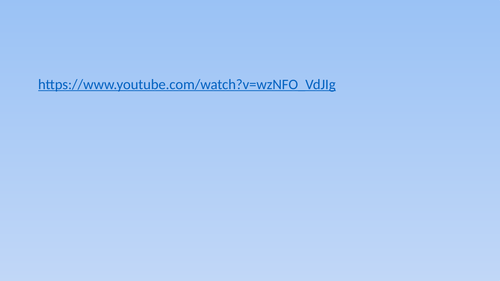 A very good resource to challenge your top set Spanish. The Spanish king gives a speech about the situation in Catalonia. Very advanced vocabulary, an authentic text to practise your reading and some GCSE type comprehension questions.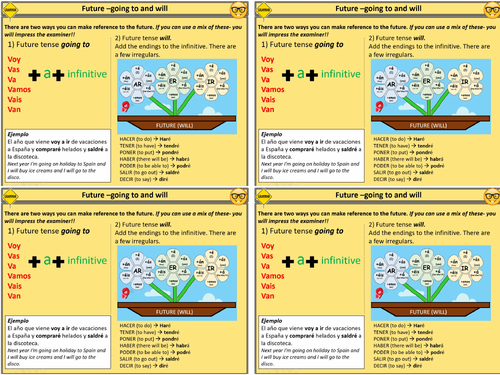 Two lessons aimed at GCSE students on future and conditional tenses around the topic of holidays. Well differenciated for mixed ability classes.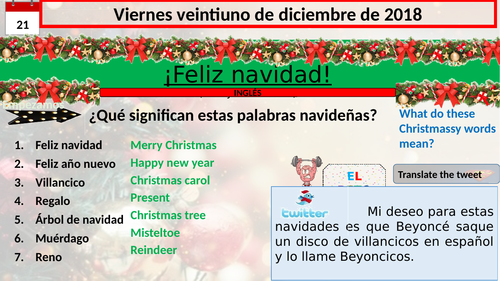 A very challenging lesson on christmas for your GCSE spanish groups. Tell your students all about Christmas in Spain and use the powerpoint and the visual clues to support understanding (all the information is written on the notes just in case you need help with the target language). Keep using TL until the very last day :) The lesson includes a Christmas quiz for a different lesson as well. (I normally ask my students to make notes and share what they understood after I give them information for each day)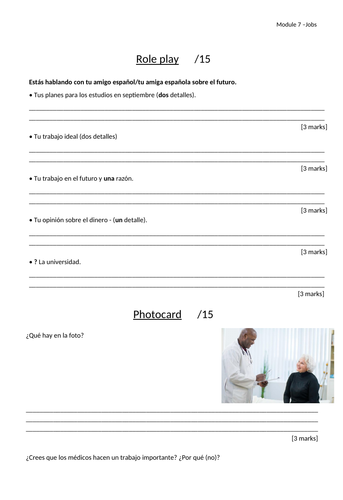 Speaking practise worksheet perfect for cover lessons/homework/speaking prep. Topic: jobs

26 lessons to cover the topic of holidays based on Module 1 from Viva. -Activities in the present tense -Activities in the past tense -Imperfect tense and hotel description -Hotel reviews and problems -Disaster holidays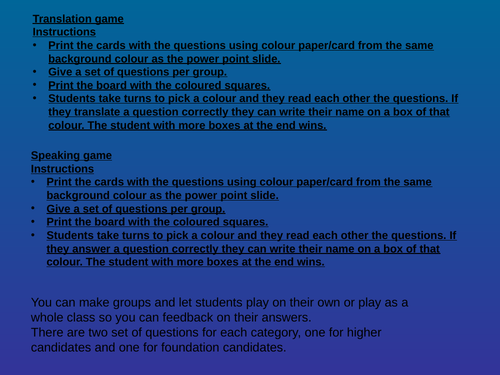 Excellent resource to get your students practise for the general conversation. Very student centered with a competitive element. Aimed at GCSE groups but easily adaptable to use with other year groups as well.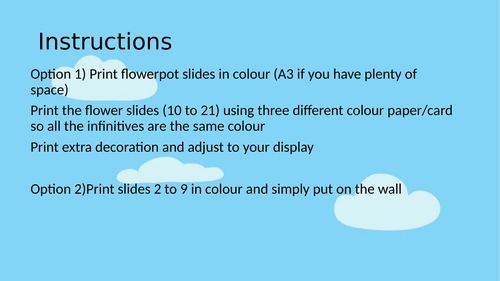 Display for Spanish tenses using flowers (present, preterite, imperfect, present perfect, future will, conditional, pronouns and present subjunctive)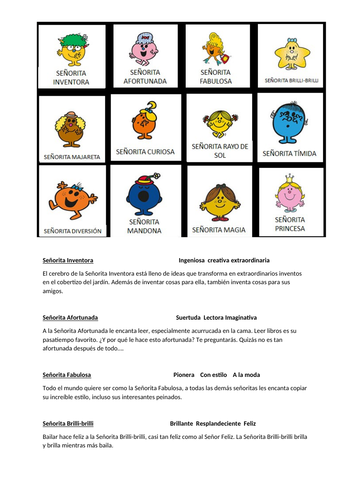 This resource has been designed to be used as an end of term/year project or series of lessons. The aim of the lessons is to assign one Little Miss/Mr. Men character to each member of the class. Each character has a name and a description in Spanish. During the first lesson, students need to scan the descriptions and use the synonyms given to translate the names of the characters. During the second lesson, students need to assign one character to each member of the class, choose their favourite one (or their best friend's) and their own and translate it. In the third lesson, they need to design a new character and write a description about him/her /translate a group of characters. Power point (with translations) and booklet for students included. Great resource to practise vocabulary, descriptions, synonyms, adjectives, creative writing, creative reading.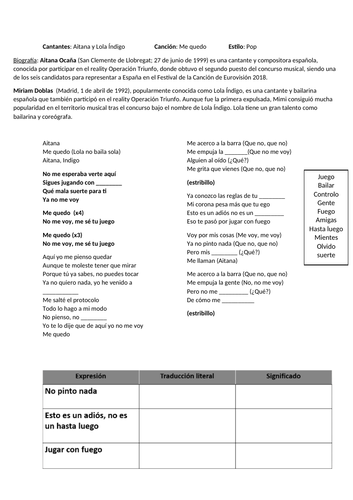 Lesson / half a lesson on the song 'me quedo' by Aitana and Lola Indigo. Worksheet + powerpoint with biography/ reading comprehension, gap fill activity and idioms and expressions from the song.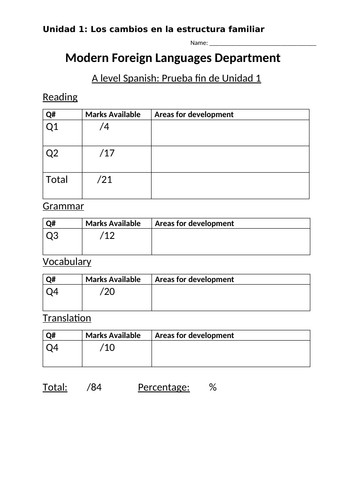 End of unit 1 assessment -los cambios en la estructura familiar (reading, grammar, translation and vocabulary) Edexcell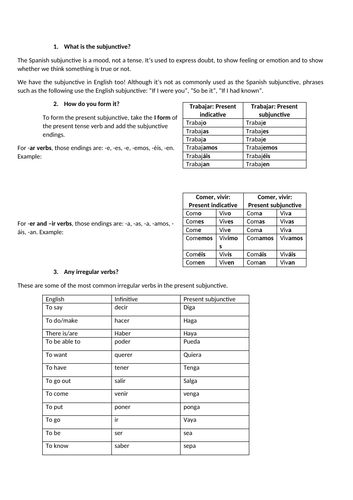 A lesson on subjunctive in Spanish designed for mixed ability groups. Student centered with AFL activities differenciated by tiers and a sentence builder for weaker students.