123Uploads
12k+Views
2k+Downloads
Languages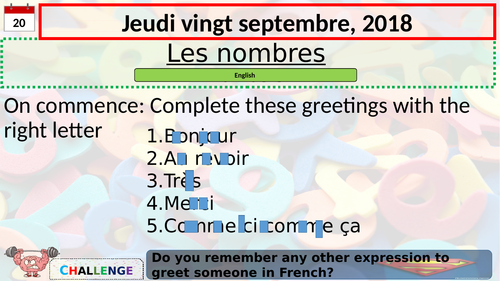 numbers (1-21) and how old are you. Two lessons based on ACCESS -French. YEAR 7/ YEAR 6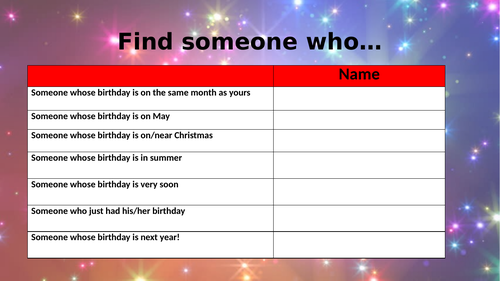 A bundle of 5 lessons/activities/ideas for the first week for a year 7 tutor group with games, icebreakers and activities to get to know your tutor group and create a good rapport since day one :)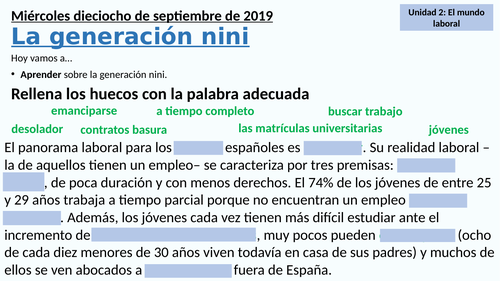 One lesson on 'la generación nini'. Year 12, unit 2, el mundo laboral.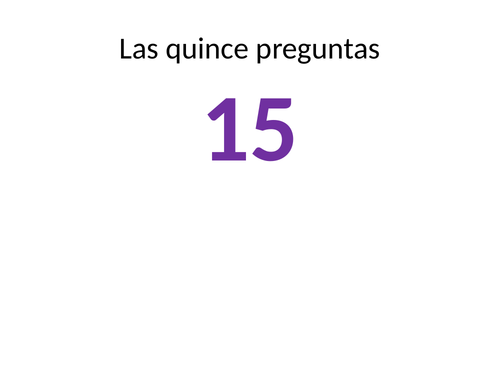 Boost your students' writing with this lesson designed for a mixed ability group. Students have to answer 15 questions using certain words -subjunctive structures included.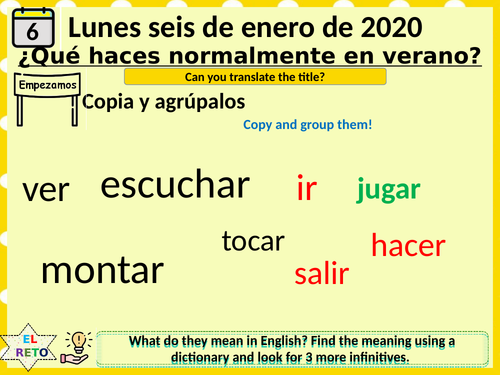 Two lessons based on VIVA higher and foundation -all abilities, well differenciated lessons.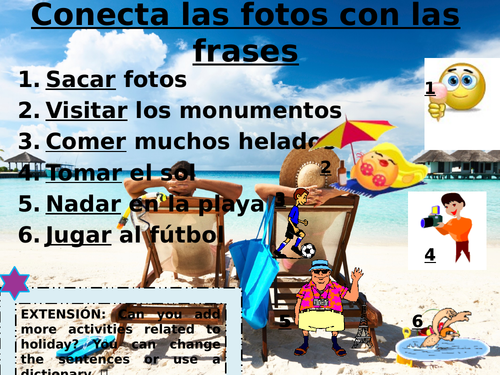 Amazing resource full of games and creative approaches to teaching Spanish near future. Perfect for observations and interview lessons!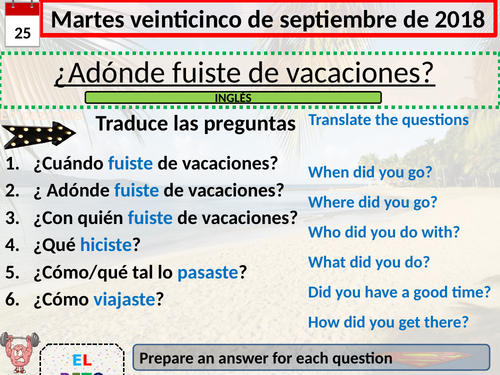 3 lessons based on Viva Foundation- Module 1 (¿adónde fuiste? pages 10,11). Powerpoint contains: questions and answers in the past vocabulary on holidays preterite tense -formation and irregular verbs cards game weather expressions in the past reading/listening/writing Extra lesson with different activties and games to consolidate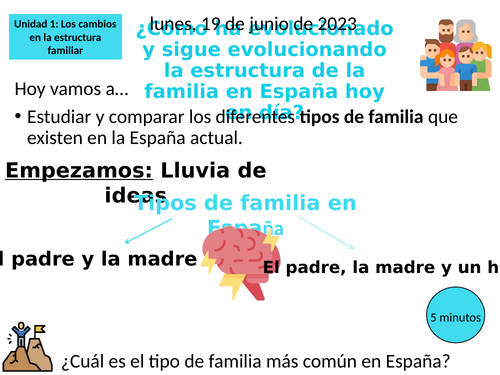 Year 12, transition lesson. Unit 1: Los cambios en la estructura familiar. Reading about types of family + how has the concept of family changed over the years.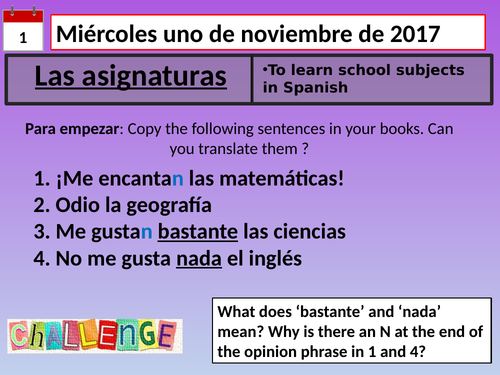 3/4 lessons introducing subjects, opinions, basic adjectives and intensifiers. Aimed at year 7 mixed ability. Leson 1 vocabulary introduction + consolidation games Lesson 2 Opinions + subjects Listening (mira 1) Speaking activity Lesson 3/4 Adjectives and agreement Intensifiers Word order Reading Writing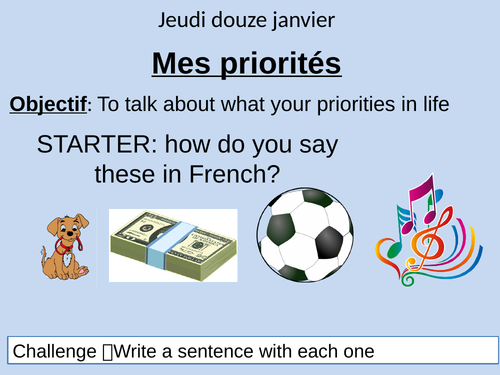 One lesson based on Studio 3 (priorities) low ability group. French. Lesson contains: starter/vocabulary introduction Beat the teacher game Speed game Listening activity Writing about priorities in life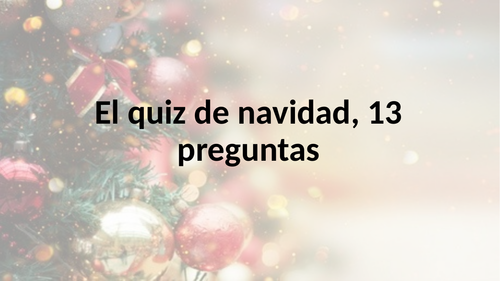 Christmas quiz with questions and answers in Spanish -aimed at your GCSE groups or top sets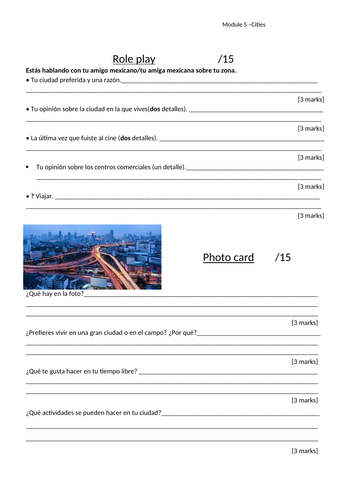 3 tasks to practise speaking on the topic ´Home, town, neighbourhood and region´ ideal for cover work or homework.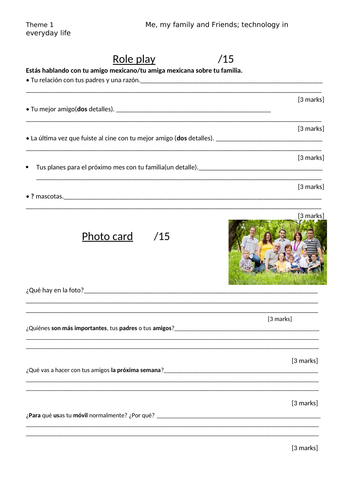 Foundation and Higher worksheets for your students to practise for their speaking assessment. Theme 1: family, relationships and technology. Ideal for homework, cover lessons or extra practise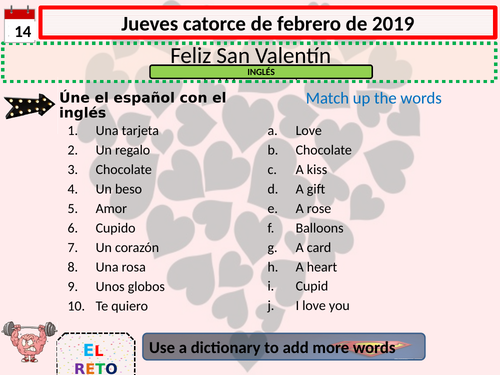 Valentine's lesson to have some fun with your Year 7 group :) Lesson contains: Starter with basic vocabulary Questions/answers for speed dating Speed dating Guess your secret admirer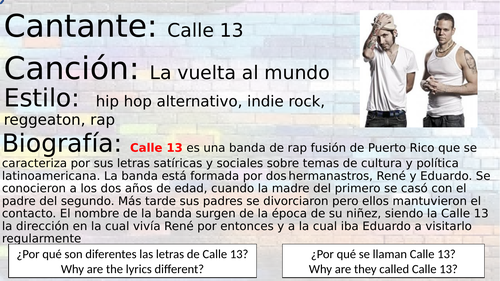 Song by Calle 13 -la vuelta al mundo. Lesson includes a brief biography as a reading comprehension, the lyrics as a fill in the gap activity and the translation.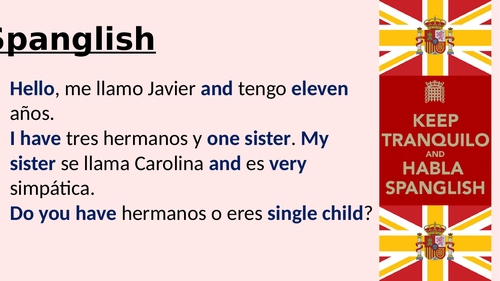 Selection of games and ideas to make your mfl lessons a bit more fun.