138Uploads
339k+Views
362k+Downloads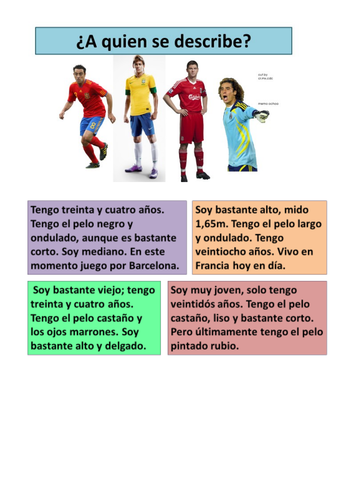 KS3 Spanish recapping physical appearance to describe footballers in the Russia 2018 World Cup.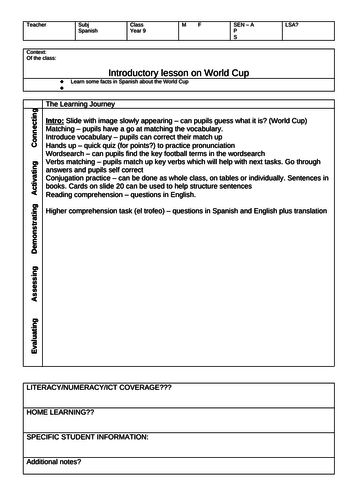 KS3 Spanish introduction to football vocabulary and the World Cup for Russia 2018 AMENDED WORDSEARCH NOW UPLOADED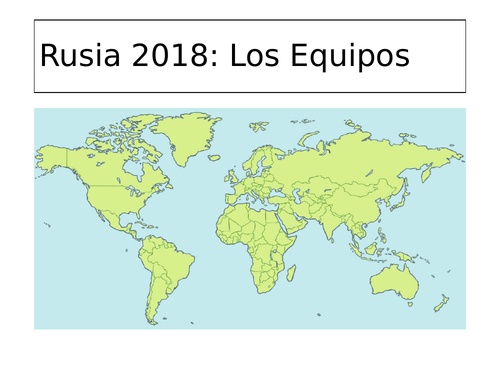 KS3 Spanish resource based on the World Cup for Russia 2018. Students learn to describe the flags of the different competing countries and have to find the countries on the World map for a bit of geography!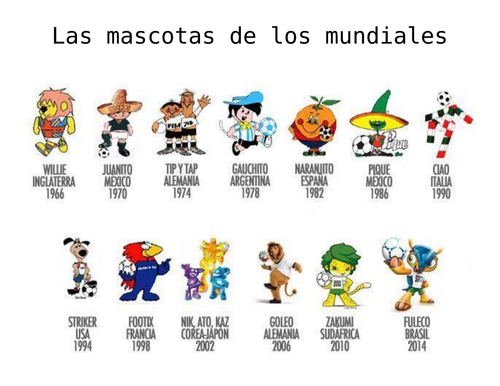 KS3 Spanish based on World Cup Russia 2018, recapping character and personality as well as physical description to describe mascots of past World Cups and to design a new one for Qatar 2022.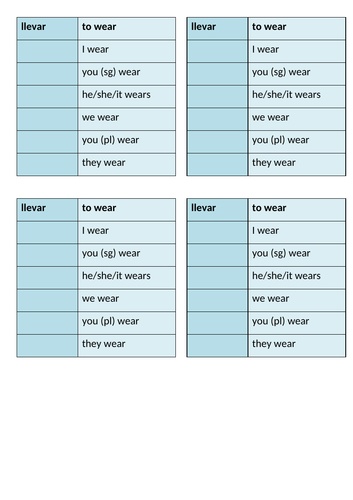 KS3 Spanish based on the World Cup for Russia 2018. Recapping colours and describing football kits.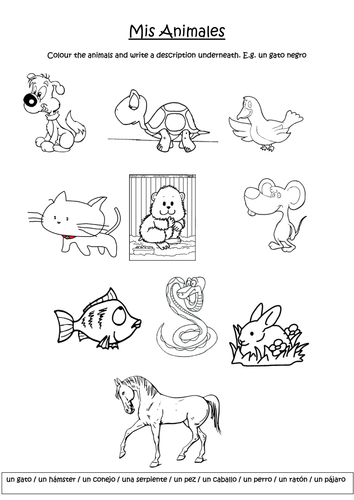 Two Spanish Powerpoints Tutorial and a Worksheet talking about pets and describing them

Based on Listos 1 Unit 5. A Spanish Power point describing the weather. Worksheets to practice vocabulary and a vocabulary grid to enable pupils to work quicker copying down vocabulary.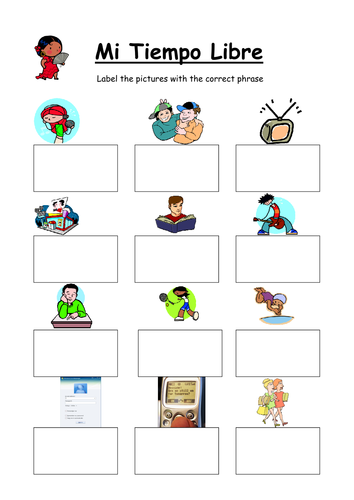 Powerpoint going through Tiempo Libre activities (based on Listos 1 Module 6 Unit 2). First goes through conjugation of ar verbs and then onto free time. 2 worksheets useful for lower ability to consolidate vocabulary.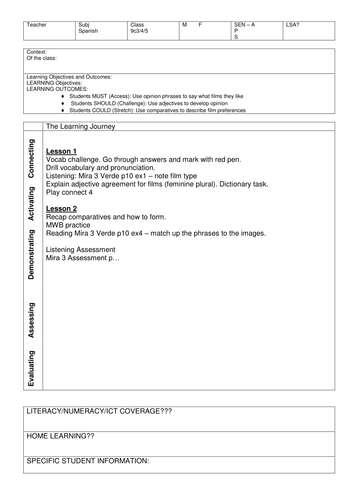 Based on Mira 3 (Red and Green), 2 differentiated lessons for higher and lower ability students (Y8/9) on films and teaching pupils to use comparatives. Includes a workpack which is suitable for cover/extension/homework.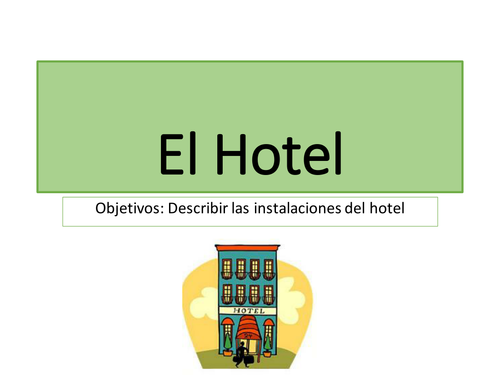 For our tourism unit, describing facilities at the hotel KS3. Includes a listening to be read by teacher and a reading comprehension task. Works toward pupils creating their own poster/leaflet advert for a hotel.

Follows Mira 3 relating to how you use the computer. Differentiated for higher or lower ability Year 8 or Year 9.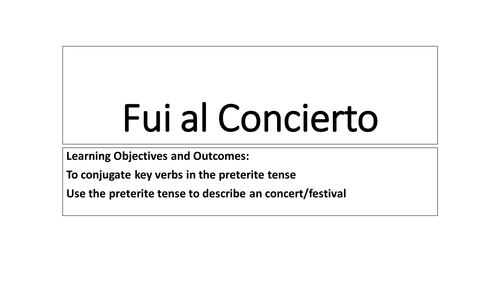 Based on Mira 3, uses the preterite tense to say what you did when you went to a concert. Includes a running dictation activity and links to YouTube videos as stimulus for a writing activity on Bencassim or Sonar festival.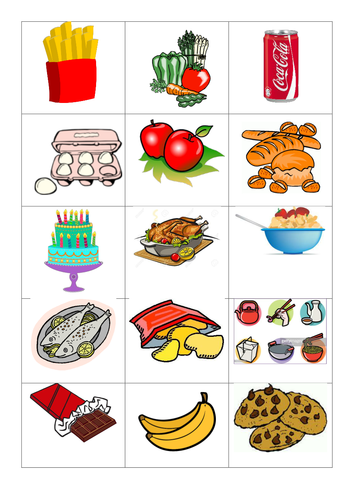 Based on a Year 8 unit of work on food, this covers food, time phrases and giving opinions and reasons about healthy and unhealthy food. Includes PowerPoint, vocabulary test, time phrases vocab sheet, card sort and a reading comprehension.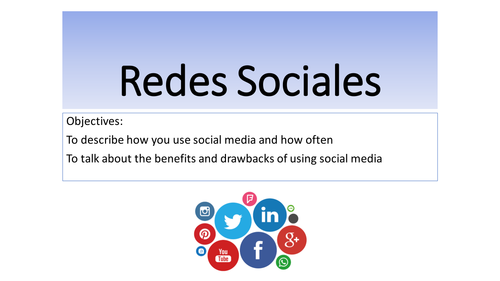 Additional lesson for Year 9 based on Mira 3 (but not featured in the book), getting pupils to say how they use social networks.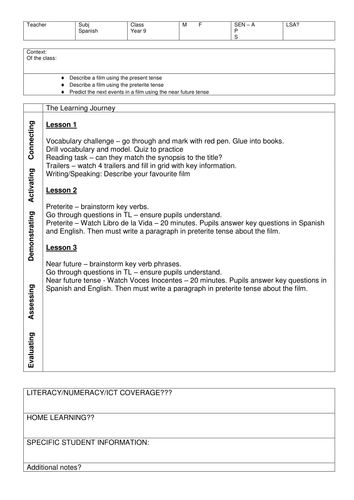 This lesson is for the end of topic on films. Pupils watch trailers to films and note key information about each, which lead them into writing a paragraph about each film. They then watch longer segments of 3 films to build up to writing a text in 3 tenses.

Using the imperfect tense to describe how the Aztecs lived. Links to Horrible HIstories Angry Aztecs video (on YouTube). Includes PowerPoint, vocabulary test, wordsearch, images for presentations.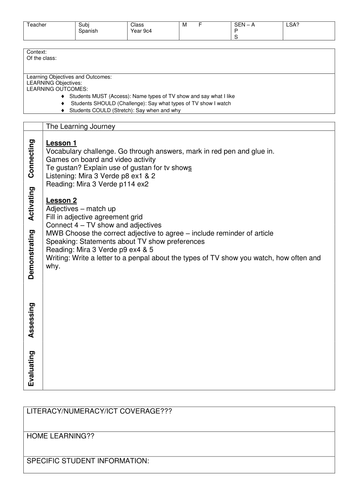 Based on Mira 3 (Red and Green), lesson on TV shows, expressing opinions and using time phrases to say how often they watch. Differentiated for higher and lower ability Year 8 or Year 9, includes vocabulary test and card sort activity.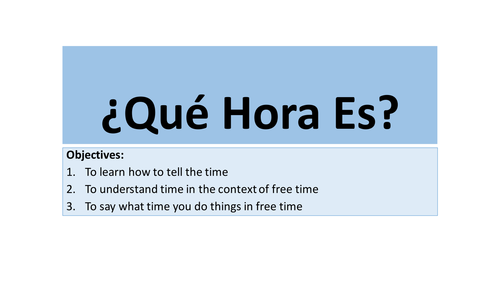 Activities aimed at Year 7-8 to tell the time and say what time you do things Links to Tiempo Libre topic Includes powerpoint, vocabulary test, paired speaking activity, time practice sheets and activities to link hobbies and time Resources labelled FOUNDATION are differentiated for lower ability.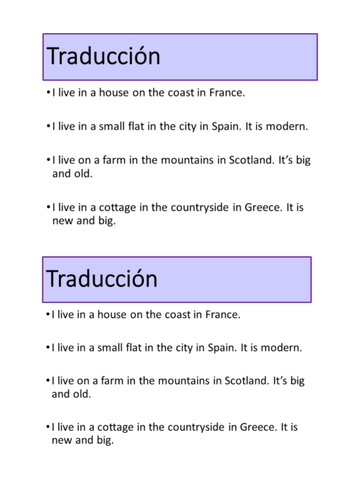 Year 7/8 resource to describe where you live. Includes powerpoint, vocabulary test, differentiated translation exercise.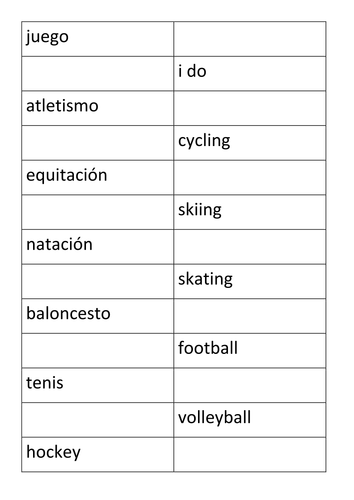 Year 7 Spanish on the topic of Free Time. Pupils learn the difference between jugar and practicar to use with a variety of sports and activities. Resources include PowerPoint lesson, vocabulary grid, cards for a card sort activity and sporting celebrities for writing activity.