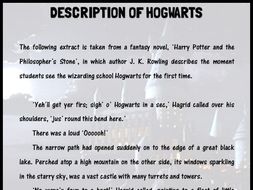 'Description of Hogwarts' extract
'Description of Hogwarts' extract
About this resource
Info
Created: Jan 12, 2018
Updated: Mar 3, 2018
Other resources by this author
Popular paid resources
Reading with RIC questions in sets of 3 per double page spread, for the full picture book.
hallmissh09
6 GREAT KS2 CLASS ASSEMBLIES! ALL TRIED AND TESTED … INCLUDING: DILEMMAS THE PLAGUE + GREAT FIRE IRON MAN TEETH AND HEALTHY EATING 7 CONTINENTS FAN...
Lresources4teachers
6 Resources

10% off

$25.39

$

22.85
Sets of five reading comprehension questions per double page spread for the whole picture book.
hallmissh09
New resources
A must-have for any teacher! A free worksheet for group work where a student shares their writing and the others listen and write down something th...
learningisawesomewithmrsalinas
This fun and informative lesson helps students to understand the key events of the ending of David Walliams 'Billionaire Boy.' In particular, stude...
TandLGuru
Based on the popular game show 'Pointless', this resource is perfect for use as a whole lesson resource, enrichment option, or revision tool. Edita...
TandLGuru
Updated resources
Visual 30+ page presentation for an assembly or lesson on Star Wars Day with accompanying quiz worksheet. Includes: • important vocabulary • key in...
magicinkstand
This is an interactive powerpoint with 50 questions suitable to use with EYFS or KS1 for World Book Day. Use as a starter, an assembly, a filler or...
blossomingminds
Purchase this resource, leave a review and get a resource of mine for free! Just email your username and the resource of your choice to inspireande...
Krazikas