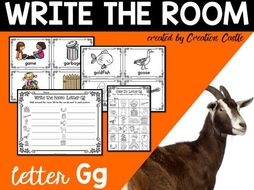 Alphabet Write the Room - Letter G
Are you looking for a way to engage your learners while learning or reviewing the alphabet? Write the room is a fun and interactive way to get your students moving around the classroom. After placing word/concept cards around the classroom, students will walk around with a clipboard and recording sheet. Students write the words/answers they find on your chosen recording sheet.

In this download, you will find:
- 12 color write the room cards
- 12 black and white write the room cards
- Recording Sheet: students write the words to match each picture
- "Color It": students color the pictures that begin with the appropriate letter (half sheet)

Words: game, garbage, garden, gate, gift, girl, give, goat, goldfish, goose, gorilla, guitar

This resource was created with U.S. spelling.
Read more