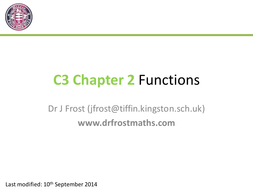 C3 - Chapter 2 - Functions
Based on the Edexcel syllabus.
Read more
About this resource
Info
Created: Aug 30, 2015
Other resources by this author
Comes with Powerpoint and worksheet. Includes harder follow up questions where you use a completed congruence proof to make subsequent justifications.
DrFrostMaths
(a) Plot and recognise quadratic, cubic, reciprocal, exponential and circular functions. (b) Plot and recognise trigonometric functions within the ...
DrFrostMaths
Covers all aspects of the GCSE curriculum, including algebraic problems where volumes/surface areas are equated. Includes a Powerpoint presentation...
DrFrostMaths
Popular paid resources
Try before you buy! Get a free sample chapter here: https://www.tes.com/teaching-resource/maths-a-level-year-2-mechanics-applications-of-forces-119...
Omega
What's in this pack? This pack contains 48 exam style question cards covering the new curriculum for the top grades of the new gcse in algebra. The...
LittleStreams
A Mathematical Investigation Assessment Item for Yr 9 & 10, including GeoGebra and Python.
ianfrancishailes
Updated resources
These are (were) my C1 summary notes. The questions are carefully selected and have fully-worked solutions. Perfect for re-sit students to self-stu...
Maths4Everyone
This worksheet helps students to review their understanding of functions. This sheet covers 'single' functions only – composite functions are cover...
Maths4Everyone
Exam-type questions that gradually increase in difficulty. This sheet covers Composite Functions. Click 👉 www.tes.com/.../revision… for similar-st...
Maths4Everyone