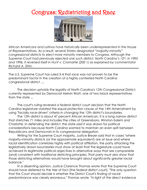 Congress: Redistricting and Race
Congress: Redistricting and Race

African Americans and Latinos have historically been underrepresented in the House of Representatives. As a result, several States designated "majority-minority" congressional districts to elect more minority members to Congress. Although the Supreme Court had previously rejected one such district, North Carolina's 12th, in 1993 and 1996, it reversed itself in Hunt v. Cromartie (200 1) as explained by commentator Richard A. Zitrin.
Read more