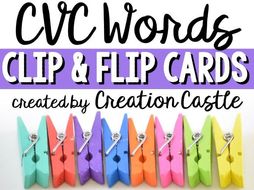 CVC Words Clip Cards Center
These CVC clip and flip cards are perfect for independent literacy centers! They can be used when introducing or reviewing CVC words. Students will use clothespins to clip the correct answer choice on the right side of the cards. After students select their answer, they can flip the card over to check their work. (This will require you to place stickers or mark the correct answer on the back of the card prior to student use.)

There are 140 CVC clip cards included! You can choose to print this literacy center in both color or black and white.

Other possibilities…
✓ Use dry erase markers to circle the correct letters on right side; write in letters to finish word
✓ Use magnetic letters to build the beginning of the word using the choices on the right

This resource was created with U.S. spelling.
Read more