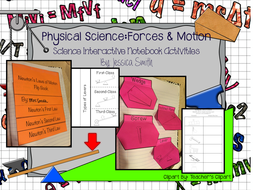 Forces and Motion Science Interactive Notebook Resources & Foldables
The perfect addition to your science interactive notebooks! This product includes 10 science interactive notebook activity covering physics concepts such as simple machines, centripetal force, Newton's Laws, and MORE! All activities, foldables, and activities are designed to fit in a composition notebook.

Topics include: gravity, force, friction, laws of motion, work, simple machines, pressure, & buoyancy.

Read more