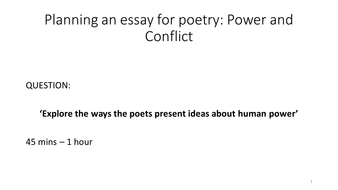 GCSE Writing Comparative Analyses: Poetry 'Power and Conflict'
Targeted at mixed ability GCSE pupils, studying 'Power and Conflict' (Paper 2, AQA), this in insightful and accessible resource helps pupils plan their comparative analysis before writing.

With clear models and planning questions, pupils learn to structure their answers in four clear, consistent and developed paragraphs: an introduction, conclusion and two paragraphs that contrast how poets use language, form and structural devices for effect. To fully prepare, pupils are given questions that help them plan each paragraph. These questions can be memorised and quickly used during the planning time of their exam.
By adding a School licence it allows you to share this resource with colleagues at your school. Without it, this resource is licensed for use only by you. Read licence details