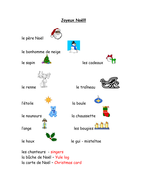 Joyeux Noel
<p>A list of words connected to Christmas with pictures.</p>
Read more
This resource is designed for US teachers. View UK version .
Other resources by this author
A worksheet to check children's understanding of telling the time in French.
Minstrels
a set of cards with a pcture on one side and the name of hte animal on the ohter. could cut up and play as snap or just use as a display
Minstrels
A grid for you to play noughts and crosses. The idea is that the class is divided into 2 groups and they have to specify which square they will be ...
Minstrels
Popular paid resources
PowerPoint and accompanying workpack designed to encourage pupils to use a variety of complex structures in their spoken and written French. An ext...
maryjane1969
This is a lesson I produced for my Lower Sixth to introduce the subjunctive. There is a worksheet to accompany the presentation with a fairly compr...
maryjane1969
Print out the cards and laminate them. Pupils work in pairs or small groups and race against each other to form the perfect tense with the cards af...
maryjane1969
New resources
Article and exercises on family topic - the nature of mother-daughter arguments. Practises conjugation/grammar section of AS exam. Pupils must fill...
leptir109
Full explanation of why accents are used in French including activities and a section for pupils to search in a dictionary and find accents they ca...
leptir109
Updated resources
GCSE French PPT Revising the formation of Future Tense including high frequency irregular verbs, simple and more complex examples, class and partne...
nadinepgs
Collection of GCSE French Resources on** School and Immediate Future plans/Future Tense** PPT Revising formation of Future Tense Vocabulary sheet o...
nadinepgs
GCSE French Worksheet accompanying School and Future Tense English sentences for French translation using Present, Future and Conditional Tenses
nadinepgs