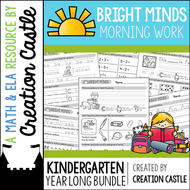 Kindergarten Morning Work - Year Long Bundle
The key to successful kindergarten morning work is a resource that is meaningful and can be used independently, but that can be tricky. Let's be honest, most kindergartners can't do much on their own at the beginning of the year. That is why my kindergarten morning work, Bright Minds, grows with your students.

Over the course of the year the skills will change, but the formatting will stay the same. This gives your students a familiar routine each morning, yet provides them with a chance to review various skills.

Writing skills vary from printing letters to writing two complete sentences on their own. The math section covers counting, addition, subtraction, teen numbers, measurement, and more. Students will also have repeated exposure to CVC words and handwriting practice in the language arts review. The language arts section also covers topics such as beginning sounds, medial sounds, ending sounds, opposites, reading comprehension, and more.

✔ Daily writing, math, and language arts review
✔ Spiraled topics
✔ 36 weeks - 180 pages

This resource was created with U.S. spelling.
Read more
About this resource
Info
Created: Jul 31, 2016
Updated: Feb 22, 2018