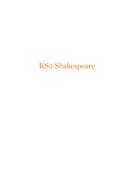 KS3 Shakespeare Scheme of Work: Overview
Guide to teaching Shakespeare in schools. A holistic journey through Shakespeare, looking at the key stage as a whole.
The idea is that by having this overview, we can plan to hit more skills and refine these too. This is very much work in progress!
Read more