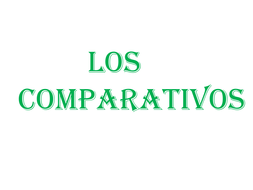 Los comparativos
<p>Power Point presentation with real pictures to present the Spanish comparatives in an entertaining way. A written activity could be devised from it.</p>
About this resource
Info
Created: Apr 8, 2008
Updated: Aug 19, 2015
This resource is designed for US teachers. View UK version .
Other resources by this author
A power point presentation to practice different forms of the verb 'vivir'. It is a cross-curricular activity in the sense that some geographical f...
Maribelinna
It is to use in interactive whiteboard to present the fruits in Spanish. At the end of the PowerPoint presentation; there are several slides used t...
Maribelinna
<p>Power Point presentation with real pictures to present the Spanish comparatives in an entertaining way. A written activity could be devise...
Maribelinna
Popular paid resources
This worksheet features two parts: Matching and Short Answer on environmental based vocabulary. Activity Idea: Have students write three sentences ...
ninatutor
A lesson around the song 'Me Gustas tú' by Manu Chao to teach 'gustar' rules and reading/listening skills.
kessia
I have put together a set of scenarios for the role play (skipping the unexpected item !) into one slide to help students look at the possibilities...
Estefania_moreno
New resources
Get your pupils to experience the Spanish festive season in a fifty-minute lesson! A sequence of activities and games. You will need to print off a...
boatie
Updated resources
Board game lesson and scaffolding for y11 (bottom sets especially), preparation for the speaking exams. Get your classes to elaborate each cell and...
boimik87
Whole lesson for VIVA GCSE FOUNDATION --> module 5 --> DE COSTUMBRE - PUNTO DE PARTIDA 1
boimik87
Board game using reflexive verbs to describe your daily routine. Times have also been added, so as to revise 'À Quel heure?' Please see worksheet f...
labellaroma