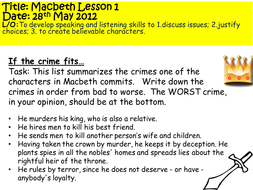 Macbeth lesson 1
Introduction to the crimes and ideas in Macbeth. Students also do some improve on scenarios from Macbeth. Aligned with Common Core State Standard: RL.8.2
About this resource
Info
Created: Jul 28, 2015
Updated: Aug 19, 2015
Other resources by this author
Used for an observation; adapted from a resource given to me by another teacher.
gradteacher
This PowerPoint was prepared to use before reading the novel. It has information about the author and some images to help students visualize the ti...
gradteacher
I have occasionally used this lesson at the end of a quarter to have students practice words and usage. This lesson prompts students to look words ...
gradteacher
Popular paid resources
Resources to introduce dystopian/post-apocalyptic literature conventions to AS students, but also suitable for GCSE or KS3 students. Designed to le...
archev
These 'Library Challenge' cards were made for my class library, but they could be used in a school library as well. The idea was just to get the ch...
sh2810
A complete 12 week scheme of work that is fully resourced and differentiated. Contains powerpoint lessons, medium term plan, text extracts and samp...
stebbingk05
New resources
This engaging and informative lesson enables students to make detailed and precise interpretations of the character of Abel Magwitch in Great Expec...
TandLGuru
This 16-lesson (4-week) unit explores a prescribed selection of stories from volume 2 of Songs of Ourselves, as determined by Cambridge Internation...
Angelil
70 exciting Assessment for Learning activities - make each lesson fun and varied with over 100 different ideas for assessment activities and ways t...
lordturner
Updated resources
There are 2 lots of 4 quizzes with different text combinations (Macbeth, Jekyll and Hyde, An Inspector Calls, Conflict Poetry AND Romeo and Juliet,...
laurajholder
For the second week of quizzes I have written questions by themes, linking across all aspects of the exams (relationships, death, power and anger)....
laurajholder
Reading comprehensions in sets of 5 questions to cover the whole picture book. 5 questions per double page spread.
hallmissh09