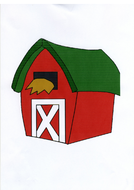 Old Macdonald had a Farm Resources
Pages that can be cut apart to include characters and barn used to retell the song, "Old MacDonald".
This resource is designed for US teachers. View UK version .
Other resources by this author
Planning, images and worksheets to support Dear Zoo
LIFEoutreach
Katie Morag resources to support geography or story telling. Other topics covered: Maps and Plans
LIFEoutreach
Popular paid resources
This is a hugely popular revision tool for the Y6 Reading SATS test! Get ready for the 2018 KS2 reading assessments with this SATS Question Generat...
KS2History
This lesson has no powerpoint. The lesson has a writing frame, teacher guide, copies of the poem and a group work task.
lydz1989
Fishbone's Song is a complete 53 page novel study guide based on the popular novel by Gary Paulsen. The guide is presented chapter-by-chapter and i...
reednovelstudies
Updated resources
I am pleased to add a series of plenary games that have been used to support and motivate more challenging and demotivated students. The games have...
gonchhollo
I am pleased to add a series of weekly homework tasks that will be enough for at least two whole terms. The reading tasks focus on extracts from va...
gonchhollo
A lesson heavily using imagery to promote the learning of quotes and engagement with the text. Great as an introduction to the poem for the Power a...
lizziedc92