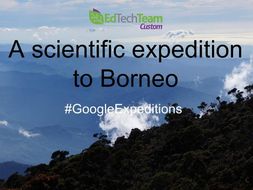 Plant Adaption in Borneo - #GoogleExpedition
During this lesson students are going to go on a Google Expedition to the Tropical Rainforest in Borneo to investigate how plants and animals have adapted to the environment.

Google Expeditions is a virtual reality teaching tool that lets you lead or join immersive virtual trips all over the world. Built for the classroom and small group use, Google Expeditions allows a teacher acting as a "guide" to lead classroom-sized groups of "explorers" through collections of 360° and 3D images while pointing out interesting sights along the way.

Google Expedition: Borneo Rainforest - Plant Adaptions

UK - Key Stage 2 - Science - Biology - Living Things and their Habitats
About this resource
Info
Created: Sep 18, 2016
Updated: Feb 22, 2018
Other resources by this author
These resources were originally produced to support the Diploma in Travel and Tourism. Although that course no longer exists the resources will sup...
acaffrey
During this lesson students are going to go on a Google Expedition and visit the Great Wall of China. They will be able to consider its historical ...
acaffrey
During this lesson the students are going to label some of the major bones in the human body, using this blank skeleton worksheet. During the lesso...
acaffrey
Popular paid resources
Leopards - PowerPoint and Activities Learn all about leopards with this dynamic and animated PPT presentation. It's a nonfiction resource full of i...
RyanNygrenRKN
Lesson detailing how humans grow from birth to old age. Includes a link to Literacy and non- chronological reports.
smelly_78
A pick-up-and-go lesson covering the Year 3 National Curriculum objective, compare and contrast the diets of different animals including pets. This...
Nataliebu
Updated resources
Create an Instant Display, or share as an information text. Fantastic Frogs printable posters. 13 pages including: Title page What are Frogs? Speci...
Felt
Free Minibeast / Bugs Printable photo cards. Includes US ladybug wording on the last page so please check your settings when printing. Includes: La...
Felt
Set of 10 posters all about the Great Barrier Reef. Posters include: Title page, What is the Great Barrier Reef? Where is the Great Barrier Reef? H...
Felt