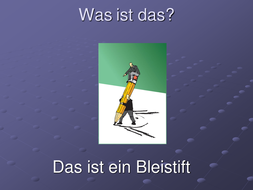 PowerPoint Pencil Case Items
PowerPoint of pencil case and other items to teach 'was ist das'?.
Read more
About this resource
Info
Created: Nov 10, 2009
Updated: Aug 19, 2015
This resource is designed for US teachers. View UK version .
Other resources by this author
This can be done in the classroom or in an ICT room using the Internet. I have used both options. It is a bit about French culture and France in ge...
hilarycook25
This is a power point I made which also has extension activites concerning clothes/uniforms and extra vocab which can be used with or without book..
hilarycook25
PowerPoint of pencil case and other items to teach 'was ist das'?.
hilarycook25
Popular paid resources
1 hour lesson based on p9 of the interactive Pearson ActiveLearn Stimmt! GCSE Higher book. You must have a subscription to this in order for this l...
chloeb1995
2 hours of lessons based on p12-13 of Stimmt! 3 Gruen. To be used with Pearson ActiveLearn online subscription. Focus on how to form the perfect te...
chloeb1995
This study guide includes: Complete vocab lists for the AQA GCSE German course Links for each topic to Classtools randometers which can be used to ...
HJPembrey
New resources
Exam-style article and gap fill on whether modern technology is a blessing or a curse - could be followed by the AQA oral card (June 2011 I think?)...
leptir109
Updated resources
A short worksheet with 10 sentences in German for pupils to insert the correct word for "who" or "which". All possible spellings of "who/which" are...
jac42
This worksheet is a structured and fairly simple way to practise using German verbs in the present tense. Spielen is written out in full as a guide...
jac42
A worksheet with a straightforward task to insert the given modal verb in the short simple sentences (present tense). The modal verb is given in th...
jac42