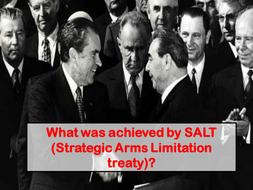 SALT
Arms race, Detente, Nixon, Brezhnev
Read more
This resource is designed for US teachers. View UK version .
Other resources by this author
Hitler, Nazis, support, rise to power, control
gmj1234
containment, wake Island, Inchon, Rollback
gmj1234
Popular paid resources
This is a complete lesson exploring the Slave Trade triangle. It includes a map task, have and need task, card sort on the reasons slavery was just...
leighbee23
This lesson involves pupils working in groups to produce an election campaign for one of the claimants to the throne in 1066. (Before the Battle of...
leighbee23
Roman villa lessons lesson one-Introduction to Roman Villa and key features Then a long term task pupils design a Roman estate agent booklet by bei...
leighbee23
New resources
A picture tells a thousand words. The brain can remember images much easier than it can a large tract of text. Indeed when memory experts try and r...
IQResources
This lesson is at best an introduction to and at worse a reminder about a very useful revision technique. There are various different titles for us...
IQResources
This lesson gets the students to complete a range of tasks that will aid their revision but under the title of creating a news report. This lesson ...
IQResources
Updated resources
Famous artists in their quotes - on TES (incl. sources). As meaningful part of modern art history and useful for education of modern art. - for stu...
Matrozenhof
The two objectives of this lessons are to emphasise the extreme dangers involved in the D-Day landings but also to introduce KS3 students to the ne...
katherinelroe
Revision notes for French Revolution 1789-99. Includes timeline of all key dates, including the significance of what happened and why it happened, ...
ryanfwilliams1