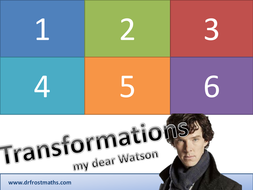 Sherlocked - Transformations
Perfect for interactive whiteboards! Allow students to select a question.
Read more
About this resource
Info
Created: Aug 31, 2015
Other resources by this author
Comes with Powerpoint and worksheet. Includes harder follow up questions where you use a completed congruence proof to make subsequent justifications.
DrFrostMaths
(a) Plot and recognise quadratic, cubic, reciprocal, exponential and circular functions. (b) Plot and recognise trigonometric functions within the ...
DrFrostMaths
Covers all aspects of the GCSE curriculum, including algebraic problems where volumes/surface areas are equated. Includes a Powerpoint presentation...
DrFrostMaths
Popular paid resources
Investigation and problem solving activity in which students identify all the different pentominoes, then fit them into shapes (50 different shapes...
kmbheck
This bundle contains Pack 1 and 2 for the Year 2 Investigations - Block 5. This bundle covers weeks 11 and 12. Pack 1 (Week 11) includes: This pack...
Thedigitalstationer
2 Resources

20% off

$9.39

$

7.52
A 15-minute Mathematical Inquiry Assessment Item for Junior and Middle Secondary.
ianfrancishailes
Updated resources
These topic-focused SATs questions at the end of a unit will help to test and extend students' understanding as well as helping them to prepare for...
Maths4Everyone
This workbook has detailed solutions and is great for learning about transformations. The different transformations are covered one at a time and t...
Maths4Everyone
This is my poster, which provides a really useful summary of Transformations. I give students the A5 version for revision and have a large version ...
Maths4Everyone