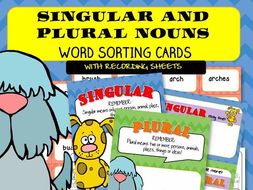 Singular and Plural Noun Sorting Cards with Recording Sheets
Word Sort - Singular and Plural Nouns

This is a set of 264 Singular and Plural Noun Word Cards for your literacy center. Your students will have fun with this hands-on activity as they recall the rules governing the words. They will read the words and then place them on either version of the SINGULAR or PLURAL sorting mats included. I also included a recording sheet and a drawing sheet as extension activities. This set can be differentiated by reading competency as the words included range from monosyllabic to polysyllabic words. No pictures are included with these word cards.
Read more