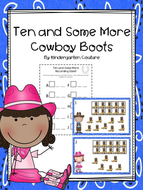 Teen Numbers Ten And Some More Cowboy Boots
Help this cowgirl and cowboy count the boots on the task cards. In this counting activity, students practice counting numbers with tens and ones. The pictures are shown in a ten frame and the ones are arranged in a scattered configuration. There are 3 recording sheets. The first one is for recording how many objects they counted. The second one the student records how many counted and the next two numbers. The third recording sheet the student records how many counted and the number before and after.
To use as a write the room, hang the half sheet posters around the room. Posters are also great for fluency flash cards. Cute graphics make it fun to practice the same concept all year long. Print, laminate and hang around the room. Make copies of the recording sheets as needed.
Read more
About this resource
Info
Created: Jun 6, 2017
Updated: Feb 22, 2018