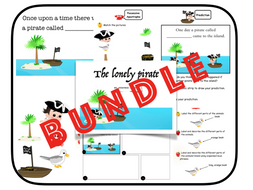 The Lonely Pirate - Book + Reading Activities (KS1)
Why don't you bring The Lonely Pirate to your classroom next week?
A book exclusive to TES. The Lonely Pirate is a story about a baby pirate and her adventures on an island - a picture book that also introduces children to the days of the week.
This is a bundle of activities that encourage children to practise reading skills such as inference, sequencing, prediction and retelling the story. Additional activities include worksheets on changing the story and adding your own characters, worksheets on possessive apostrophes and spelling the days of the week, and labeling and describing characters . Activities are scaffolded and differentiated appropriately for KS1 classes. The bundle also includes posters of objects and characters in the story for classroom displays.
Please share your feedback to improve future upcoming bundles.
Read more