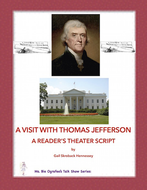 Thomas Jefferson: A Reader's Theater Script
Use this Reader's Theater Script to learn about our 3rd President, Thomas Jefferson. Using the format of my Ms. Bie Ografee Talk Show Series, Jefferson is a guest on the show and audience members ask questions of her guest, Thomas Jefferson. In addition to lots of interesting information, there is a Did You Know? section, comprehension questions and a teacher page with extension activities, additional links and the key. The resource can be a one day activity or over several days if you decide to do some of the activities.

1. You may be interested in this Reading Activity on Thomas Jefferson and the Mammoth Cheese:Thomas Jefferson and the Mammoth Cheese

2. You may be interested in this web quest on the Library of Congress: Library of Congress, A Webquet on our Nation's Library

3. You may be interested in this web quest on the Lewis and Clark Expedition:Lewis and Clark, A Webquest on the Famous Expedition

Other plays in the Ms. Bie Ografee's Talk Show Series:
Thomas Edison, George Washington Carver,Marie Curie, A Female Spy during the Revolutionary War(Culper Spy Ring), Jacques Cousteau,Harriet Tubman, Rosa Parks, Sacagawea, Sequoia, Michelangelo, DaVinci, Tuskegee Airmen, Susan B. Anthony, Elizabeth Blackwell, Interview with Simon-victim of the Black Death,William Shakespeare, Love Brewster(one of the Pilgrims on the Mayflower), interview with McSean, a leprechaun, interview with Sarsaparilla,a groundhog.More to be added...
Read more