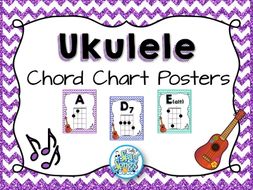 Ukulele Chord Chart Posters - Glitter & Chevrons
This set of 8.5x11 ukulele chord chart posters can serve as anchor charts or bulletin board display. Chords include A, Am, A7, Bb, B, Bm, B7, C, Cm, C7, D, Dm, D7. Eb, E, Em, E7, F, Fm, F7, G, Gm, G7 along with alternate fingering for F7 and E. Each chord is represented with letter name and chord chart graphic.

Three background colors give lots of options for display. Choose to use all the same color, or mix and match.
Read more