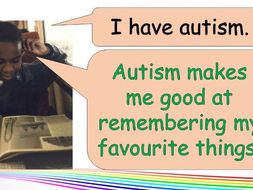 Understanding Autism, disability and difference
This powerpoint guides users through a lesson to help young children understand that people have different needs and how it is right and fair to accommodate them. Ideal for exploring diversity, disability, autism and the paralympics.
One of the main characters features Stephen Wiltshire (the human camera) as child. It would be a valuable activity to watch videos of him on youtube . This would help explore that we all have different strengths and weaknesses.
This resource was developed by Spectrum Savvy to help build peer relationships and tolerance where autistic learners were being misunderstood in mainstream. If you would like Nicola at Spectrum Savvy to deliver this session or similar to your setting, visit www.spectrumsavvy.co.uk,
Read more