Social skills support for SEN students
Practical tips and easy-to-use activities to develop the social skills of students with SEN
For some pupils, communicating with their peers can feel like an impossible task. By offering your students practical advice and taking time to discuss their concerns, you can help them feel more prepared for daily interactions. We've hand-picked the following engaging resources so you can do just that.
General resources
Help reluctant speakers become more confident when sharing their thoughts or feelings by practising communication using these prompt cards. Likewise, ensure that pupils are prepared for potentially upsetting events by creating a personalised social story, with help from this template.
For a more comprehensive approach, encourage learners to work through this detailed booklet, containing a range of fun activities to help them cope with everyday situations. Plus, this detailed set of social stories is ideal for developing key skills as a whole class or within individuals.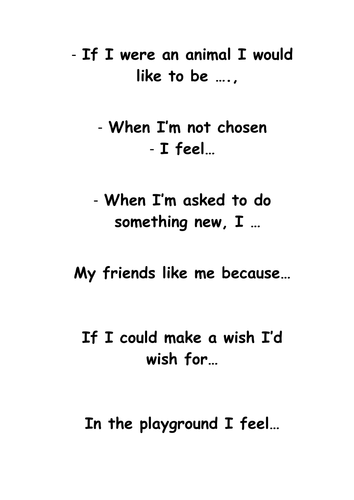 Prompt cards for you to use when delivering a Social Skills programme or Cirle Time
By
mrsling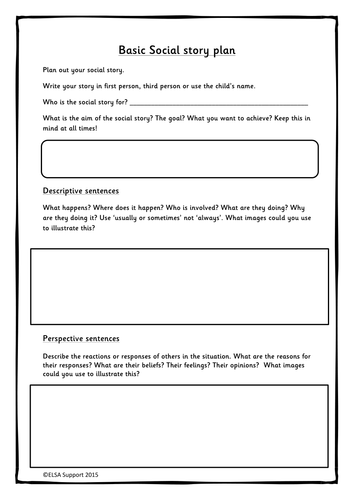 This is a quick reference for writing a basic social story. There are other types of sentences that can be used but this will get you started.

What is a social story?

A social story is a short story written in a specific style and describes what happens in a specific social situation. It describes a certain situation, event or activity and includes specific information over what to expect. It can describe what people do, why they do it and what are the common responses.

Social stories can:

Reduce anxiety
Change behaviour from inappropriate to appropriate
Help prepare for a new experience
Affirmation – so a child can understand and recognise his or her own appropriate skills or behaviour
To help prevent extreme reactions due to lack of social understanding
To understand how others might respond in a situation
To develop self care such as teeth brushing, keeping clean, not eating off the floor,
To cope with change of routine
To learn how to deal with strong emotions

It is important to set the focus of the story so you are clear what you want to change or what you want the story to achieve.




By
Elsasupport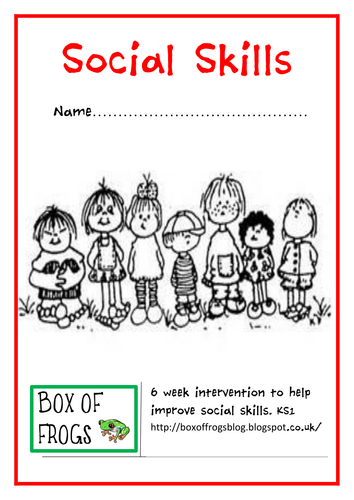 This programme is a short intervention intended for children in KS1 or for those who struggle to cope in social situations.

Understanding of Social skills is an under pinning tool required throughout life. Identifying our own feelings and the feelings of others helps us to adapt in our ever changing world. It helps children work independently or within a group and react to situations appropriately.

Programme contents - This is me, Friendship web, What do you look for in a friend, Show your appreciation, Being a good sport, Being a team player, Personal Space, Your space, Blow your own trumpet, Being confident, Getting on with others, Sorry, high five certificate!



By
boxoffrogsblog
Understanding emotions
Create this feelings fan, with accompanying vocabulary, to give students a simple way of expressing their emotions to others. In a similar vein, these talk cards and emotions questions are ideal for helping pupils to match emotions to particular scenarios, as well as beginning to empathise with how others might feel in those instances too.
Alternatively, support those who find it difficult to control their temper by discussing proactive strategies with this anger management worksheet.
Interacting with others
Make pupils aware of socially-acceptable proxemics, including intimate and public spaces, so that they get to grips with the concept of boundaries using this simple activity. Once they have grasped these, use this selection of conversation starters to rehearse common interactions and help students feel more comfortable about speaking to others.  
Delve into the world of making friends, and what it means to be a friend, with this comprehensive intervention planning resource. Finally, these editable social stories, covering fundamental listening skills and self-control, are perfect for explaining appropriate behaviour in an understandable way.