Easing pupils into secondary school life
Top transition resources to support your new tutor group as they get to grips with secondary school life
Dressed in uniforms two sizes too big, carrying oversized backpacks and with rabbit-in-the-headlight looks on their faces; this is most likely how you will recognise your new form group. As their form tutor, students will undoubtedly look to you for support during transition days, induction days and the first few weeks of term.
To help you prepare for your new form's arrival, we've selected some of the very best transition resources and icebreaker activities, designed to make them feel less overwhelmed from the start.
Transition activities
Welcome your tutor group with this well-structured booklet, which encourages teamwork, personal development and contains numerous activities to make form-time more productive. Then, quickly help learners get to know others with this all about me jigsaw activity, which can be proudly displayed in your tutor room.
Address the differences between primary and secondary school head-on with this changes check list so that learners can voice their questions, feelings and goals. Encourage a positive attitude with your group by working through this booklet, designed to build up self-esteem and promote acts of friendliness.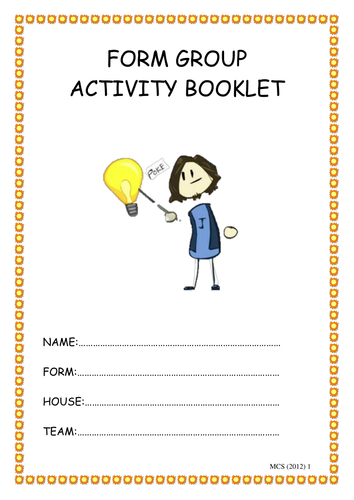 I made this booklet for my year 7 students as part of their transition process and to make use of form time in a productive way. It includes quizes and ideas to get them target setting and thinking about PLTS type skills I have adapted resources from two other booklets found here on TES so a big thank you to *PSHE/Tutor Activity Booklet by vnm and *Challenge Booklet by pippylargestockings I will add to this as I update it
By
MichelleCairns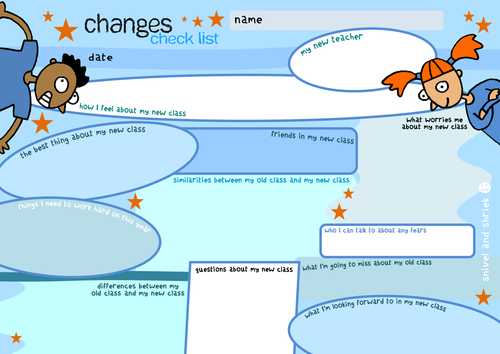 A colour worksheet to help any pupil changing school or class at any point throughout the year. Handy for Year 6 and Year 7 students as they prepare for and adapt to the changes involved in primary to secondary transfer, but suitable for any student changing class at any point in the year. transition, secondary transfer, primary to secondary, changes, SEAL Changes, changing schools, changing class
By
Kate Hennessy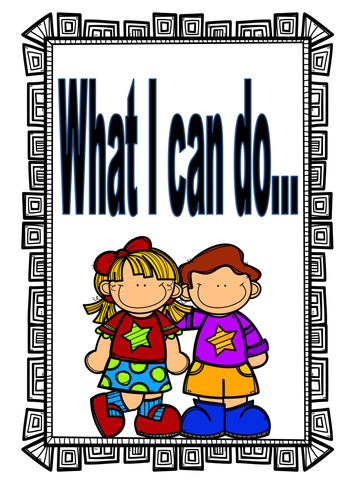 These resources were created to support group of children in my class who have SEN, social skills difficulties or who were over - worrying about their move up to high school, however there is no reason why some of the activities can't be used with the whole class.

The work is intended to focus on building up self esteem and recognising acts of friendliness.

The unit includes:
A Me Sheet - Children complete a fact file all about themselves (including finger prints) and look at how unique they are.
A book template about feelings - the children write how they feel when faced with certain things.
A book template 'Me' - the children write about all the things they CAN do.
An activity / worksheet on friendliness/unfriendliness - children sort different scenarios into the correct column. There is also a follow up to this with an activity sheet that children write different acts of friendliness they intend to do at High School on transition day and then a little sheet of the ones they managed to achieve... they will the hopefully have lots of positives to talk about!

This unit took approximately 10 x 45 minute sessions involving lots of discussion.
I bought the clipart used from Creative clips - https://www.teacherspayteachers.com/Store/Krista-Wallden
By
NMcShane2112
Icebreaker games
Funny games, true-or-false statements and activities that involve questioning other students are simple ways to get your tutor group talking. Use this icebreaker resource pack, comprehensive list of icebreaker ideas or meet-your-class presentation to encourage them to use teamwork and listening skills to get to know one another.
Build persuasive communication skills with this Room 101 activity as individuals try to convince other members of their team to choose their own pet hate as the worst. By having to argue their corner, learners practise expressing their opinions and in turn, grow their confidence with a new group of people.
Settling-in tasks
Kick-start your first few weeks of tutor time with this series of activities, covering class contracts, how to overcome any concerns and a simple transition survey.
Get the class talking about the emotions of moving from primary to secondary school, and its impact on friendships, using this detailed resource pack, complete with a presentation and card-sorting exercise. Alternatively, explore transition through film with this handy guide, which lists examples of relatable characters as well as follow-up questions.
Feeling creative? Why not consider getting your pupils to write a survival guide for next year's intake? Finalise the settling-in process by letting them share their memories of first days and weeks, plus their newly-gained expertise of how secondary school works.